Saudi Arabia, Kuwait and Qatar are supporting extremist Islamic groups in Germany, according to a leaked intelligence report.
A brief seen by the Süddeutsche Zeitung and broadcasters NDR and WDR raised concern over a reported increase in support for fundamentalist Salafism in Germany, warning that the ideology already has 10,000 followers and is growing.
The report, by Germany's BfV domestic intelligence agency and Federal Intelligence Service (BND) reportedly accused Gulf groups of funding mosques, religious schools, hardline preachers and conversion or "dawah" groups to spread the ideology.
Missionary movements were part of a "long-running strategy to exert influence" by the three states, it found, naming the Saudi Muslim World League, Sheikh Eid Bin Mohammad al-Thani Charitable Association and Kuwaiti Revival of Islamic Heritage Society (RIHS), which has been banned by the US and Russia for allegedly supporting al-Qaeda.
The report said all three organisations were "closely connected with government offices in their home countries". 
The BND and BfV have not confirmed the accuracy of leaked excerpts but sources told Deutsche Welle that some members of the security community believe it was internally leaked to pressure the German government into stopping controversial arms sales to Saudi Arabia.
The country's ambassador to Germany, Awwas Alawwad, rejected accusations of supporting Salafism, saying his government does not build mosques or export imams and has "no connection with German Salafism".
He added that the Muslim World League was not a Saudi government organisation and discontinued activities in Germany in 2013.
The Sheikh Eid association and RIHS have also denied connections to jihadi terrorism in the past.
Terrorism in 2016: Terror attacks in Europe claimed by Isis
Terrorism in 2016: Terror attacks in Europe claimed by Isis
1/9

Policemen outside Rouen's cathedral during the funeral of Jacques Hamel, the priest who was killed in a church in Saint-Etienne-du-Rouvray in Normandy on 26 July during a hostage-taking claimed by Islamic State group

Joel Saget/AFP/Getty Images

2/9

Two jihadists, both 19, slit Hamel's throat while he was celebrating mass in an attack that shocked France as well as the Catholic Church

Joel Saget/AFP/Getty Images

3/9

Muslims place flowers and hold a minute of silence in front of the church if Saint-Etienne-du-Rouvray, western France, where French priest Jacques Hamel was killed on 26 July

Charly Triballeau/AFP/Getty Images

4/9

Two people hold each other by the new makeshift memorial in Nice, in tribute to the victims of the deadly Bastille Day attack at the Promenade des Anglais

Valery Hache/AFP/Getty Images

5/9

The Islamic State group claimed responsibility for the truck attack that killed 84 people in Nice on France's national holiday. Mohamed Lahouaiej-Bouhlel, 31, smashed a 19-tonne truck into a packed crowd of people in the Riviera city celebrating Bastille Day

Valery Hache/AFP/Getty Images

6/9

Police work at a site where a Syrian migrant set off an explosive device in Ansbach, southern Germany, on 25 July, killing himself and wounding a dozen others

Daniel Roland/AFP/Getty Images

7/9

A Syrian migrant set off an explosion at a bar in southern Germany that killed himself and wounded a dozen others in the third attack to hit Bavaria in a week. The 27-year-old, who had spent a stint in a psychiatric facility, had intended to target a music festival in the city of Ansbach but was turned away because he did not have a ticket

Friebe/AFP/Getty Images

8/9

Police officers walk along train tracks in Wuerzburg southern Germany on 19 July, a day after a man attacked train passengers with an axe. German authorities said they had found a hand-painted IS flag among the belongings of the man, an asylum seeker from Afghanistan, who seriously injured four members of a family of tourists from Hong Kong in his rampage

Daniel Roland/AFP/Getty Images

9/9

German police killed a teenage assailant after he attacked passengers on a train in Wuerzburg, southerg Germany with an axe and a knife on 18 July, seriously wounding three people

Karl-Josef Hildenbrand/AFP/Getty Images
The report comes weeks after the German government banned an Islamist missionary group linked to more than 140 Isis fighters following raids on mosques, offices and homes across the country.
Die Wahre Religion (DWR), meaning "The True Religion", started in 2005 and claimed to spread Islam in Germany "in a modern form and with the help of new media".
The Salafist group gained prominence with a Quran distribution campaign called Lies!, meaning "Read!", which has since spread to countries including the UK, France, Bahrain and Brazil.
But officials said the initiative was "bringing jihadi Islamists together across the nation under the pretext of preaching Islam" while spreading hate and conspiracy theories.
Thomas de Maiziere, the German interior minister, said that the prohibition of DWR aimed to stop the "abuse of a religion by people, who under the pretext of spreading Islam are propagating extremist ideologies and supporting terrorist organisations".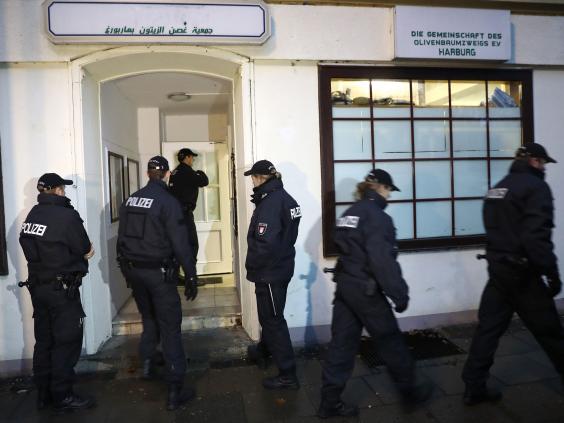 "By banning this organisation, a major source of radicalisation has been eradicated nationwide," he added.
A terror network radicalising young Muslims and sending them to fight for Isis in Syria was also dismantled by authorities last month.
Germany has been on high alert since it was hit by two terror attacks carried out by Isis supporters in July, with other plots subsequently uncovered amid warnings that attempts to attack Europe will continue.
Jaber al-Bakr, a suspected Isis supporter detained on suspicion of planning to attack a Berlin airport with homemade explosives, killed himself in prison days after being arrested in October. 
According to figures released in May by intelligence services, 820 jihadis have left Germany for Syria and Iraq, with a third known to have returned, 140 killed and 420 remaining abroad.
Tensions have risen following the arrival of almost 900,000 refugees in the country last year, driving support for right-wing groups and a national debate on Islam and integration.
The issue sparked Angela Merkel's call for a burqa ban earlier this month, as she seeks a fourth term in office.
Reuse content