It is internationally renowned for its Valley of the Temples Unesco world heritage site, but is ranked as the least liveable town in Italy – infamous both for its deprivation and for the country's most expensive drinking water, even though taps regularly run dry.
Now Agrigento in Sicily has a new claim to notoriety after reports that its 30 councillors have been staging hundreds of bogus meetings in order to line their own pockets.
Thousands of furious residents finally lost patience with officials and descended on Agrigento town hall to demand scalps, following claims that last year councillors earned up to €10,000 (£7,500) each by calling meetings – 1,133 in all, and some just a few minutes long – for which they received an attendance allowance.
La Repubblica called them "the ghost meetings", after activists in the anti-establishment Five Star Movement (M5S) blew the whistle.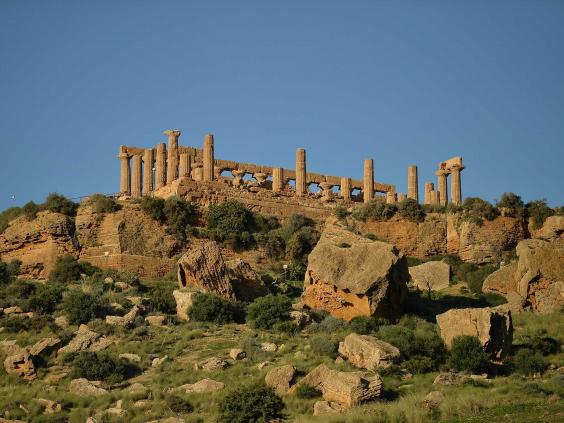 Local MP Matteo Mangiacavallo, a member of the anti-establishment Five Star Movement, told The Independent that at the meetings issues were raised in a cursory manner to justify their being called, but nothing ever came of them. "Any fool can say: 'There's a problem with that school or in that piazza.' But that's all they did to claim their €10,000 extra each," he said.
He noted that the councillors were also able to claim another €100,000 between them for lost wages in their day jobs.
The apparent scandal is fast becoming a national cause célèbre, with television talk shows focusing on the plight of a town that appears to encapsulate the graft that has stifled Italy's economy, and particularly that of Sicily.
On Tuesday angry citizens marched to the town hall with banners declaring, "A population that doesn't protest is a population without dignity". Others simply shouted: "Send them to prison".
Agrigento prosecutors Santo Fornasier and Alessandro Macaluso are now investigating the claims against the 30 councillors – not only regarding the large number of meetings called, but also suggestions of illicit expense claims. One of the Italian left's most senior figures, Nichi Vendola, head of the Sinistra Ecologia Liberta party, declared: "Poor Agrigento, one of the most beautiful cities in the world bled dry  by cannibals."
Reuse content