Like a dream that never dies or a recurring nightmare – depending on your point of view – plans for the world's biggest suspension bridge between Sicily and mainland Italy are under discussion once again.
Matteo Renzi's government is willing to reconsider the €9bn (£6.65bn) project in a Mafia-infested earthquake zone to boost rail links to Sicily and southern Italy's economy, the Transport and Infrastructure Undersecretary Umberto Del Basso De Caro told parliament this week.
Mr Del Basso De Caro said the government would "weigh the usefulness of reconsidering the Strait Bridge project… as a possible element of a strategy of bolstering southern Italy's infrastructure system".
The Messina Strait company has already drawn up plans for the two mile-long bridge, with twin suspension towers higher than the Shard building in central London.
The bridge could carry 4,500 cars an hour and 200 trains a day to reduce reliance on the slow ferry services between the island and the mainland. 
Mr Del Basso De Caro's comments were prompted by parliamentary approval for a motion put by a group of southern MPs for a permanent link from the mainland to Sicily; this referred only to a rail link and not a road bridge. Mr Del Basso De Caro's boss, Transport and Infrastructure Minister Graziano Delrio, was less committal. "We have no firm plans on the table," he said, adding: "We have no prejudices, we are always willing to evaluate things." 
The pro-bridge lobby nonetheless received the powerful endorsement of Angelino Alfano, the Sicilian-born Interior Minister, who said: "This is an important day for Sicily and for Italy." He added that the bridge was a "public work that will restart an entire piece of our country". 
Plans for a bridge across the Strait of Messina have been opposed by environmentalists. On Wednesday, Edoardo Zanchini, vice-president of campaign group Legambiente, said the government should "stop pursuing useless fantasies".
He said that the economy of Sicily would be better helped by investing in the island's own dilapidated rail services, whose trains travel at an average speed of 15mph.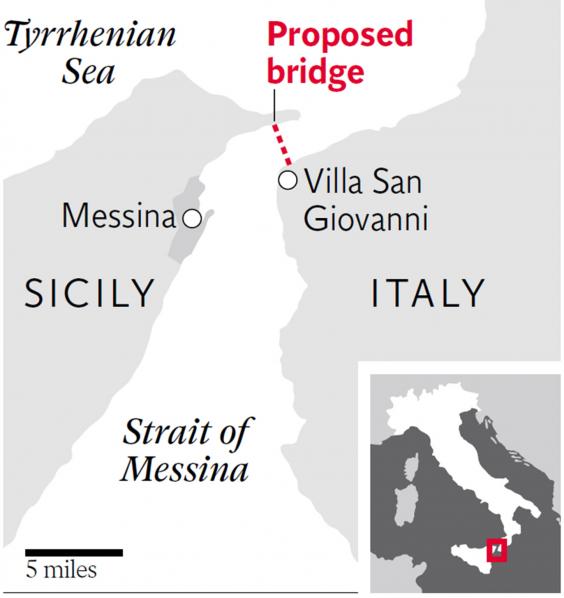 The project has also been dogged by safety concerns. Critics note the vast structure would span a busy shipping lane and would have to withstand very high winds. There is also the risk of earthquakes.
At a scientific conference in Rome in November 2012, Alessandro Guerricchio, a geologist at the University of Calabria, said the high risk of tremors and long-term movements of the earth in the Calabria-Sicily zone made the project particularly perilous.
Other experts fear involvement of organised crime. The suspension bridge would link the territories of Italy's two biggest Mafia groups – Cosa Nostra and 'Ndrangheta. The pundits predict the project would represent one of the biggest paydays in the history of Italian organised crime, which already has a hand in many of the public works contracts in southern Italy.
In 2012, the government of Mario Monti decided not to cancel the controversial bridge project but to extend feasibility tests for another two years. It emerged then that €600m had already been spent – on consultancy fees, compensation for contracts never realised, and "cost-analysis" – without a brick being laid. 
Reuse content