At a military expo that has made headlines for being the place where Vladimir Putin announced he will create 40 new nuclear-capable intercontinental ballistic missiles, there was a small moment of comic relief when two Russian special forces soldiers took to the stage for a dance.
The bizarre scene occurred at the Army-2015 military expo in Kubinka, an event showcasing some of Russia's military arsenal.
Amidst the tank demonstrations and mock battles, the expo played host to a military band, who entertained the audience with patriotic marching songs.
The general formula of the Russian military choir hasn't really changed since the days of the USSR, but the audience probably didn't expect to see two balaclava-wearing Spetsnaz special forces soldiers get up on stage and do a weirdly aggressive robot dance.
Marching to the middle of the stage, the soldiers, wearing all-black outfits, launch into a very precise and surprisingly competent robot, getting a few bemused looks from the balalaika-playing band members behind them.
It's a fairly short dance, and in true special forces style, the men vanish as quickly as they appeared, possibly leaving the audience to wonder if they'd actually seen the dance or whether it was all a daydream.
If nothing else, it injected some fun into a week-long showcase of both cutting-edge and tried-and-tested weapons from Russia's military.
On show at the expo were a selection of Russia's weapons most fearsome weapons, including rifles, tanks, missiles, aircraft and boats.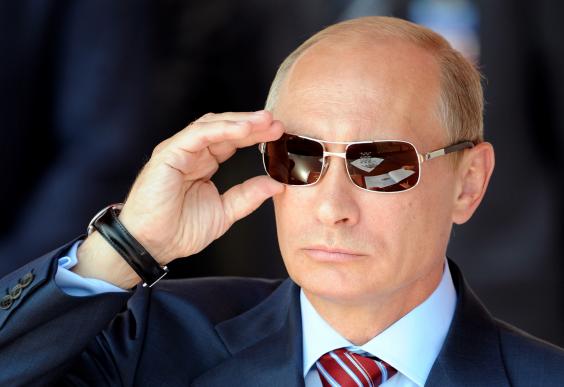 The show finishes on Friday, and is currently open to the public. But other than providing Muscovite families with a nice day out, it also serves an important military role - allowing representatives from foreign armed forces to take a look at Russia's weapons and see what they might like to buy.
The expo still has a few days left, but it's unlikely any event there will top President Vladimir Putin's opening address, in which he promised to build 40 new intercontinental ballistic missiles that will be able to "overcome even the most technically advanced anti-missile defence systems."
Russia is a signatory to the Nuclear Non-Proliferation Treaty, so no new nuclear weapons will be built - but the 40 new missiles will increase Russia's ability to actually deliver its stock of around 3,000 nuclear warheads to any potential targets.
Reuse content