For decades, the population of Bucharest has been menaced by the vast numbers of stray dogs that roam its streets. The Romanian capital is home to more than 60,000 of them, according to officials, and their numbers continue to grow.
For the most part, they are just a nuisance and many locals can recount stories of close encounters that ended with a breathless escape or a bite on the ankle. But earlier this week, four-year-old Ionut Anghel was not so lucky. He was killed by a pack of five strays as he played with his brother in a park in the centre of the city.
For the Romanian president, Traian Basescu, enough was enough. Following Ionut's death, he angrily declared that "humans are above dogs" and announced plans to euthanise thousands of strays.
Rights groups have condemned the plan as barbaric and called for an alternative, such as sterilisation, but the anger triggered by Ionut's death means the time may finally have come for Romania's roving canine army.
At 67 years old, pensioner Anca Dobrescu has had her share of run-ins with the hounds. "Five came from the front, while others were behind me," Ms Dobrescu says, describing one of three attacks she has weathered. "One behind me put his fangs into my leg and I fell down because of pain".
Part of the problem, she says, is that many residents feed the animals. "They left food and water in front of the block, because they say they love dogs. They shouldn't. They should take dogs inside their apartments and take care of them," she added.
More than 6,000 people were bitten – 1,000 of them children – in the first four months of 2013 in Bucharest, a city known by the nickname "little Paris" for its architectural beauty. With a human population of 1,883,425, there is approximately one stray dog to every 31 people in the city.
Bucharest's problem with strays dates back to the 1980s, when the communist dictator Nicolae Ceausescu ordered the demolition of hundreds of houses and their replacement with apartment blocks as part of an urbanisation plan. Amid the upheaval, many were forced to move to smaller apartments and abandon their dogs.
Between 2001 and 2007, authorities claimed to have euthanised more than 100,000 stray dogs, but NGOs say the figure is a fantasy and that most of the money set aside for the project was embezzled.
Ionut's death has put the issue back on the political agenda. The incident began when the boy's grandmother, Aurica Anghel, took her grandsons to the park and waited on a nearby bench. Only one of the boys, 6-year-old Andrei, came back. "Grandma, please, don't punish me: it's over, Ionut is dead." he reportedly told her.
"He was bitten hundreds of times, really devoured," said Dr Salem Abdo, who treated the boy. The land where the children were attacked belongs to a private company, but was not secured, so the children were able to enter from the alleys of the park without restriction.
After the attack, local officials captured all the stray dogs and installed a fence between the alleys of the park and the empty land where it happened, but dozens of children are still playing unsupervised in the area. A tattered old billboard reads "No dogs allowed."Locals say they have been terrified by the attack. "I didn't sleep that night," said Elena Costin, 60, whose four-year-old grandson was eating a pretzel and playing with a toy car nearby. "The day after the attack, I kept my grandson at home."
Luca's father was bitten by a stray dog when he was four, and the family are scared the same will happen to him. "If you want to have a dog, you should take care of him at home. The others...should simply be euthanised," Ms Costin added. President Basescu appears to have captured a public sentiment that feels sterilisation is no longer enough to deal with the problem of strays, and stronger measures are required.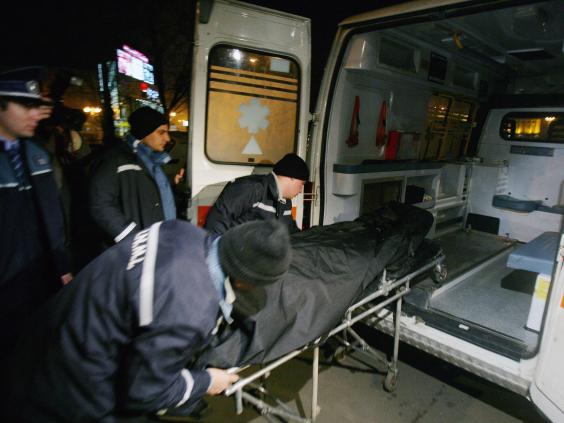 "Sterilisation is not a solution any more," he said in his televised speech, adding that it "doesn't remove dogs' fangs." Later, he sought to make clear that he is not some bloodthirsty, canine-hating tyrant by posting photos on Facebook that showed him at home with his three adopted dogs.
He has been hounded by the issue throughout his career. In 2001, when he was mayor of Bucharest, he had pressed for a campaign to euthanise dogs but was convinced by the actress Brigitte Bardot, an activist for human rights, to use sterilisation instead.
Laws on what can and cannot be done about Bucharest's pest are unclear. According to Romanian officials, euthanisation is permitted in some cases, but animal welfare charities say a ruling by the Constitutional Court last year has effectively outlawed the practice of killing dogs.
The current mayor of Bucharest, Sorin Oprescu, today called for a referendum on the cull: "People will decide on euthanisation," he said. There is some indication that the public may be ready to support it. So deep is the anger over Ionut's violent death that a story about German soldiers shooting stray dogs in Bucharest almost a hundred year ago has been shared widely on social networks.
Carmen Arsene, National Federation for Animal Protection, said the government is to blame for failing to implement adequate alternatives. "Sterilisation is effective in Bulgaria and Turkey. In one Romanian city, Oradea, the number of dogs decreased from 5000 to only 300." The NGOs sterilised over 250 000 dogs, placed 10 000 dogs in shelters and gave thousands up for adoption, she added.
"We love dogs, but our children are more important than them. We need the government to come up with a real solution," said a spokesperson for a parents' online community, announcing that they intend to hold street protests protests  on Friday.
As ever in Romania, there are accusations of corruption that further complicate the issue. Investigative news network Rise Project has claimed that the mayoral offices in three cities have wasted millions of euros and that the job of controlling the canine population has been taken over by controversial businessmen under the protection of government authorities. The battle between man and beast on Bucharest's streets is far from over.