The conviction of Putin critic Alexei Navalny brought thousands of protesters on to the street in what has been described as one of Russia's boldest anti-government demonstrations in years.
The anti-corruption campaigner and chief political foe of the Russian president was found guilty, along with his brother, in a fraud case which has been widely viewed as a political vendetta by the Kremlin.
But how did Navalny rise to such prominence and why would the Kremlin appear to be so scared of him?
Who is Alexei Navalny?
A lawyer, popular blogger and political activist, Alexei Navalny  has developed a reputation as one of Vladimir Putin's most vocal critics.
The 38-year-old rose to prominence with his investigations of official corruption and played a leading role in the anti-Putin demonstrations attended by hundreds of thousands in Moscow in 2011 and 2012.
His rise in the country's politics has been seen since he started to blog about alleged corruption at state-controlled corporations in 2008.
But this campaign against corporations saw Navalny turn his criticism also directly to the ruling political party, United Russia, according to the BBC.
What has he done to annoy Putin?
Now considered to be the leading opposition figure in Russia's politics, Navalny has long-been vocal about what he describes as corruption within the country.
Part of his tactic was to become a small shareholder in major companies, including state-run energy businesses, and then use his position to raise questions about their finances.
9 controversial Putin quotes
9 controversial Putin quotes
1/9 2004

"Anyone who doesn't regret the passing of the Soviet Union has no heart. Anyone who wants it restored has no brains."

Getty images

2/9 December 2005

"There is no such thing as a former KGB man."

Getty images

3/9 G8 Summit press conference 2008

"If you want to become an Islamic fundamentalist and be circumcised, come to Moscow. We are multiconfessional. We have very good specialists. I can recommend one for the operation. He'll make sure nothing grows back."

Getty images

4/9 2010

"Russia doesn't negotiate with terrorists. It destroys them." After the Moscow Metro bomb

Getty images

5/9 September 2013

"They say that Pyotr Ilyich Tchaikovsky was a homosexual. Truth be told, we don't love him because of that, but he was a great musician, and we all love his music. So what?" Interview with Associated Press

Getty images

6/9 March 2014

"The West's leaders seem, from what they say, entirely to have forgotten that there are some leaders in the world who want to conquer other countries."

Getty images

7/9 2014

Amazingly elaborate metaphor regarding the West and Russia "[Sometimes I think] our bear should probably just sit quietly and just eat honey instead of hunting animals, maybe then they will leave the bear in peace, but, no, they will not. What they are trying to do is chain the bear, and when they chain the bear they will take out his fangs and claws. This is how nuclear deterrence is working at the moment. If they take out the bear's fangs and claws, then the bear will not be able to do anything. It will just be a stuffed animal." Russian President's annual press conference

Getty images

8/9 2014

After Ksenia Sobchack, a well-known anti-Kremlin activist and journalist, was allowed to ask a question about Putin's government suppressing opposing political viewpoints: "Why did you give her the floor?" Russian President's annual press conference

Getty images

9/9 January 2014

"You can feel relaxed and calm [in Russia], but leave children alone, please." Directed at gay people in January 2014, before the Sochi Winter Olympics

Getty images
His anti-corruption campaign has developed a strong platform from which he has launched his attack against Putin's government.
Before the 2011 parliamentary election he dubbed United Russia as the "party of crooks and thieves", before going on to become the unofficial leader of the protest movement both in that year and during the presidential vote the following year.
What has happened to Navalny since he rose to prominence?
Yesterday's conviction for fraud is not the first time Navalny has been found guilty of charges brought against him.
In 2013 in a different criminal case, he was found guilty of embezzlement and sentenced to prison.
He was released the next day however after thousands protested in the streets of Moscow.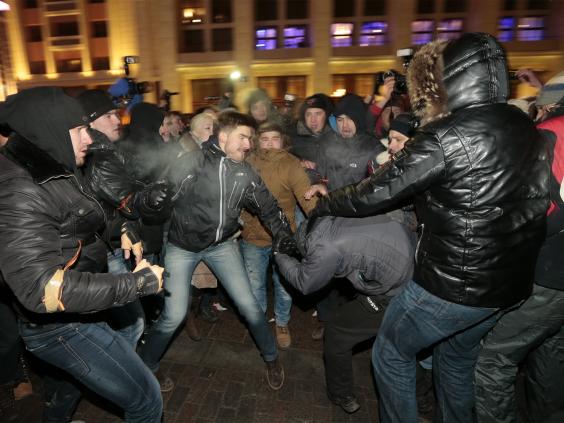 After being handed a suspended sentence following his release, Navalny went on to stand in Moscow's mayoral election in September 2013, finishing a strong second.
His latest sentence comes after he and his brother Oleg were convicted of defrauding a French cosmetics company and each given a three-and-a-half year sentence. While Alexei Navalny's sentence was suspended, his brother Oleg was sent to prison.
Navalny however, who has been under house arrest since February, brokes its terms to attend a rally following his conviction, which saw him rounded up by police as he approached the site.
He later tweeted that police drove him home and blocked him from leaving his apartment.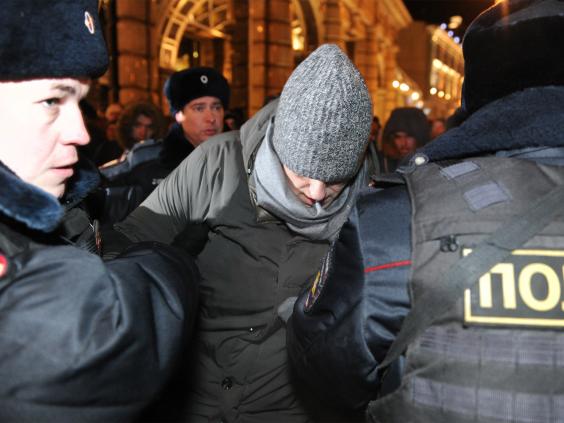 Oleg Navalny, the father of two small children and a former executive of the state-owned postal service, has never played a role in the Russian opposition movement.
His imprisonment has been seen by some as echoing the Soviet-era practice of punishing the relatives of inconvenient people.
Why would Putin and the Kremlin appear to be so scared of him?
Vocal, resolute and with an apparently dedicated base of support among Russia's middle classes, Navalny has been said to represent a threat in Putin's eyes.
While the President's support has this year said to have strengthened following Russia's annexation of Crimea, Navalny's grassroots base of support has developed through his years of anti-corruption activism, according to Vox.
Now, with the drop in the value of the ruble, following falling oil prices and Western sanctions over Russia's involvement with Ukraine, there could be some concern among rulers of the possibility protests.
The verdict in Navalny's fraud trial was not due to come until next month, but the court session was abruptly moved up to the day before New Year's Eve, in what has been seen as an attempt to head off protests.
While Russia's main state-controlled TV stations all but avoided the story, Navalny has rarely relied on such outlets in order to garner attention.
While protesters gathered on the Manezh Square outside the Kremlin chanting "We are the power!" and "Russia without Putin", in Washington State Department spokesman Jeff Rathke also said the US government was troubled by the verdict, which "appears to be another example of the Russian government's growing crackdown on independent voices."
Additional reporting by AP
Reuse content