People across Europe think Britain's response to the refugee crisis has been among the worst in the continent, a poll has found.
YouGov surveyed more than 9,000 adults across seven European nations to find out how people perceived refugees, and found that Hungary was overwhelmingly regarded as dealing with them worst.
The eastern European nation has built a razor wire fence to keep people from crossing its border, fired tear gas on groups of refugees and voted against quotas to house 120,000 across the EU.
David Cameron has pledged to take in 20,000 refugees over the next five years and said Britain was the greatest donor of international aid in Europe – but campaigners insist more must be done.
Britain was seen on balance to have dealt with the crisis badly by members of the public in all nations surveyed – including the UK itself.
Germans held a particularly dim view of the British response, with more than one in four saying the UK had handled refugees "very badly".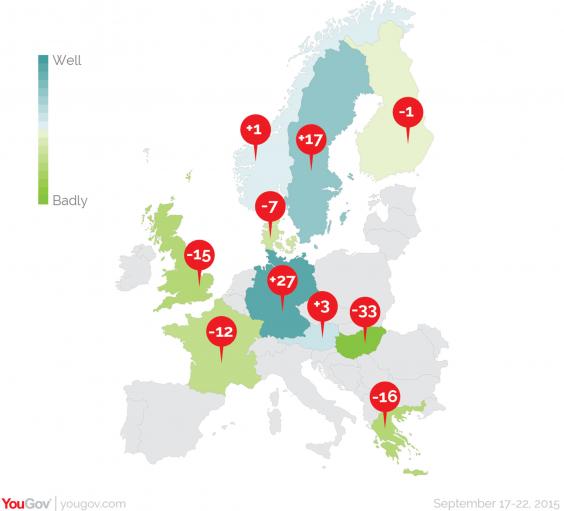 Germany itself was seen as handling the crisis best, with its response viewed particularly positively in Sweden.
Yet despite the overwhelming consensus that Germany has handled the crisis well, it was also the country where people were most likely to respond to refugees with fear.
The same YouGov survey also asked people how they would best describe their response to the crisis right now.
A large majority (57 per cent) in Germany said the crisis made them feel "afraid", compared to just 17 per cent in the UK and 10 per cent in Sweden.
Britons were most likely to say the crisis made them feel "sad", while in France the most common reaction to the crisis was anger.
YouGov surveyed adults from Britain, Germany, France, Denmark, Sweden, Finland and Norway between 17 and 22 September.
Reuse content