Irish couple Etain Kidney and Michelle Walls went to marry in Spain last year. They had wanted to formalise their relationship for years and unable to do it in their homeland, they had to fly into a state where gay marriage was legal. But change is in the air.
"A heterosexual couple without children is considered a family, so why I don't have the right to have my family recognised?", says Ms Kidney, who has been an active member of the Yes Equality Campaign.
On 22 May, Ireland will be the first country in the world to hold a referendum to legalise same-sex marriage and Ms Kidney has been canvassing to see marriage equality recognised on the Constitution.
However, those objecting to the change are equally vocal. "There is a religiously-motivated group of people that actually think it's wrong to be gay. They don't feel any shame, they feel pity for me", says Kidney. Opposition in Ireland to same-sex marriage has come mostly from the Catholic Church, whereas political parties are generally supportive of the measure.
When the Irish cabinet guided by the Taoiseach Enda Kenny agreed in 2013 to hold a same-sex marriage referendum, the Church declared in a pastoral letter: "The Catholic Church, with other Christians and those of no particular religious view, regard the family based on marriage between a woman and a man as the single most important institution in any society. To seek to re-define the nature of marriage would be to undermine it as the fundamental building block of our society."
In pictures: UK's first gay weddings
In pictures: UK's first gay weddings
1/16 First gay marriages

Lesbian couple Sarah Keith (left) and Emma Powell embrace while posing for photographs after their same-sex wedding at the Claremont Hotel in Brighton

Reuters

2/16 First gay marriages

Sean Adl-Tabatabai, center, and Sinclair Treadway, right, pose for photographers with the openly gay mayor of Camden Jonathan Simpson, left, after they were announced officially married in a wedding ceremony in the Council Chamber at Camden Town Hall in London, Saturday 29 March, 2014

AP

3/16 First gay marriages

Helen Brearley (right) and Teresa Millward pose for photographs after getting married at Halifax Register Office

Getty Images

4/16 First gay marriages

Gay couple Neil Allard (right) and Andrew Wale are married in the Music Room of Brighton's Royal Pavilion shortly after midnight in one of the UK's first same-sex weddings

Getty Images

5/16 First gay marriages

Sean Adl-Tabatabai, third from left, and Sinclair Treadway, fourth from left, pose for photographs with, from left, the openly gay mayor of Camden Jonathan Simpson, deputy superintendent registrar Steven Lord and registrar officer Tania Uddin

AP

6/16 First gay marriages

A woman waves a rainbow flag as gay couple Peter McGraith and David Cabreza leave Islington Town Hall

Getty Images

7/16 First gay marriages

A solitary demonstrator holds a placard in protest against the legalisation of same sex marriage, outside St Margaret's Church, Westminster Abbey, London

PA

8/16 First gay marriages

Sean Adl-Tabatabai and Sinclair Treadway look jovial as they tie the knot in front of around 100 guests

AP

9/16 First gay marriages

The rainbow flag flies above British Cabinet Offices, marking the first day Britain has allowed same sex marriages, in London

Reuters

10/16 First gay marriages

Lesbian couple Sarah Keith and Emma Powell (left) react after their same-sex wedding at the Claremont Hotel in Brighton

Reuters

11/16 First gay marriages

A pair of shoes are pictured on a chair at a place setting during the reception after the same-sex wedding of couple Sarah Keith and Emma Powell in Brighton

Reuters

12/16 First gay marriages

Camden mayor Jonathan Simpson speaks during the ceremony, which took place just after midnight on Saturday

AP

13/16 First gay marriages

Sean Adl-Tabatabai looks on as his new husband Sinclair Treadway signs official documents

AP

14/16 First gay marriages

Sean Adl-Tabatabai and Sinclair Treadway hold hands as they celebrate their marriage

AP

15/16 First gay marriages

Sean Adl-Tabatabai and Sinclair Treadway toast married life

AP

16/16 First gay marriages

Sealed with a kiss: Sean Adl-Tabatabai and Sinclair Treadway make it official

AP
Two referendums will decide amendments to the constitution of Ireland on 22 May: permit same sex marriage and reduce the age of Presidential candidates from 35 to 21.
No one is talking about the second one. The debate is raging on the first. A poll taken in April showed 67 per cent of people in favor of a yes vote, 21 per cent are against and 12 per cent undecided, but a last Irish Times Ipsos Mori poll shows 58 per cent will vote yes. The gap is closing.
The country is evidently split and the yes and no campaigns are fighting over the words 'family', 'marriage', 'surrogacy' and 'adoption'. The no vote's main line is the right of every child to have a mother and a father. The yes campaign answers that they are diverting the question talking about adoption and surrogacy when the referendum is about equality.
"I'm a big supporter of LGBT rights and I always have been, but the problem with changing marriage in the Irish Constitution is that you can't do it without changing the law related to the family", says Ben Conroy, an intern at the Iona Institute, the socially conservative Catholic advocacy group that had lead the no campaign since the beginning.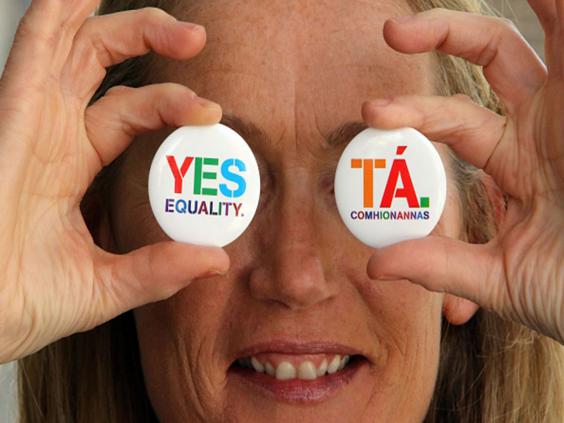 "We, as a society, think that is a good thing that children have a relationship with their mother and their father and that when possible they should be raised by both of them", explains Mr Conroy. He stresses the words "when possible" because, as yes campaigners point out, of children raised by single parents or divorced parents.
Mr Conroy continued: "I think that surrogacy is a human right abuse and the reason is that I know some people that have been conceived through that."
The name he enlists to support his thesis is the one of Heather Barwick, a former gay-marriage advocate turned children's rights activist, raised by a lesbian couple conceived through the surrogacy method. Heather wrote a letter in which she said she loved her mums, but nothing could ever replace the absence of a father.
The link between this and the marriage referendum in Mr Conroy's opinion is that, "there are interviews with directors of surrogacy clinics that confirm an increase in demand for surrogacy as gay marriage is legalised". However, on paper the referendum is about obtaining the same rights as a heterosexual married couple, not surrogacy.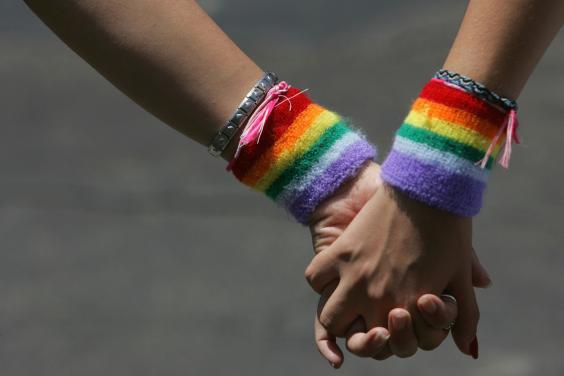 "I'm not curious at all about my biological father, while I can see why other people might be interested, I'm very happy with the parents I have, who love and care for me. I don't need someone who was kind enough to donate sperm, but hasn't played any other role in my life." This the voice of Conor Pendergrast, raised in Ireland by a lesbian couple.
"People say it might be different have two mums, but I don't know if it is. I had two people who loved me very much and who I loved very much, who have been extraordinarily wonderful to me and supported me through my entire life," he said.
Mr Pendergrast now lives and works in London with his girlfriend and finds really frustrating the fact that his parents, who still live in Ireland, cannot get married where he and his girlfriend can have that privilege. "I really want them to have the option, because I feel really guilty that I do and they don't. Plus, what we don't want is that something happens and they don't have the legal responsibilities and rights that are already there for heterosexual people and their families."
When questioned about legal clauses that could have made his life with his two mums easier, he says: "We were lucky to be in the situation to never have to rely on the legal protection of the state, but I don't think any family should need to rely on luck."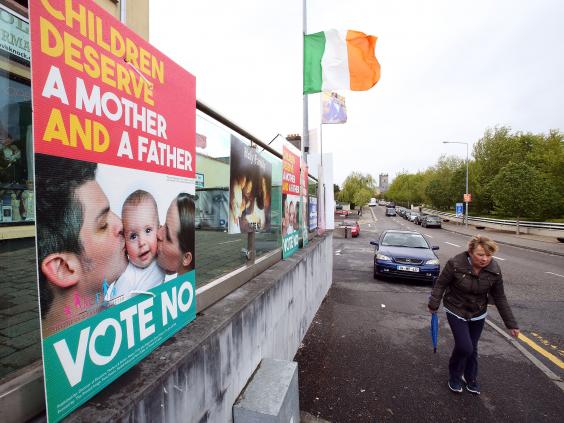 It's not just Mr Pendergrast who doesn't want to rely on luck and this brings us to the central point of the referendum. What gay couples want to obtain is marriage equality and this because even if similar, civil partnership, legalised in Ireland almost five years ago, doesn't guarantee them exactly the same rights.
"Practically speaking there are something like 160 differences between civil partnership and marriage. There are small things around finance and taxes, but the main difference is really about social support. So the difference between civil partnership and marriage is the difference between recognising my partner and I, who have been together for ten year, as a family", explains Ms Kidney, who has been canvassing for the campaign for nearly a month now. "The possibility of ending up face to face with someone who's discriminating against you is terrifying." 
"Let's be honest here. Gays love social media, we are great and we are all over that. But the keyboard fight doesn't mean we are going to win. The hashtag we started was #knockdoorsnotkeyboards. We have done a great job bringing this all over social media, but now it's time to leave the keyboard aside", explains Buzz O'Neil, who has been a gay rights activist for at least thirty years.
Ireland looks split - in the largest cities of Cork, Galway and Dublin a strong "yes" is expected, but the rural areas dominated by Catholic communities, the no vote is likely to prevail. "We know that we live in Ireland, in a little gay bubble within our yes bubble, so we need to keep knocking on doors.
Because every single person who says is going to vote no, is going to vote no, but not every single person who said they are voting yes, then go out and vote yes." The Brits should know very well that the exit polls shouldn't be trusted. Is Ireland ready for this step?
Reuse content