Underneath an unambiguous 'No smoking' sign, a middle-aged man merrily puffs on a Drina cigarette, blowing fumes around extravagantly. The guard pats him on the shoulder as he passes. The passenger sways as the train threads between the emerald hills of the Neretva Valley on the most beautiful railway line in southern Europe.
These carriages were donated by Statens Jarnvagar, Sweden's State Railway. Notionally, perhaps, to repay the footballing debt the Swedes owe to Bosnia for inheriting Zlatan Ibrahimovic, one of the best strikers on the planet. The Swedish train meanders from Ploce on the Croatian coast up to Sarajevo, the Bosnian capital. Apt really, as Ibrahimovic's mum was Croatian and dad Bosnian.
At Jablanica – where former Bayern Munich winger Hasan Salihamidzic was born – the train judders to a halt for a few minutes. Some lads are having a kickabout while the evening sun dips behind spiky mountain peaks. I squint as the train jolts back into life, careful not to let my Sarajevska Pivo spill. It looks like one of the coaches is also smoking as he barks encouragement.
Like Drina fags and Sarejeskva lager, football is intricately woven into the fabric of Bosnian society. "Football's a way of bringing people together," says Bosnia's sports minister Salmir Kaplan. "I think many more people support our national team than even a few years ago." Football appears to the tipsy traveller as a benign faith in a country where real religion has caused catastrophe.
Bosnia & Herzegovina's men's national team are currently on the biggest roll of their short life. Having lost in the play-offs for the past two major tournaments, they've just qualified for their first-ever World Cup after an exhilarating campaign. The Dragons are in sublime form – they're Bosnia's Golden Generation. "My favourite players are Edin Dzeko, Zvjezdan Misimovic, Emir Spahic and Miralem Pjanic," the sports minister adds.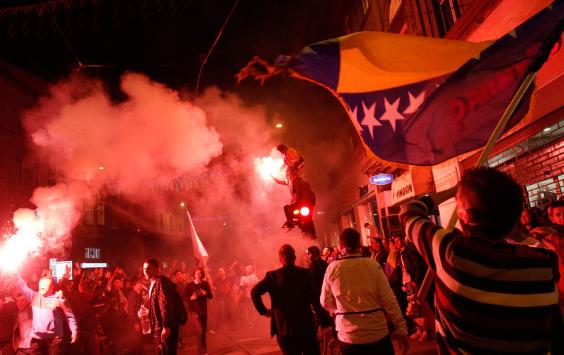 In the capital, the northern wall of the Markale market building is familiar from film and the TV news footage of the siege of the city – a shell landed here on 5 February 1994, killing 68 and injuring 144. An evocative memorial lists the names of the slaughtered innocents. Around the corner, outside the Orthodox Church, Ibrahimovic's autobiography gets pride of place on the shelves of a bookstall. On Ferhadija, the main shopping drag, a hawker flogs posters – Chelsea, Borussia Dortmund, FK Sarajevo. At FK's social club, some fans are boozing.
Sarajevo's chief tormentor was, ironically, a trained psychiatrist who had been FK's 'psychological coach' in a previous life. At the club in the 1970s, as former FK midfielder Predrag Pasic recounted to Al Jazeera earlier this year, Radovan Karadzic taught the players – no matter what their ethnicity – to be one team, to ignore their differences. The polar opposite to the segregation he preached and the fears he preyed upon as he led the Bosnian Serbs in their offensive against the city.
Karadzic is currently awaiting trial at The Hague for crimes against humanity. Pasic though, is a hero. He ran a football school for Bosnian, Serb, Croat, Jewish and Roma boys in besieged Sarajevo – coaching anyone as the mortars fell. He also played for Yugoslavia before team and country alike imploded. That unified Yugoslavia squad was a powerhouse – reaching the World Cup semi-finals in 1962 and the quarters in 1990. They commanded respect. "We supported Yugoslavia as our country and we still think of their results as 'ours'," remembers sports journalist Sasa Ibrulj, who, like Ibrahimovic's father, left Bosnia for Sweden. "After all, our heroes – players from our clubs – used to play for Yugoslavia."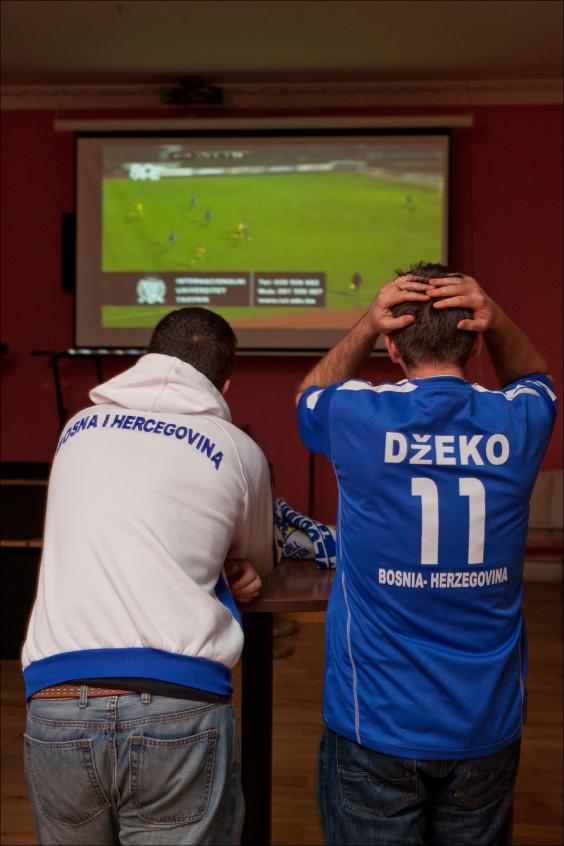 With Yugoslavia existing only in old Panini sticker albums, the national teams from the former federation have taken the mantle. Bosnia are riding highest of all and their fans are the biggest believers. "I've been to away games with thousands of Bosnian supporters from all over Europe, even Australia and America," says Hary Sijercic, a Bosnian who's come out from Britain to see the national team play a friendly with the USA at Sarajevo's Olympic Stadium. The 1984 Winter Olympics opened here – now it's surrounded by war graves. Sijercic adds: "The Dayton Agreement [the peace deal signed in Ohio in 1995] gave us unjust peace. Bosnia is fragile, the future uncertain. So the team has a strong following and carries the hopes of Bosnians." The friendly is a thriller. Bosnia lose 4-2 despite two early goals from Manchester City's Edin Dzeko.
Football here has a darker side. The first place the Serbs and Bosnian Muslims looked for fighters during the war was the football clubs. The Horde Zla ('Hordes of Evil') ultras (hardcore fans) of FK Sarajevo enlisted in the Bosnian Government army. So did the Manijaci ('Maniacs') of Zeljeznicar, FK's derby rivals and current Bosnian Premijer Liga champions. Meanwhile in Belgrade, Zeljko 'Arkan' Raznatovic – bank robber and sometime spy who escaped from prison in Belgium – led the Delije, 'the Hardmen' ultras of Red Star Belgrade, at a point of extraordinary politicisation in the Yugoslav league (the last-ever game of which, between Red Star and Dynamo Zagreb, was abandoned due to a riot).
Arkan's hooligans formed the rump of the Tigers – a Serb paramilitary gang who revelled in the worst excesses of gang rape, torture and murder of Croat and Bosnian civilians. Composed of thugs and criminals, the Tigers starred in the same nightmares as the Nazi Oskar Dirlewanger's savages who terrorised Poland and Belarus in the Second World War. For one infamous photograph, he brandished a baby tiger in front of his balaclava-ed, AK47-toting gang. Bored after hostilities ceased, Arkan – at the request of Jovica Stanisic, head of state security– bought Red Star's Belgrade rivals Obilic, where demobbed Tigers would point loaded guns at opposition players' heads to dissuade them from scoring.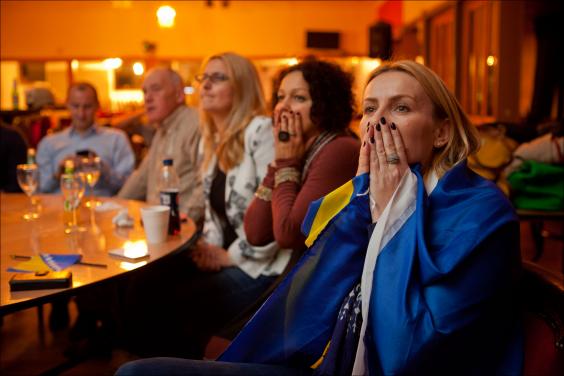 Because of the war, Bosnia's fans are scattered like petals of the native golden lily which used to grace their flag. This partially explains their devotion to their national team – it draws them together. Back in London I track down Fedja Saric. He fled Mostar as a teenager in 1992. I join Saric and a dozen of Britain's 3,000-odd Bosnians watching the Dragons play Lithuania in their final crunch qualification match. Intriguingly, they've hired Vuk – a Serbian sports club in Chiswick's railway hinterland. It's a mark of how old wounds are healing. Some fans arrive in blue. Most of them nervily chain-smoke before the match is relayed on a big screen. Hary Sijercic is here too, fretting about Bosnia's defence.f
Saric reminisces: "The first Bosnia game I went to was against Scotland, on 5 October 1999, in Glasgow. Scotland won 1-0. After the game we went to the players' hotel. A few stayed up watching the highlights with us. I remember there was Adnan Guso, Mirza Varesanovic – and my hero, Sergej Barbarez. They were really nice." The national team has developed exponentially since then. During the Lithuania game, a potent mixture of excitement and nerves hangs in the air until the goal is scored by Stuttgart's Vedad Ibisevic. Bosnia win 1-0 to secure their place in Brazil. The final goal of the qualifying campaign prompts elation.
Bosnia has remained calm since the 1995 peace accords. It's essentially a US client state today, with a disproportionately large American embassy outside the train station. But a wave of protests swept the country this summer, fired by the Government failing to issue newborns with ID numbers to access medical care. Despite the superficial sense of peace, anger over Government ineptitude, corruption and ethnic infighting simmers. Now even EU accession looks like a distant dream as the old cat-fights continue – whether over educational discrimination, a census, or the failure to draw up a fair national constitution. Dissent is in the air.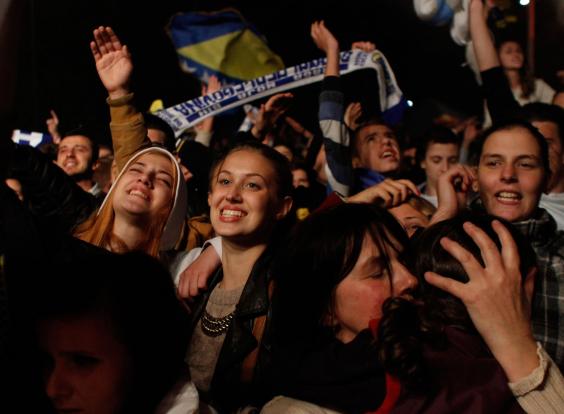 One wonders whether the Government hopes that football will take minds off problems elsewhere. "Of course, sport is cohesive and beneficial for the good mental and economic health of the nation," muses Mustafa Mujezinovic, the friendly ambassador to Britain. "As a player I don't want to think about politics," says Edin Dzeko, flatly. "From personal experience I know it's not good. I'm interested in what's happening on the pitch," adds the 27-year-old.
Nothing in the Balkans is as simple as it appears. Bosnia & Herzegovnia contains a 'secret' country. The Republika Srpska is the Bosnian Serbs' homeland, carved out during the war. So will there ever be two Bosnian teams? "Probably never. The Republika Sprska football federation can't be a Fifa or Uefa member if the 'country' is not in the UN," explains Sasa Ibrulj. "I don't see how they could become an independent country. However, they can play friendlies – and are planing to do so."
If Bosnia's success disaffects the people who don't see the team as 'theirs', is the Bosnian FA doing enough to make the team inclusive? "More Serbs and Croats support our national team," says the Bosnian FA's Slavica Pecikoza. "Our team plays attractive football. Now it's a natural thing that Serbs and Croats from Bosnia play for Bosnia. Things are better than they were before."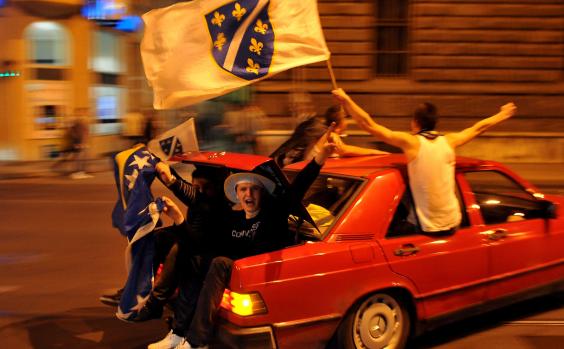 For weathered Bosnians, football is a rare chance to celebrate. After being let down by politicians and previous national teams, this success is a shared dream that's actually come true. "Despite all the troubles and financial hardships, a small, mostly divided country still manages to produce some of the best players and win big games," Fedja Saric reflects. "It's an honour to support players who are in touch with their supporters. You see them playing to make their fans proud, rather than for the money."
Dzeko appreciates the faith the fans put in him: "I really love Bosnia. It's always been my dream to play for the national team." His friend Asmir Begovic, Stoke City and Bosnia's highly-rated goalkeeper, agrees: "I think it has drawn more attention to the positive side of things in Bosnia and also made people back home happier. It gives them something to smile about."
Now, eyes turn to Brazil 2014. "Maybe people will get themselves fired to cheer us in Brazil," laughs Dzeko. Perhaps this international role can bolster the domestic game. "Teams like FK and Zeljeznicar have such a rich tradition – it'd be fantastic to see them in the Champions League again," says Begovic. Indeed, FK are being courted by eccentric Malaysian billionaire and Cardiff City owner Vincent Tan.
When I watch the way Begovic, Dzeko and the other young Bosnians play the first half of their victorious game against Lithuania, I can see what the fans see. The play is scrappy – but the Dragons are positive, pushy. "I can't describe how I feel right now," gushes Saric after the win. It's time to pack the duty-free Drinas: they're going to the World Cup. Next summer, Bosnia could become the little country that can – perhaps laying some ghosts to rest in the process. "This is about hope," one fan tells me in Chiswick. It's also about a people getting their dignity – and their sanity – back.