Women in Turkey have taken to social media to protest against the murder of a student who tried to stop a man from raping her.
Police discovered the burnt body of Ozgecan Aslan in a riverbed in the city of Mersin on Friday 13 February. She had been travelling on a minibus in the south-east province of Mersin on Wednesday when a man tried to rape her, according to local media.
Reports said that Aslan used pepper spray on the man before he stabbed her and beat her to death using an iron bar. Turkish media reported that the suspect allegedly cut of Aslan's fingers in an attempt to ensure no DNA match could be found with scratches Aslan made on his face during the struggle.
Three men were arrested in connection with her death on February 16: a minibus driver, his father and one of his friends.
The murder sparked mass protests on the streets in Turkey and has since prompted women to share their stories of sexual violence, harassment and fear in a Twitter campaign.
Using the hashtag #sendeanlat ('tell your story'), women have been posting their experiences of violence and intimidation. They are also detailing the tactics they have resorted to, such as getting off a bus early in order to avoid being the last passenger, or wearing a wedding ring.
"I have two pocket knives and a pepper spray in my bad. For a 10-minute walk, I go equipped like Tomb Raider." #tellyourstory #sendeanlat

— OutForBeyond (@OutForBeyond) February 15, 2015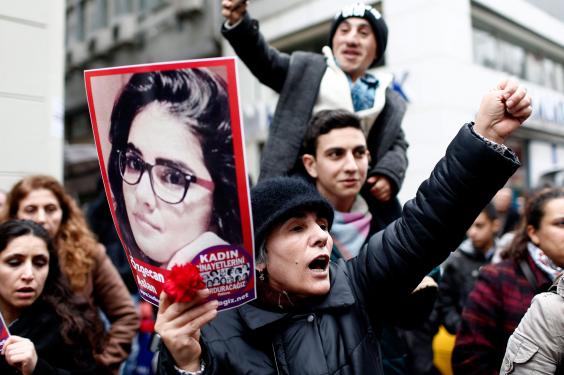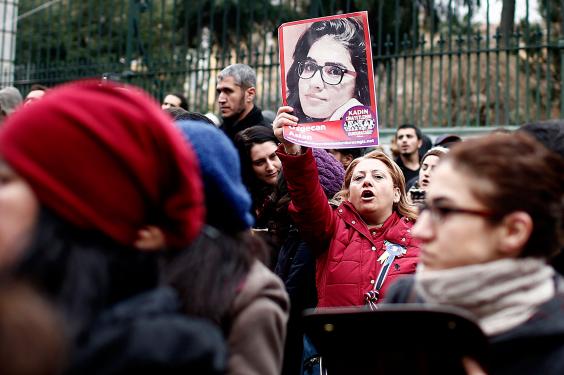 By Monday 16 February, over 440,000 tweets had been shared under the hashtag, which was the third highest trending topic in the world on Sunday.
Large rallies were held in Turkish cities such as Istanbul and Ankara, with thousands of women and men wearing black to signify mourning for Aslan.
The funeral in Mersin was attended by hundreds of women, where, despite the understanding of Islam in Turkey where women remain at the back of the funeral crowd, women refused to step away. Ignoring warnings from the imam, it was reported that the women said they were determined "no other man's hands would touch her again".
RT @SpiritOfGezi: Highschool studs in many cities wearing black protest murder of #OzgecanAslan, #Turkey @sendika_org pic.twitter.com/XSrZJQCVAX

— NoJusticeNoPeace (@anubidal) February 16, 2015
The other and true face of women in #Turkey. Here carrying #OzgecanAslan coffin which was raped and murdered. pic.twitter.com/IpVJ8SNOh4

— Ariane Bonzon (@ArianeBonzon) February 15, 2015
In the past 10 years the number of gender-related homicides has tripled in Turkey. Between 2003 and 2013, domestic violence increased by more than 1,400%. In the Global Gender Gap report, Turkey ranks 125th among 142 countries.
According to Al Jazeera, official figures said an estimated 28,000 women were assaulted in 2013.
Reuse content