The Turkish Prime Minister, Recep Tayyip Erdogan, has accused his political enemies of faking a wiretap in which he and his son Bilal are supposedly heard discussing how to smuggle large sums of money out of the country.
He described the 11-minute audio tape, which was posted on YouTube, as being a "shameless montage" in the latest round of political confrontation in Turkey that sees Mr Erdogan under more serious attack than at any time in recent years. "My advice to you is flee the country, take your helicopter, or resign," said opposition leader Kemal Kilicdaroglu during a session of parliament.
"The people don't believe these lies," retorted Mr Erdogan to cheers from the public gallery. Some 1,000 opposition party supporters gathered in central Istanbul to throw €100 notes into the air.
The release of the tapes is the latest stage in a struggle for power between Mr Erdogan's AKP party and its former ally, the network of institutions and officials run by the Sunni cleric Fethullah Gulen who lives in Pennsylvania. The Gulenists became powerful after 2002 working in concert with Mr Erdogan against the Turkish army, judiciary and other state agencies that had previously dominated Turkish politics.
Mr Erdogan accuses the Gulenists of running "a parallel state" and of being behind an investigation into corruption in his family and government that became public in December.
Since then the government has fired hundreds of state prosecutors, judges and police in an unprecedented purge. The Turkish President, Gul Abdullah, today approved a law tightening the government's control over the judiciary.
Pro-government newspapers say that thousands of people, including the Prime Minister and the head of national intelligence Hakan Fidan as well as some 7,000 journalists, academics and businessman have been wiretapped for the past three years.
Mr Gulen has denied through his lawyer of having anything to do with the wiretapping and said that accusations against him contributed to "hatred and enmity" in Turkish society.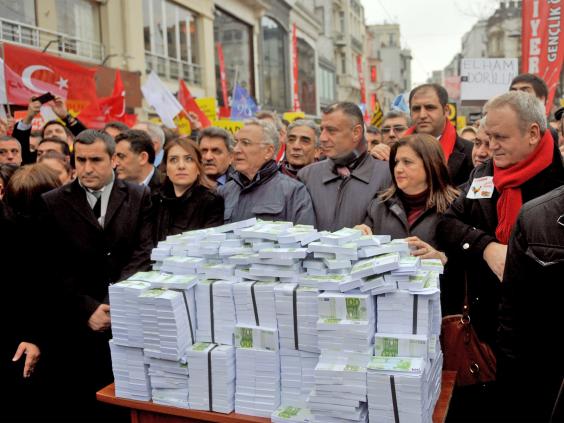 Mr Erdogan, who will be fighting local elections in March, is unlikely to be driven from power, but he may be weakened by a succession of crises, first with the Gezi Park protesters last summer, and now with the Gulenists.
He has won three elections since 2002 and remains popular according to the latest opinion polls. He is a combative politician forcefully rejecting allegations of illegality.
"They went and made a shameless montage and released it," he told parliament, referring to the Gulenists. "They're even listening to the state's encrypted telephones. That's how low they are. There is no allegation we cannot answer."
He went on: "We will reveal one-by-one the disgraces of the parallel organisation and we will make those who walk with them so embarrassed that they won't be able to go into the street."
The opposition Republican People's Party is focusing attention on the alleged phone conversation in which Erdogan and his son Bilal discuss reducing funds in Turkey to zero by distributing them among businessmen. At one point a voice that is meant to be Bilal talks about €30m still to be disposed of. Mr Erdogan's position remains strong since he appeals to the Islamic centre right who are traditionally the majority of the Turkish electorate. But one of his strengths has always been the surging growth of the Turkish economy and this is looking less robust.
Turkish intervention in Syria over the last three years has been a failure with many Turks blaming the Prime Minister for giving backing to jihadi rebels notorious for carrying out sectarian killings.
There is no doubt that the Gulenists do command the loyalty of many officials in the police, judiciary and some security organisations and furthermore the AKP knows who they are.
This is because, at a time when the two were allied, the AKP promoted Gulenists to replace military judges and other officials of the old establishment that ruled Turkey before 2002.
Regardless of whether or not the present tapes are faked, their emergence at this time, just as the AKP was starting its campaign for the March election, shows that Mr Erdogan still faces enemies within the state apparatus with a high level of technical expertise.