A few miles out of Artyomovsk, there is a turn to the right. There, most civilian vehicles disappear, and the highway turns into a dramatic artery of war, with green diesel trucks, rocket launchers, missile transporters, armoured vehicles and tanks pulsate along the frozen road, over the hill towards the theatre of Debaltseve.
The town, a transport hub about 20 miles north east of Donetsk, has witnessed many of the battles in Ukraine's bloody civil war. It was in the surrounding fields that the severed fuselage of the downed passenger jet Flight MH17 lay after being shot out of the sky – supposedly by rebel fighters.
Yesterday, on what many had hoped would be the last day of the civil war which has claimed more than 5,300 lives, it was again the centre of pitched battles.
Debaltseve is a key strategic link between separatist-held Luhansk and Donetsk. In recent days, Russian-backed separatists have been undertaking a serious attempt to encircle the town ahead of this morning's promised ceasefire.
Phone networks are down in the area and the military has cut off roads immediately surrounding the fighting. Last night, however, it was clear that Ukrainian forces remained in control of the town and fighting continued in the surrounding villages, some of which have been changing hands on a daily basis.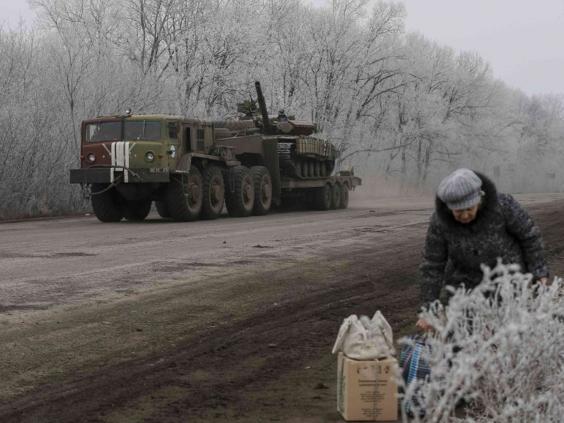 Fierce battles were reported in Logvinovo, about five miles north west of Debaltseve. Russian-backed forces took control of the settlement earlier last week, creating serious supply and evacuation difficulties for the Ukrainians. Pyotr, a Ukrainian reconnaissance officer, said that infantry battles were continuing around the village. He did, however, claim government forces had been able re-establish supply routes along the road.
Fighting intensified in the hours leading up to the ceasefire, due to take effect in the first minutes of this morning. Kiev authorities said seven soldiers had been killed in one day. The prospect of a new ceasefire has provided hope in the region, but few on the ground in this, the most strategic of battlegrounds, believed it would last, if it is observed at all.
"If Russia says ceasefire, it means war," said Oleg Voitekhovsky, a Ukrainian military medic and deputy commander of the National Guard medical company operating from Artyomovsk. Staring into the ground, he said life had been "pretty tough" over the past few days, with the company dealing, on average, with 100 injuries daily. The number of dead was "secret" information, he added.
Frontline medicine is a dangerous profession. Over the past week, Mr Voitekhovsky's medical company says it has lost three vehicles and two medical teams during the fighting. Only two doctors returned from a group that set off from Debaltseve, with four medics missing, presumed prisoners of war.
Ukraine crisis: A timeline of the conflict
Ukraine crisis: A timeline of the conflict
1/22 30 November 2013

Public support grows for the "Euromaidan" anti-government protesters in Kiev demonstrating against Yanukovych's refusal to sign the EU Association Agreement as images of them injured by police crackdown spread.

EPA

2/22 20 February 2014

Kiev sees its worst day of violence for almost 70 years as at least 88 people are killed in 48 hours, with uniformed snipers shooting at protesters from rooftops.

AFP/Getty Images

3/22 22 February 2014

Yanukovych flees the country after protest leaders and politicians agree to form a new government and hold elections. The imprisoned former Prime Minister, Yulia Tymoshenko, is freed from prison and protesters take control of Presidential administration buildings, including Mr Yanukovych's residence.

Genya Savilov/AFP/Getty Imageses

4/22 27 February 2014

Pro-Russian militias seize government buildings in Crimea and the new Ukrainian government vows to prevent the country breaking up as the Crimean Parliament sets a referendum on secession from Ukraine in May.

Sean Gallup/Getty Images

5/22 16 March 2014

Crimea votes overwhelmingly to secede from Ukraine and join Russia in a ballot condemned by the US and Europe as illegal. Russian troops had moved into the peninsula weeks before after pro-Russian separatists occupied buildings.

EPA

6/22 6 April 2014

Pro-Russian rebels seize government buildings in the eastern cities of Donetsk, Luhansk and Kharkiv, calling for a referendum on independence and claiming independent republic. Ukraine authorities regain control of Kharkiv buildings on 8 April after launching an "anti-terror operation" but the rest remain out of their control.

EPA/PHOTOMIG

7/22 7 June 2014

Petro Poroshenko is sworn in as Ukraine's president, calling on separatists to lay down their arms and end the fighting and later orders the creation of humanitarian corridors, since violated, to allow civilians to flee war zones.

Getty Images

8/22 27 June 2014

The EU signs an association agreement with Ukraine, along with Georgia and Moldova, eight months after protests over the abandonment of the deal sparked the crisis.

LOUISA GOULIAMAKI/AFP/Getty Images

9/22 17 July 2014

Malaysian Airlines flight MH17 is shot down over eastern Ukraine, killing all 298 people on board. Ukrainian intelligence officials claim it was hit by rebels using a Buk surface-to-air launcher in an apparent accident.

10/22 22 August 2014

A Russian aid convoy of more than 100 lorries enters eastern Ukraine and makes drop in rebel-controlled Luhansk without Government permission, sparking allegations of a "direct violation of international law".

Reuters/Alexander Demianchuk

11/22 29 August 2014

Nato releases satellite images appearing to show Russian soldiers, artillery and armoured vehicles engaged in military operations in eastern Ukraine.

Nato

12/22 8 September 2014

Russia warns that it could block flights through its airspace if the EU goes ahead with new sanctions over the ongoing crisis and conflict

EPA

13/22 17 September 2014

Despite the cease-fire and a law passed by the Ukrainian parliament on Tuesday granting greater autonomy to rebel-held parts of the east, civilian casualties continued to rise, adding to the estimated 3,000 people killed

Reuters

14/22 16 November 2014

The fragile ceasefire gives way to an increased wave of military activity as artillery fire continues to rock the eastern Ukraine's pro-Russian rebel bastion of Donetsk

Getty

15/22 26 December 2014

A new round of ceasefire talks, scheduled on neutral ground in the Belariusian capital Minsk, are called off

AFP/Getty

16/22 12 January 2015

Soldiers in Debaltseve were forced to prepare heavy defences around the city; despite a brief respite to the fighting in eastern Ukraine, hostilities in Donetsk resumed at a level not seen since September 2014

AFP/Getty

17/22 21 January 2015

13 people are killed during shelling of bus in the rebel-held city of Donetsk

Reuters

18/22 24 January 2015

Ten people were killed after pro-Russian separatists bombarded the east Ukrainian port city of Mariupol

AP

19/22 2 February 2015

There was a dangerous shift in tempo as rebels bolstered troop numbers against government forces

AFP/Getty

20/22 11 February 2015

European leaders meet in Minsk and agree on a ceasefire in eastern Ukraine beginning on February 14. From left to right: Belarus President Alexander Lukashenko, Russian President Vladimir Putin, German Chancellor Angela Merkel, France's President Francois Hollande and Ukrainian President Petro Poroshenko.

MAXIM MALINOVSKY | AFP | Getty Images

21/22 13 February 2015

Pro-Russian rebels in the city of Gorlivka, in the Donetsk region, fire missiles at Ukrainian forces in Debaltseve. Fighting continued in Debaltseve for a number of days after the Minsk ceasefire began.

ANDREY BORODULIN | AFP | Getty Images

22/22 18 February 2015

Ukrainian soldiers repair the bullet-shattered windshield of their truck as their withdraw from the strategic town of Debaltseve. Following intense shelling from pro-Russian rebels, Ukrainian forces began to leave the town in the early hours of February 18.

Brendan Hoffman | Getty Images
On Thursday, an ambulance was blown up on a mine as it travelled along the highway to Debaltseve. The explosion projected one doctor some distance along the road, but this was to save him: after hiding in a bush, he was later able to make his way back to a Ukrainian base. There, he told soldiers that he had heard three shots, which he assumed to mean the end of at least three of his colleagues. Igor Ilkiv, the medic commander, believes the last medic may be in captivity.
Between chain-smoking, Mr Ilkiv spoke rapidly and nervously. He confused figures regularly, and lost patience with the journalists in front of him who asked for clarification. "Pay attention," he shouted. The relentless flow of war casualties has prompted Mr Ilkiv's medical team to convert an old clinic into an overflow base for the neighbouring hospital. The staff there yesterday appeared dedicated and busy, but the new facilities seemed more reminiscent of a hostel than a serious medical facility.
Mr Ilkiv said that his team had to deal with eight civilian casualties following a missile attack on the outskirts of the town on Friday. Of these, three were serious, and one had already been evacuated to a better-equipped hospital in Kharkiv.
It seemed clear that Friday's attack included the use of what were described as "cluster bombs". Seventeen submunitions were found scattered at the scene, two of which had failed to explode. At least three people died, including two children.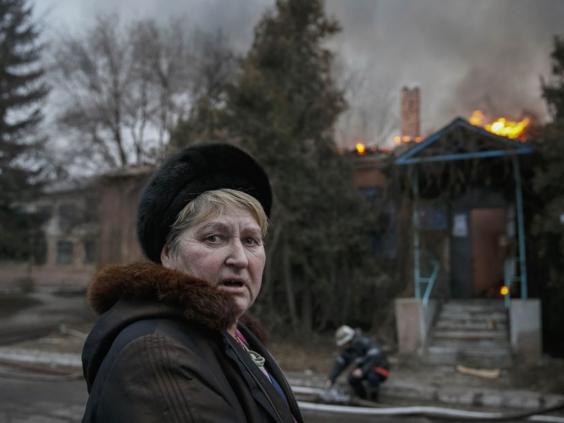 Missile disposal experts were still working at the scene yesterday, and medics believed the death toll will increase. "Ahead of midnight, rebels are trying to complete tactically important plans to enlarge the territory under their control," said Ukrainian military spokesman Andriy Lysenko yesterday.
Meanwhile, officials in the port of Mariupol said an array of artillery attacks hit areas near the city yesterday morning. There was no immediate information on casualties. That came as the US ambassador to Ukraine, Geoffrey Pyatt, posted on Twitter what he said were satellite photos showing Russian artillery systems near the town of Lomuvatka, 12 miles north-east of Debaltseve.
Mr Ilkiv criticised the chaotic nature of the emergency response. "I've been in many humanitarian missions before and this was not how to do it," he said. The area should have been cordoned off, he said, and only essential workers allowed in. "There were more than a dozen cars there – journalists, citizens, military, you name it. All it needed was a repeat attack and there would have been carnage."
Municipal, medical and military authorities met late on Friday night to discuss co-ordinating the emergency response better, Mr Ilkiv added. Ukraine's President Petro Poroshenko yesterday warned that if the ceasefire agreed in Minsk last week fails, he would introduce martial law across the country.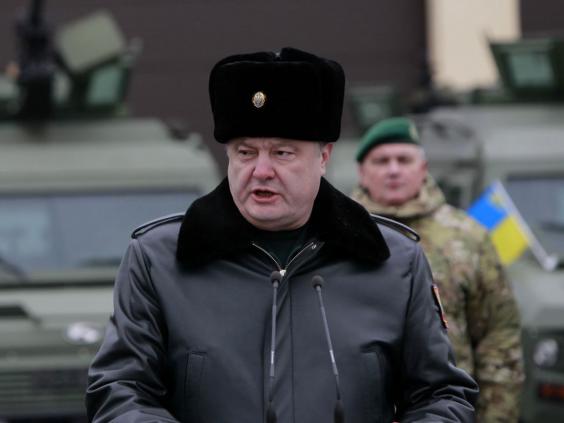 "Even before Minsk, I warned that we will have to, if there is no peace, take a very difficult but necessary decision to introduce martial law," he said. "I stress, once again, that in this case the martial law will be introduced not just in Donetsk and Luhansk, but in the whole country."
Some semblance of ordinary life had returned to Artyomovsk on Friday: women pushed prams; teenagers played football; the restaurants were full. But Lena Petukhova, owner of a flower shop, said people were still scared. "We hadn't seen any serious fighting here since the summer," she said. "Then, it was certainly frightening: street-to-street stuff. People died. But now we're dealing with cluster bombs! You're walking along the street and you don't know what will fall on you."
As she put the finishing touches to a Valentine's Day bouquet, Ms Petukhova said business was down but a few customers had come through the doors all the same. "People want to believe in the future," she said. "Love is stronger than war."
Reuse content