Leonid Krasnopolkshy didn't grow up Jewish. In Soviet-run eastern Ukraine, religion was something his family found it easier to forget about. It wasn't until 10 years ago that the tailor and fashion blogger decided to embrace his history and join Donetsk's 15,000-strong Jewish community.
Today that's a decision that's putting him at risk. "I am scared just to walk down the street," he said. "Earlier this place was quiet and safe but now the level of crime and the number of crimes have increased. This situation is very similar to the situation in the Balkans before civil war."
Krasnopolkshy says he has contemplated moving elsewhere but explains that it's not a decision that can be undertaken lightly. "It's easy to say you will leave," he said. "But it's not so easy to leave your flat, your family, your place here."
Donetsk has historically been a cosmopolitan city.  Founded in the mid-19th century by an entrepreneurial Welshman, it is today home to large communities of Jews, Greeks, Azerbaijanis, Armenians, Georgians and Tatars. But many minorities in the city today say they feel under threat and have considered leaving.
On Tuesday, the United Nations refugee agency reported that the situation in Ukraine had left an estimated 10,000 people displaced and that this number was set to rise. Adrian Edwards, a spokesman for the agency, said in a press release that displaced people cited fear of persecution because of ethnicity or religious beliefs.
There have already been some alarming developments. When pro-Russian separatists first took control of Donetsk, leaflets purporting to be from the separatist authorities were distributed telling Jewish people to register themselves as Jewish and pay a special tax.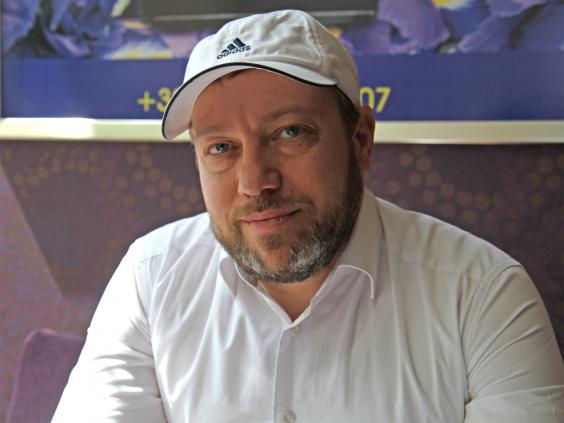 The Jewish community is tense. Both the synagogue and Jewish cultural centre are guarded by jumpy armed men from a private security company. 
Ukrainian Jews have often been persecuted. Before the Second World War, they were the largest minority in this area, making up a little under a third of Ukraine's urban populations and numbering almost three million. Persecution and emigration over the past century have brought their numbers down to fewer than 70,000 today. On Friday, The Times of Israel reported a significant increase in the number of Ukrainian Jews from Ukraine applying to emigrate to Israel.
Another minority group fearful of the future here is the Tatars, a Muslim group that has lived in the area for hundreds of years. Tatars living in Crimea experienced extreme persecution under Soviet rule. In 1944, Stalin deported the entire Tatar population, some 200,000 men, women and children, from the Crimean peninsula to Siberia and central Asia. Almost half died en route or shortly after their arrival. The surviving families were only allowed to return to Crimea in the late 1980s.
Tatars in Donetsk said they were keen for the region to remain part of Ukraine. "If you compare Russia and Ukraine, the situation is much better here. We have far more rights here," explained Sheikh Said Ismagilov, the mufti of Donetsk's Tartar community at his mosque on the outskirts of Donetsk. "It's always been very peaceful here. People are very tolerant towards Muslims. Here in Ukraine we can build new mosques."
He spoke warily of reports from Russia of mosque building being prohibited and translation of the Koran banned. "They are not tolerant to Muslims because of two Chechen wars. Muslims there are very often associated with the terrorists."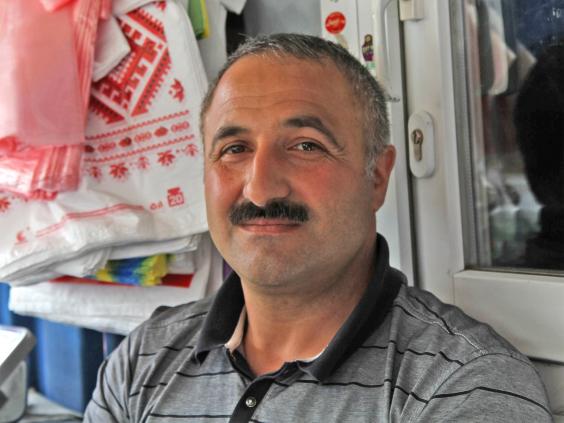 Since the Crimean peninsula was annexed by Russia in March, there have been reports of repression by the new authorities there. On Sunday, rallies to mark the 70th anniversary of the mass deportations were disrupted by military helicopters swooping low over the crowd.
"It's less than two months since Russia annexed Crimea," said Ismagilov "but already they don't allow Crimean Tatars to make this rally just to remember those who died. This is a very sad moment."
Despite his fears about the community in Crimea, no one has left the Donetsk Tatar community yet. He remains optimistic: "We still hope that Ukraine and the Ukrainian government will manage to control the situation and everything will be OK here."
However, there are reports of attacks on more vulnerable and less visible minorities here. People spoke of the Roma living around the city having their homes raided.
There is concern also over the 2,000-strong community of Meskhetian Turks who came to Ukraine in the 1990s following persecution in the Soviet Union. At the campus of the medical university in Donetsk on Monday, African and Arab students said that they would return home before the end of the week.
At the city's central market, Azerbaijani tradesmen were still selling food. Alexander, 31, said he had considered leaving but feared it would be too expensive to move his four children. Another Azerbaijani stall-owner, Timur, was dismissive of the situation. "This is just politics," he said. Asked what he wanted he said: "Just peace."
Reuse content