When President Vladimir Putin addressed the Kremlin this week after his swift move to annex Crimea, it was with an unbending vision of a resurgent Russia standing up to a hypocritical West.
Dealing with vastly differing economic interests and clunking diplomatic procedures, European Union leaders meeting in Brussels on Thursday to formulate an appropriate response cannot hope to match Mr Putin's speed or bluster. But diplomats and analysts say a united approach is more important than ever, warning that Moscow will not hesitate to exploit any splits that emerge.
As it became clear earlier this month that Mr Putin was not going meekly to accept the ousting of an ally in Kiev and the swearing-in of a pro-EU government, the bloc's 28 heads of state drew up a plan of escalating reaction and retaliation to his military moves in Crimea.
Crimea referendum and independence
Crimea referendum and independence
1/14 Crimea Referendum

A man shows his shirt with the Russian emblem as he celebrates the results of the Crimean referendum at the Lenin Square in Simferopol

EPA

2/14 Crimea Referendum

An elderly retired Soviet Navy officer and his wife take a walk in Sevastopol the morning after the referendum

AFP/Getty

3/14 Crimea Referendum

A man plays accordion as people dance during celebrations in Sevastopol

AFP

4/14 Crimea Referendum

People wave Russian flags as fireworks explode in the sky over Sevastopol following the announcement of the result of the referendum

EPA

5/14 Crimea Referendum

A member of a Ukrainian "Maidan" self-defense battalion takes part in training to qualify for service in the newly-created National Guard.

Reuters

6/14 Crimea Referendum

Pro-Russian protesters hold a Russian, Crimean and Soviet flags during their rally at Lenin Square in Simferopol, Ukraine

EPA

7/14 Crimea Referendum

A member of the Crimean election commission waits for voters at the polling station in Belogorsk near Simferopol, Crimea, Ukraine

EPA

8/14 Crimea Referendum

Polling stations opened in Crimea for a referendum about whether the Ukrainian Black Sea region should join Russia. The vote has been widely condemned by Western governments, who call it illegal and have announced sanctions against Russia if it goes ahead. Thousands of unmarked forces, believed to be Russian, have appeared in Crimea after local Moscow-backed authorities asked Russia for protection against 'extremists' in the new Ukrainian leadership

EPA

9/14 Crimea Referendum

A lettering on the facade of the Council of Ministers building reads 'Spring in Crimea' in Simferopol, Crimea, Ukraine

EPA

10/14 Crimea Referendum

People wave Crimean flags at Lenin square in Simferopol, Crimea, Ukraine

EPA

11/14 Crimea Referendum

A poster in Crimea presents a stark choice - Nazism, or Russia - to voters ahead of the referendum

12/14 Crimea Referendum

Protesters against Ukraine's referendum gather in Simferopol

Getty Images

13/14 Crimea Referendum

Action stations: Preparations for today's referendum in Simferopol, where Crimea will vote to become part of Russia

AP

14/14 Crimea Referendum

Cossacks guard the regional parliament building in Simferopol during the Crimean referendum

AP
As Mr Putin breached each condition – keeping troops in the peninsula, backing a referendum for its separation from Ukraine – the punitive measures were implemented, most recently on Monday when EU foreign ministers imposed travel bans and assets freezes on 21 Russian and Ukrainian officials.
Then came Mr Putin's coup de théâtre at the Kremlin on Tuesday, with his blistering speech and signing of a decree to annex Crimea. Now the EU is faced with the difficult decision of whether to move to the last step in its plan, a step one EU diplomat referred to as "economic war": tough sanctions which would strike at the heart of Russia's business and trade relations.
Russia's foreign ministry has vowed that any such moves "would not go without an adequate response", and with many EU nations reliant on Russian energy supplies and others with carefully cultivated business and economic ties, it is not an empty threat. " Sanctions are not cost-free for member states," one British diplomat said.
David Cameron made clear that he will go into Thursday's meeting pushing a tough line, including threatening Russia with permanent exclusion from the G8. Other nations are more cautious, particularly those that would suffer most if Moscow retaliated by turning off the taps on gas and oil supplies.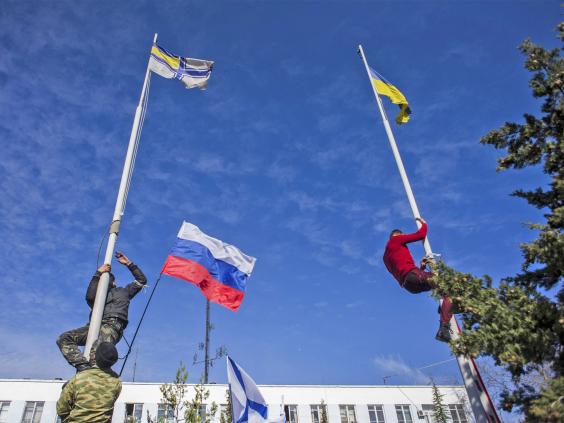 "It's easy to say let's introduce measures in the field of energy, then in Hungary, for example, we won't be able to run our industry," said a diplomat from Hungary, which relies on Russia for 80 per cent of its energy supplies. If the harshest sanctions were pursued, "we have to have measures and instruments to assist those members states who will be mostly exposed", he added.
It is this need to balance the interests of all member states that will probably prevent a decision on harsher sanctions. One diplomat said Russia will aim to exploit any splits, making it even more important that the EU takes time to find a fair way to ensure that any sanctions hit evenly across all sectors such as energy, arms, agriculture and financial services.
The most likely concrete outcome of the meeting is the addition of a few more names to the sanctions list – potentially some oligarchs and members of Mr Putin's inner circle. This may leave the EU open to accusations of weakness in the face of Mr Putin's sabre-rattling, and analysts warn they should not prevaricate for too much longer.
"If the EU is willing to accept the increasing costs of the escalation, the first step should be to give a convincing signal of unity and determination – otherwise it will be seen as an invitation to test Europe's strength," Georg Zachmann, a research fellow at the Bruegel think-tank, wrote in a blog. "Taking incremental steps might take too long and would make the big steps look small."
Russian ties: EU interests
UK
While there may be plenty of Russian money in British banks and in the mansions that line London's parks, the Government has made it clear it is willing to take the financial pain to punish Russia for its incursions into Ukrainian territory. David Cameron said last week that while sanctions will have an impact, "the costs of not standing up to aggression are far greater".
Cyprus and Spain
Other EU members that are home to sizeable Russian financial deposits such as Cyprus and Spain are in a more precarious economic position than the UK, and thus more cautious over harsh economic sanctions.
Finland
Also taking a softer approach are countries whose own territorial integrity could be threatened, such as Finland, which shares an 800-mile border with Russia.
Poland
However, joining Britain on the more hawkish side of the fence are nations scarred from their own bitter experiences under Soviet rule like the Baltic states and Poland.
France
Of the other big power players in Brussels, the French have their arms exports to consider. On Monday, France threatened to cancel a €1.2bn helicopter-carrier contract with Moscow over the Ukraine crisis, but has since discussed a "suspension" of the contract instead.
Germany
Berlin gets 40 per cent of its gas from Russia. Chancellor Angela Merkel has recently hardened her stance, but has been keen to emphasis continued dialogue as her preferred way of moving forward.
Bulgaria and Hungary
It is not Germany that will suffer the most if Russia decided to retaliate by turning off the taps. Bulgaria and Hungary depend on Russia for most of their energy supplies, and will probably be looking for some compensation from other EU nations if their economies suffered too severely from any sanctions.
Reuse content