World leaders suspended Russia from the G8 group of nations on Monday but stopped short of a permanent expulsion, despite a reported build-up of troops near Ukraine, amid concern that Western pressure has failed to dent President Vladimir Putin's military ambitions.
Russia's reaction was swift and scathing, with Foreign Minister Sergei Lavrov saying the Kremlin does not "cling to this format" of the G8. Moscow also imposed travel bans on 13 Canadian officials as the tit-for-tat diplomacy over the Ukrainian crisis showed no sign of subsiding.
Mr Lavrov also held face-to-face talks with Ukraine's foreign minister Andrii Deshchytsia, marking the first official conversation between the two since Russia entered the Crimea. "We set forth our vision to establish good national dialogue taking into account all residents of Ukraine," he said afterwards.
Earlier US President Barack Obama had called an extraordinary meeting of the other seven members of the G8 bloc of industrialised nations to try to forge a united position on the worst crisis in relations with Russia since the end of the Cold War. So far Washington has a taken a tougher line than the European Union, hitting oligarchs close to Mr Putin in moves the EU has so far shied away from.
Crimea referendum and independence
Crimea referendum and independence
1/14 Crimea Referendum

A man shows his shirt with the Russian emblem as he celebrates the results of the Crimean referendum at the Lenin Square in Simferopol

EPA

2/14 Crimea Referendum

An elderly retired Soviet Navy officer and his wife take a walk in Sevastopol the morning after the referendum

AFP/Getty

3/14 Crimea Referendum

A man plays accordion as people dance during celebrations in Sevastopol

AFP

4/14 Crimea Referendum

People wave Russian flags as fireworks explode in the sky over Sevastopol following the announcement of the result of the referendum

EPA

5/14 Crimea Referendum

A member of a Ukrainian "Maidan" self-defense battalion takes part in training to qualify for service in the newly-created National Guard.

Reuters

6/14 Crimea Referendum

Pro-Russian protesters hold a Russian, Crimean and Soviet flags during their rally at Lenin Square in Simferopol, Ukraine

EPA

7/14 Crimea Referendum

A member of the Crimean election commission waits for voters at the polling station in Belogorsk near Simferopol, Crimea, Ukraine

EPA

8/14 Crimea Referendum

Polling stations opened in Crimea for a referendum about whether the Ukrainian Black Sea region should join Russia. The vote has been widely condemned by Western governments, who call it illegal and have announced sanctions against Russia if it goes ahead. Thousands of unmarked forces, believed to be Russian, have appeared in Crimea after local Moscow-backed authorities asked Russia for protection against 'extremists' in the new Ukrainian leadership

EPA

9/14 Crimea Referendum

A lettering on the facade of the Council of Ministers building reads 'Spring in Crimea' in Simferopol, Crimea, Ukraine

EPA

10/14 Crimea Referendum

People wave Crimean flags at Lenin square in Simferopol, Crimea, Ukraine

EPA

11/14 Crimea Referendum

A poster in Crimea presents a stark choice - Nazism, or Russia - to voters ahead of the referendum

12/14 Crimea Referendum

Protesters against Ukraine's referendum gather in Simferopol

Getty Images

13/14 Crimea Referendum

Action stations: Preparations for today's referendum in Simferopol, where Crimea will vote to become part of Russia

AP

14/14 Crimea Referendum

Cossacks guard the regional parliament building in Simferopol during the Crimean referendum

AP
Mr Obama's deputy security adviser, Ben Rhodes, said the White House wanted a co-ordinated approach to any deeper economic sanctions, and "would like to see a steady ratcheting-up of that pressure" following Russia's annexation of Crimea earlier this month.
After an hour-long evening meeting on the sidelines of a nuclear security summit in The Hague, the leaders of the US, Canada, Britain, France, Germany, Italy and Japan released a statement which made little new ground on further sanctions. It did, however, make clear that the G8 as a forum with Russia was indefinitely suspended.
"We will suspend our participation in the G8 until Russia changes course and the environment comes back to where the G8 is able to have a meaningful discussion," the communiqué said. A planned G8 summit in Russia in June will be scrapped and replaced with a meeting of the remaining G7 nations the same month in Brussels.
David Cameron said last week that Russia's permanent expulsion from the G8 must be discussed, but the language of the statement made no mention of expulsion or of any time-scale for the suspension. Diplomats said they wanted to leave the door open for Russia. "The way back in is clearly for Russia to change course," said a Downing Street official. For now, however, "it is a group based on values, and Russia is not currently espousing the values the rest of us stand by".
Mr Lavrov appeared unmoved. "If our Western partners believe the format has exhausted itself, we don't cling to this format," he said. "We don't believe it will be a big problem if it doesn't convene."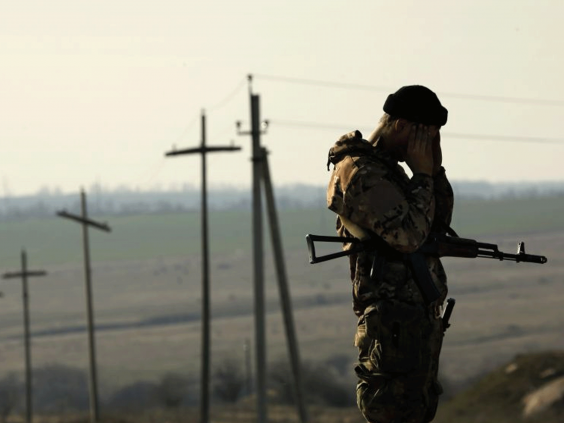 The Ukrainian Foreign Minister, Andriy Deshchytsya, said he understood that there were some benefits to leaving the diplomatic channels open, but he urged the West to pursue more aggressive sanctions. So far, the EU and US have each imposed travel bans and visa freezes on about 30 Russian and Ukrainian officials, with some crossover in the two lists.
They have however stopped short of broader economic sanctions such as arms embargoes and bans on energy imports which would hit at the heart of the Russian economy. Such sanctions would also have a knock-on effect within the EU, especially on Eastern European nations heavily reliant on Russian energy. Mr Deshchytsya said that the West's action so far "is not enough to convince Russia not to go further" and urged them to move to deeper sanctions. "I think this is the way how we can solve this problem peacefully without using the military," he said.
Some nations had argued that Russia's annexation of the Crimea was enough to trigger serious sanctions. Now diplomats are saying that any further Russian incursions into eastern Ukraine would be the trigger.
President Putin insists he has no such ambitions, but both the White House and Mr Cameron expressed concern on Monday about reports of a Russian troop build-up near Ukrainian border.
"These reports are concerning and we need to send a very clear message to the Russian government and to President Putin that it would be completely unacceptable to go further into Ukraine," Mr Cameron said.
Mr Deshchytsya cited the same intelligence and said "the possibility for military intervention is very high", adding that civilians in the East were "ready to defend their homeland". But there was some thaw between the two nations as Mr Deshchytsya met Mr Lavrov on the sidelines of the Hague summit.
One Russian politician suggested letting regions across Ukraine hold referendums on whether they want to break from Kiev, and even said Poland, Romania and Hungary should re-claim territory. Vladimir Zhirinovsky's proposals reflect a strain of nationalism in the parliament.
Nato's top military commander Philip Breedlove said the Russian army deployed on its border with Ukraine is " very, very sizeable and very, very ready" .
He voiced concern that Russia could have Transdniestria in its sights after Crimea, saying that, in Russia's view, the separatist region of Moldova was the "next place where Russian-speaking people may need to be incorporated".
Over the weekend, Russian forces seized Ukrainian ships and military installations in Crimea, including a naval base near the eastern port of Feodosia, as Moscow seeks to consolidate its control over the peninsula it officially annexed last week following a controversial referendum considered illegal by Kiev and the West.
Reuse content