Russian armour smashed into the base of Ukrainian troops on Saturday in the first serious military action between the two countries in the confrontation over Crimea.
Machine guns and stun grenades were used in the assault by Russian soldiers as they ended the siege of Belbek military airport in a brutal show of power. The commander of the base, Colonel Yuli Manchur, who had led his men in defying repeated demands for surrender, was arrested and taken away.
I saw the attack, which came at 4.48pm when three armoured personnel carriers (APCs) punched a hole through the perimeter wall of the base, followed by soldiers in balaclavas streaming in.
There were bursts of automatic fire and loud explosions as the troops surged through. The Ukrainians had locked away their weapons and stood unarmed as the Russians, among them Spetznaz special forces in black, began to surround them.
A little later, the main gate of the base had also been punctured by APCs, cutting off any means for those inside to get away. There were several casualties among the Ukrainians, at least one believed to have been hit by a Russian vehicle.
Crimea referendum and independence
Crimea referendum and independence
1/14 Crimea Referendum

A man shows his shirt with the Russian emblem as he celebrates the results of the Crimean referendum at the Lenin Square in Simferopol

EPA

2/14 Crimea Referendum

An elderly retired Soviet Navy officer and his wife take a walk in Sevastopol the morning after the referendum

AFP/Getty

3/14 Crimea Referendum

A man plays accordion as people dance during celebrations in Sevastopol

AFP

4/14 Crimea Referendum

People wave Russian flags as fireworks explode in the sky over Sevastopol following the announcement of the result of the referendum

EPA

5/14 Crimea Referendum

A member of a Ukrainian "Maidan" self-defense battalion takes part in training to qualify for service in the newly-created National Guard.

Reuters

6/14 Crimea Referendum

Pro-Russian protesters hold a Russian, Crimean and Soviet flags during their rally at Lenin Square in Simferopol, Ukraine

EPA

7/14 Crimea Referendum

A member of the Crimean election commission waits for voters at the polling station in Belogorsk near Simferopol, Crimea, Ukraine

EPA

8/14 Crimea Referendum

Polling stations opened in Crimea for a referendum about whether the Ukrainian Black Sea region should join Russia. The vote has been widely condemned by Western governments, who call it illegal and have announced sanctions against Russia if it goes ahead. Thousands of unmarked forces, believed to be Russian, have appeared in Crimea after local Moscow-backed authorities asked Russia for protection against 'extremists' in the new Ukrainian leadership

EPA

9/14 Crimea Referendum

A lettering on the facade of the Council of Ministers building reads 'Spring in Crimea' in Simferopol, Crimea, Ukraine

EPA

10/14 Crimea Referendum

People wave Crimean flags at Lenin square in Simferopol, Crimea, Ukraine

EPA

11/14 Crimea Referendum

A poster in Crimea presents a stark choice - Nazism, or Russia - to voters ahead of the referendum

12/14 Crimea Referendum

Protesters against Ukraine's referendum gather in Simferopol

Getty Images

13/14 Crimea Referendum

Action stations: Preparations for today's referendum in Simferopol, where Crimea will vote to become part of Russia

AP

14/14 Crimea Referendum

Cossacks guard the regional parliament building in Simferopol during the Crimean referendum

AP
The Ukrainians lined up. They faced Russian troops eight feet away, with ballistic shields and guns aimed at them. Just beyond, an APC pointed its barrel at the defenders. The two sides shouted at each other with insults soon flying.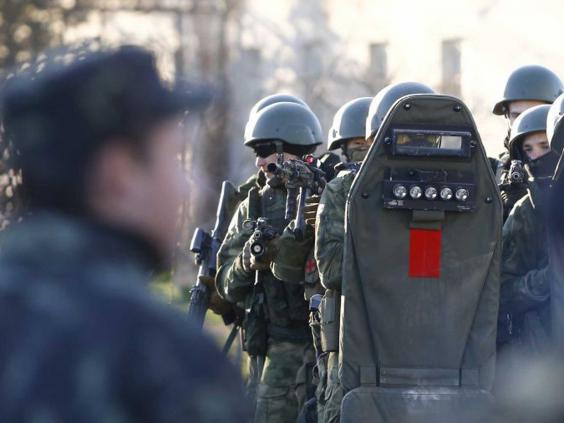 One Russian officer, apparently trying to calm the situation, shouted: "It's OK, no more shooting, you're safe." The ripostes ran: "You are making us safe by attacking us?! We are here without guns, why are you hiding behind guns and your masks?"
While the Russian troops carried out their assault, gangs of the "Self Defence Force", the paramilitary raised by the separatist Crimean government, had gathered outside. The Ukrainian soldiers began to get telephone calls from their families saying that their apartments, just outside the perimeter wire, were being broken into. One soldier, Corporal Aleksei Timorenko, turned to me and said: "See how brave they are! They let the Russians do their fighting for them, and rob women and children."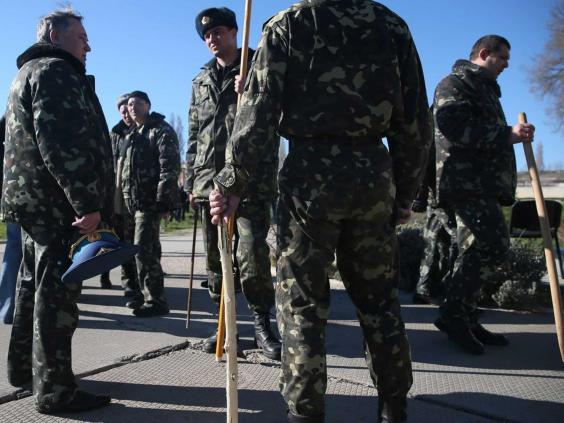 As more and more Russians came in, Col Manchur called his men to attention and led them in singing the national anthem. The Russians, in combat stations, watched in silence as the verses were roared out, followed by full-throated cries of "Glory to Ukraine, Glory to our Heroes". Col Manchur then told his men: "You have done all that honour demands. You should be proud of yourselves, I am proud of you." He had, he said, been summoned to a meeting with senior officers and he would, if he could, come back and tell them what had been agreed.
The stance of the Belbek commander over the three weeks in which he had resisted demands to surrender, had made him a hate figure among Russian nationalist separatists. His wife, Larissa, had described earlier in the day how she had seen posters in Sevastopol demanding that her husband be executed for his supposed treachery.
Asked whether he would be safe, Col Manchur responded: "I don't know, we will see."
Afterwards, the Russian troops took the media out through the hole created by their armour; photographers and camera operators had memory cards taken away from them, although some managed to smuggle them out. One Russian soldier, his face covered by a bandana, said in broken English: "I am sorry, but I am doing my job, you are doing yours. We are soldiers, it's the politicians. Ukraine, Russia ... friends."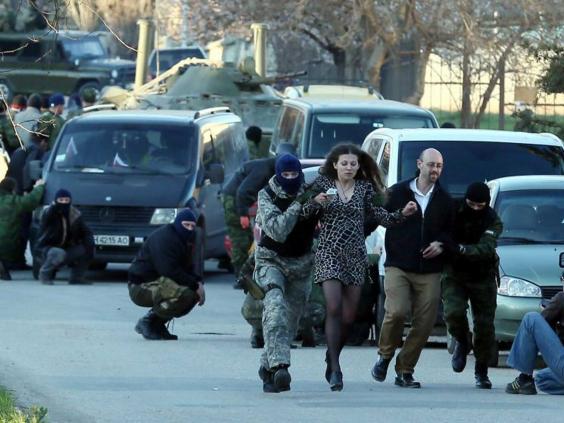 As we left, with the light fading, the Ukrainian troops were once again lined up, this time at the instructions of the Russians. Every journalist leaving shook the colonel's hand, a few had seen his obstinate refusal to give up against overwhelming odds.
Major Vladislav Korgic, a Ukrainian fighter pilot, spoke of the anxiety the men felt for their families. He had spoken to me before about how his seven-year-old daughter would have to be moved from the local school because of his presence in the base, and how his wife had faced abuse from Russian nationalists.
"Of course, we are very, very concerned. I have just spoken to my wife, she is frightened for me," he said. "I am just thinking about her and my daughter. This is a very, very bad situation for everyone, I don't know how it's going to end."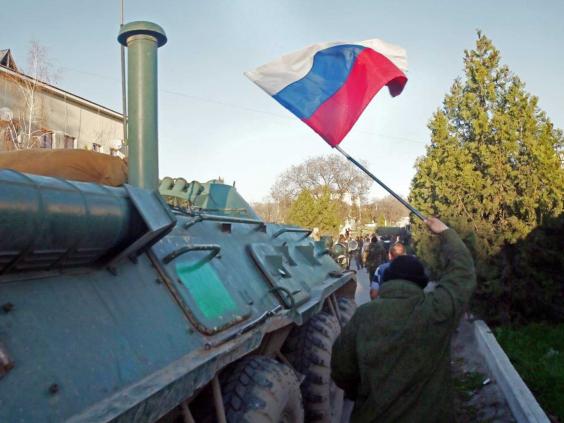 A video camera had been installed at the main gate of the base, accessible on the internet. Members of the Self Defence Force tried to shoot it down, before wrenching it off to loud cheers of "Russia, Russia!". Any outside scrutiny of what was going to happen to the base in the falling darkness was gone.
The scenes were in stark contrast to those earlier in the day when, under a sky of azure blue, with apple blossom drifting in the air, two young officers, lieutenants Galina Vladimirova Volosyanick and Ivan Ivanovich Benera, got married. Local champagne and lemonade, figs and nuts, chocolates and cakes, had been laid out on a long trestle table covered with a bright golden plastic cover. Toasts were drunk; troops clapped and whistled as the bride and groom kissed each other.
Col Manchur, as the commanding officer, had presided over the ceremony. He wished them happiness and strength in the uncertain times that lay ahead.
Reuse content