A Russian aid mission to eastern Ukraine – which Ukrainians feared was a pretext for a Russian invasion – is still stranded in western Russia.
Around 170 white trucks were parked at a military base in Voronezh amid confusion as to how they would get to Ukraine and what their purpose would be once they arrived.
Ukraine and Russia have tentatively agreed that the aid will be delivered to a government-controlled crossing in Ukraine's Kharkiv province, which hasn't been touched by the months of fighting that have wracked neighbouring regions. Still, it remained unclear whether the convoy would take that route or travel to Ukraine via pro-Russian rebel-held border posts, which Ukraine could consider an act of war.
Russia said that claims made by Australia and Nato that it could use a humanitarian-aid convoy to Ukraine as a cover for invasion were absurd. Amid the tensions, the Russian President Vladimir Putin travelled to Crimea, the Black Sea peninsula that Russia seized from Ukraine in March, where he was to chair a session of his Security Council.
Ukraine crisis: Russian 'aid' convoy
Ukraine crisis: Russian 'aid' convoy
1/11 Ukraine crisis

Drivers of the first trucks of the Russian aid convoy parked in the city of Luhansk on 22 August

AP

2/11 Ukraine crisis

An employee inspects the contents of a truck with Russian humanitarian aid in Mariupol, Ukraine on 22 August 2014

EPA

3/11 Ukraine crisis

The convoy nearing the border before it parked at a camp in Russia

Reuters/Alexander Demianchuk

4/11 Ukraine crisis

Russian convoy carrying humanitarian aid for residents in rebel eastern Ukrainian regions moving along a road in the city of Voronezh, about 530 km from Moscow, Russia

5/11 Ukraine crisis

An Ukrainian border guard checks passing cars at a checkpoint of Pletnyovka, Kharkiv region on Ukraine-Russia border, where Russian humanitarian convoy is to cross the border

6/11 Ukraine crisis

Ukrainian border guards stand at the Ukrainian-Russian border crossing

EPA

7/11 Ukraine crisis

Trucks of a Russian convoy carrying humanitarian aid for Ukraine are parked at the military air base outside Voronezh

8/11 Ukraine crisis

Drivers of a Russian convoy of trucks carrying humanitarian aid for Ukraine take a rest on a side of a road near the city of Yelets

9/11 Ukraine crisis

An Ukrainian soldier stands guard at a checkpoint of Pletnyovka, Kharkiv region on Ukraine-Russia border, where Russian humanitarian convoy is to cross the border

10/11 Ukraine crisis

A Russian convoy carrying humanitarian aid for residents in rebel eastern Ukrainian regions moves along a road about 50 km from Voronezh, Russia, 14 August 2014. The convoy continues to advance through Russian territory after a one-day stop in Voronezh in full coordination with and under the aegis of the Red Cross, according to Russian authorities

11/11 Ukraine crisis

The Russian convoy carrying humanitarian aid in the Voronezh region of Russia en route to Ukraine

AP
A meeting with Mr Putin's entire cabinet and most Russian politicians was scheduled for today. A key sticking point for Ukraine was that all incoming humanitarian aid must be vetted by the International Red Cross. Officials in Kiev said the aid cargo could be unloaded at the border and loaded on to vehicles leased by the Red Cross.
But the Russian Foreign Minister, Sergei Lavrov, said while the unloading idea had come under discussion, it was rejected for cost reasons.
The estimated 2,000 tons of aid, which reportedly includes goods ranging from baby food to portable generators, is intended for civilians in the Luhansk region, the scene of some of the fiercest fighting between government troops and pro-Russian  separatists.
The regional capital of Luhansk has had no electricity for 11 days and only the most essential goods are available. The UN said that there had been an escalation in the violence in east Ukraine in recent weeks.
Cecile Pouilly, a UN spokeswoman, said the death toll has risen to at least 2,086 people as of 10 August from 1,129 on 26 July, while a further 4,953 people have been wounded in the fighting since mid-April.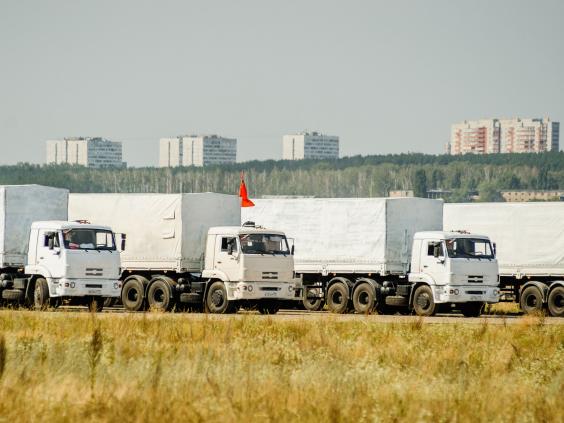 Ms Pouilly said that on average more than 60 people a day have been killed or wounded as part of "a clear escalating trend" of violence, including Ukrainian armed forces, civilians and armed groups.
Intense fighting was still taking place in the main rebel-held city of Donetsk. At least 12 militiamen fighting alongside government troops were killed in an ambush outside the besieged city.
Inside the city, at least three people were killed overnight on Tuesday as the government intensified its shelling.
Artem Skoropatsky said the Right Sector volunteer fighters were shot dead while travelling on a bus and many others on the bus were wounded and taken captive. He did not know how many.
"There is a suspicion that the wounded will be treated very harshly and could be shot," he said.
Right Sector played a marginal – if highly visible – role in the protests that culminated in the overthrow of the Ukrainian President Viktor Yanukovych in February.
The group's far-right nationalist affiliations have made it a target of lurid reporting in Russia state media, which has sought to cast the post-Yanukovych government as extremists.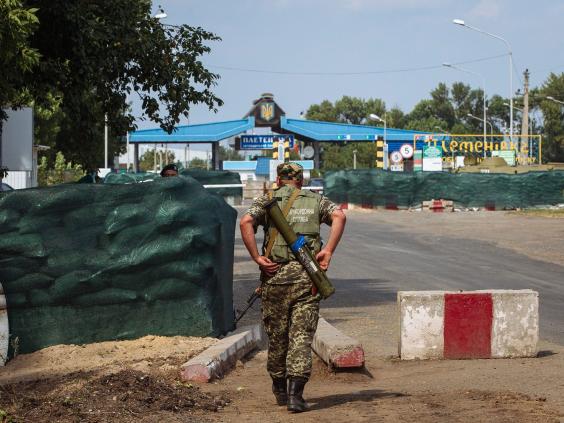 Andriy Lysenko, a spokesman for Ukraine's National Security and Defence Council, said that 11 servicemen were killed in the previous day's fighting, but he could not immediately say whether that figure included the Right Sector militiamen.
Government troops have laid siege to Donetsk and nearby rebel holdings in their push to quash the pro-Russian insurgency.
They have largely refrained from street-to-street fighting, favouring often inaccurate rocket fire.
Residents said the intermittent artillery barrage lasted around two hours. City authorities said 10 residential buildings and the wing of a hospital were struck. Associated Press reporters saw two bodies lying in a street this morning in Donetsk's south-western Petrovsky district.
The city government reported three deaths. Russian media reported that Igor Strelkov, the Russian leader of the rebels, was seriously wounded today.
The shelling has damaged power plants and gas pipelines, leaving left large parts of the city without electricity or gas.
The fighting in eastern Ukraine began in April, a month after Mr Putin annexed Crimea.
AP and Reuters
Reuse content