Vladimir Putin has long proved himself to be a divisive character, as the conflict in Ukraine continues to demonstrate.
Today, Russia's President dismissed warnings from the European Union of further sanctions over the conflict between government troops and pro-Russians separatists currently gripping Ukraine.

Mr Putin's calls for immediate talks on the "statehood" of eastern Ukraine were followed by pictures showing the leader's face as the target for a shooting range in Western Ukraine.

The images of the President's face marked by bullet holes at a range in Lviv come as the crisis in the east rages, which has claimed the lives of 2,600 people since it erupted in April.
In stark contrast, pictures of T-shirt's baring Mr Putin's face on the cover of Time magazine for sale in St Petersburg also emerged.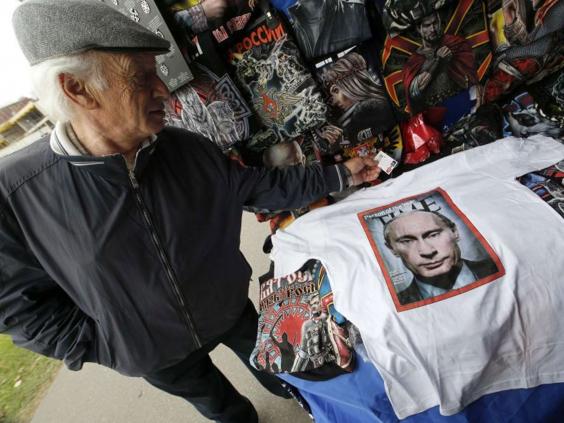 Ukraine's President Petro Porshenko has consistently accused Russia of supporting rebels and of having troops on the ground inside the country.
For his part, Mr Putin has insisted Russia has no part to play in the arming of rebels or growing troop numbers.
And despite using the word 'statehold' in reference to southeastern Ukraine, his spokesman insists this did not mean Moscow has now endorses rebel calls for independence for territory they have seized.
On Friday, a confident Mr Putin told a youth camp outside Moscow that "Russia is far from being involved in any large-scale conflicts.
However, he added it was best for the West "not to mess with Russia" and reminded the crowd that "Russia is one of the leading nuclear powers".
Reuse content