The Azovstal steelworks cast imposing shadows over the two dozen fishermen attempting to catch mullet from the sulphurous Kalmus river below. It would be another unexceptional post-Soviet apocalyptic scene, perhaps, were it not for the fact that the city is Mariupol, and that a few metres down from the fishermen stand four soldiers. They are on high alert, keeping watch over the bridge, as are soldiers over every bridge in the city, ready to stop an anticipated attack by Russian-backed forces.
Mariupol is a city on edge: bomb shelter signs dot the city and at bus stops, the talk is about the probability of a Russian invasion. After the fall of Donetsk airport to the rebels, and the Ukrainian withdrawal from Debaltseve when that town was besieged on three sides, Mariupol seems the obvious next piece to slot into the pro-Russia jigsaw.
If Debaltseve, a simple transport junction, was considered a useful addition to rebel infrastructure, Mariupol would raise things to a new level – adding three major metal processing plants, perhaps 50 per cent of regional GDP, and a critical addition to what may become a land corridor from Russia to Crimea.
In January, Russian-backed separatists appeared to signal their intent to take Mariupol, when they launched a devastating rocket attack on the city's eastern district. Thirty were killed that day, and more than 100 injured.
Since then, a local counterattack by Ukrainian forces has pushed back front lines to the north-east and east, and a new ceasefire agreement has been agreed. But although the Minsk ceasefire is largely holding across the region, skirmishes continue in Mariupol each day.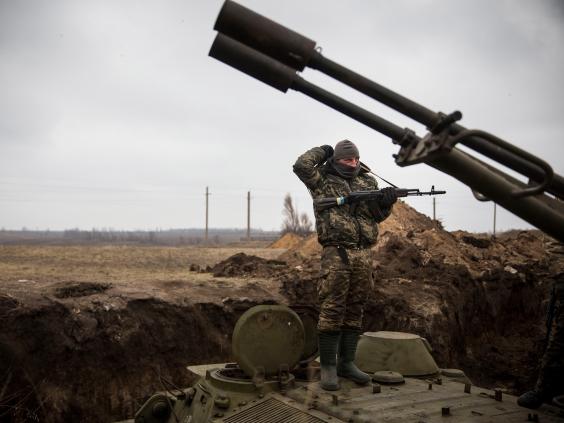 Earlier this week, two Ukrainian soldiers were killed and two injured in fighting around the outlying village of Pischevik; the following evening, Ukrainian forces in Mariupol came under mortar attack – and so it goes on.
Residents of the city's eastern district are taking no chances. Five weeks after the January attack, the streets are still largely deserted: those who could leave have long since done so, and only the poor, immobile and bloody-minded remain. Paramilitary units patrol the streets at night to stop looting. Kievsky market, the centre of the rocket attack, is a particularly miserable sight: it still functions  – just – but only a quarter of the stalls are in use and there is shrapnel damage everywhere. 
Nina Grigorievna, 54, a greengrocer, was working at the market when the rockets fell. She was saved by the fact her stall was in the central section of the market, which was spared a direct hit. Her friend sold sausages a few stalls up, and was less fortunate. The steel container from which she sold the sausages has gone, and only a patch of scorched earth remains behind. "She was simply fried alive," says Grigorievna.
The stallholder says she expects little from the current ceasefire. It would be only a matter of time before fighting returned to its previous intensity, and a full-scale operation to take Mariupol was launched, she said.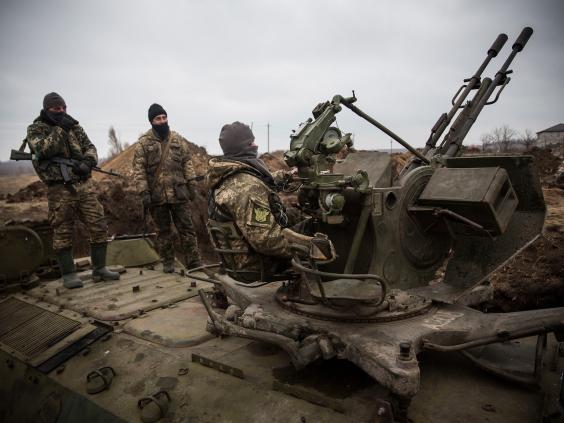 Earlier this week, The Independent witnessed Ukrainian forces digging new machine gun positions and trenches along the Azov coastline towards Shirokyne. Ukrainian military spokesman Dmitry Chaly admitted the process of withdrawing heavy artillery, required by the Minsk agreement, had not advanced far, and blamed the other side for delays. "We have withdrawn T12 anti-tank missiles to 25 kilometres (15 miles), but can only remove major artillery once we see the enemy is serious about co-operating."
Mr Chaly claimed the other side was engaged in a complex show of deception. "We have registered a common pattern: OSCE monitors appear by day, and the artillery is removed; but by night, everything is back in position," he said.
US Army Commander Ben Hodges said this week that the US believed that 12,000 Russian soldiers were now based in eastern Ukraine, in various support and combat roles. A former aviation entrepreneur and millionaire who called himself "Major Vikhr", and is now a Ukrainian reconnaissance commander, supported that claim. "From interviews with prisoners, we are certain we have been fighting elite Russian divisions: marines, FSB, assault paratroopers," he said. These elite forces had been fighting alongside mercenaries, who had "mostly" been recruited from the Urals area of Russia, with very minimal local influence.
Ukraine crisis: A timeline of the conflict
Ukraine crisis: A timeline of the conflict
1/22 30 November 2013

Public support grows for the "Euromaidan" anti-government protesters in Kiev demonstrating against Yanukovych's refusal to sign the EU Association Agreement as images of them injured by police crackdown spread.

EPA

2/22 20 February 2014

Kiev sees its worst day of violence for almost 70 years as at least 88 people are killed in 48 hours, with uniformed snipers shooting at protesters from rooftops.

AFP/Getty Images

3/22 22 February 2014

Yanukovych flees the country after protest leaders and politicians agree to form a new government and hold elections. The imprisoned former Prime Minister, Yulia Tymoshenko, is freed from prison and protesters take control of Presidential administration buildings, including Mr Yanukovych's residence.

Genya Savilov/AFP/Getty Imageses

4/22 27 February 2014

Pro-Russian militias seize government buildings in Crimea and the new Ukrainian government vows to prevent the country breaking up as the Crimean Parliament sets a referendum on secession from Ukraine in May.

Sean Gallup/Getty Images

5/22 16 March 2014

Crimea votes overwhelmingly to secede from Ukraine and join Russia in a ballot condemned by the US and Europe as illegal. Russian troops had moved into the peninsula weeks before after pro-Russian separatists occupied buildings.

EPA

6/22 6 April 2014

Pro-Russian rebels seize government buildings in the eastern cities of Donetsk, Luhansk and Kharkiv, calling for a referendum on independence and claiming independent republic. Ukraine authorities regain control of Kharkiv buildings on 8 April after launching an "anti-terror operation" but the rest remain out of their control.

EPA/PHOTOMIG

7/22 7 June 2014

Petro Poroshenko is sworn in as Ukraine's president, calling on separatists to lay down their arms and end the fighting and later orders the creation of humanitarian corridors, since violated, to allow civilians to flee war zones.

Getty Images

8/22 27 June 2014

The EU signs an association agreement with Ukraine, along with Georgia and Moldova, eight months after protests over the abandonment of the deal sparked the crisis.

LOUISA GOULIAMAKI/AFP/Getty Images

9/22 17 July 2014

Malaysian Airlines flight MH17 is shot down over eastern Ukraine, killing all 298 people on board. Ukrainian intelligence officials claim it was hit by rebels using a Buk surface-to-air launcher in an apparent accident.

10/22 22 August 2014

A Russian aid convoy of more than 100 lorries enters eastern Ukraine and makes drop in rebel-controlled Luhansk without Government permission, sparking allegations of a "direct violation of international law".

Reuters/Alexander Demianchuk

11/22 29 August 2014

Nato releases satellite images appearing to show Russian soldiers, artillery and armoured vehicles engaged in military operations in eastern Ukraine.

Nato

12/22 8 September 2014

Russia warns that it could block flights through its airspace if the EU goes ahead with new sanctions over the ongoing crisis and conflict

EPA

13/22 17 September 2014

Despite the cease-fire and a law passed by the Ukrainian parliament on Tuesday granting greater autonomy to rebel-held parts of the east, civilian casualties continued to rise, adding to the estimated 3,000 people killed

Reuters

14/22 16 November 2014

The fragile ceasefire gives way to an increased wave of military activity as artillery fire continues to rock the eastern Ukraine's pro-Russian rebel bastion of Donetsk

Getty

15/22 26 December 2014

A new round of ceasefire talks, scheduled on neutral ground in the Belariusian capital Minsk, are called off

AFP/Getty

16/22 12 January 2015

Soldiers in Debaltseve were forced to prepare heavy defences around the city; despite a brief respite to the fighting in eastern Ukraine, hostilities in Donetsk resumed at a level not seen since September 2014

AFP/Getty

17/22 21 January 2015

13 people are killed during shelling of bus in the rebel-held city of Donetsk

Reuters

18/22 24 January 2015

Ten people were killed after pro-Russian separatists bombarded the east Ukrainian port city of Mariupol

AP

19/22 2 February 2015

There was a dangerous shift in tempo as rebels bolstered troop numbers against government forces

AFP/Getty

20/22 11 February 2015

European leaders meet in Minsk and agree on a ceasefire in eastern Ukraine beginning on February 14. From left to right: Belarus President Alexander Lukashenko, Russian President Vladimir Putin, German Chancellor Angela Merkel, France's President Francois Hollande and Ukrainian President Petro Poroshenko.

MAXIM MALINOVSKY | AFP | Getty Images

21/22 13 February 2015

Pro-Russian rebels in the city of Gorlivka, in the Donetsk region, fire missiles at Ukrainian forces in Debaltseve. Fighting continued in Debaltseve for a number of days after the Minsk ceasefire began.

ANDREY BORODULIN | AFP | Getty Images

22/22 18 February 2015

Ukrainian soldiers repair the bullet-shattered windshield of their truck as their withdraw from the strategic town of Debaltseve. Following intense shelling from pro-Russian rebels, Ukrainian forces began to leave the town in the early hours of February 18.

Brendan Hoffman | Getty Images
According to Major Vikhr, however, it is too early to talk about an all-out attack on Mariupol. The logistics would challenge the Russian-backed rebels: for reasons of geography, Major Vikhr judged any attacking force would need to be 10 times more numerous than the Ukrainian defenders. "What we are seeing at the moment is mainly limited to diversionary groups trying to break through our frontlines. There are some snipers working, some mortars, but not enough for a substantial assault force," he said.
Suggestions of a massive military equipment build up in the area seem to be a mixture of deception and mistaken reporting, he said. "You will hear many reports of 20-tank columns appearing all over the conflict zone. More often than not it is the same column that has exited to Russia and re-entered in a different military zone, and so is counted again," said Major Vikhr.
Any attack on Mariupol would come from three sides, he said: from the sea, from Novoazovsk in the east, and through Volnovakha from the north. Ukrainian forces could repel an attack for a while, he added, but he feared being undermined by the weakness of army command. "I know President Poroshenko and Prime Minister Yatsenyuk personally, and I was initially prepared to give them benefit of the doubt, but its true to say they aren't justifying the hopes and sacrifices of Maidan."
Reuse content