Hundreds of lorries from what was described by Moscow as a Russian aid convoy rolled back across the border from rebel-held eastern Ukraine yesterday. But questions about alleged Russian artillery in Ukraine remain.
Nato said on Friday it had mounting evidence that Russian troops were operating inside Ukraine and launching artillery attacks at Ukrainian troops from Ukrainian soil as well as from Russia. Moscow's ambassador to the UN denied this.
Paul Picard, head of the border observation mission for the Organisation for Security and Co-operation in Europe (OSCE), said that all the vehicles that had crossed into Ukraine had returned to Russia by yesterday afternoon. Deputy emergencies minister Eduard Chizhikov was quoted as saying 227 vehicles had taken part.
On the side of the road, those peering inside the white tarpaulined trailers confirmed they were empty. Russia said the lorries carried only food, water, generators and sleeping bags to the hard-hit rebel stronghold of Luhansk. The lorries were sent by Moscow into Ukraine through a rebel-held border point on Friday, with the Kremlin saying it had lost patience with Ukraine's delaying tactics. Ukraine called the act an "invasion".
Ukraine and others – including the US, the EU and Nato – denounced the Russian move as a violation of Ukraine's sovereignty. Kiev and Western countries also suggested the convoy could be used to smuggle supplies and reinforcements to pro-Russian separatists.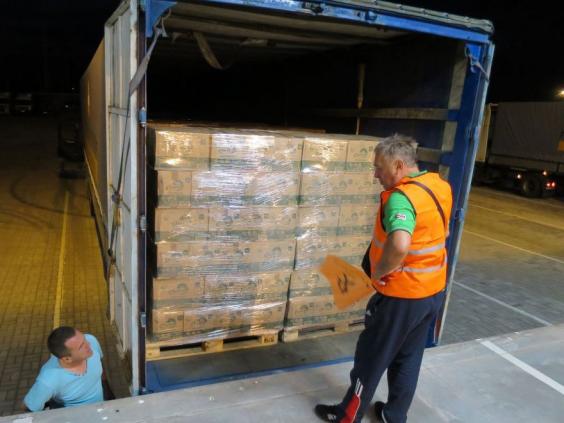 German Chancellor Angela Merkel, who has advocated a measured EU response to Russia's aggressive policies in Ukraine, met Ukrainian President Petro Poroshenko in Kiev yesterday and urged a political solution to the crisis.
Mr Poroshenko said Ukraine was willing to try to solve the conflict by talks, but not at the expense of his country's territorial integrity or sovereignty. The rebels in the east have declared the region independent and some have sought to be annexed by Russia. Ukraine has retaken control of much of its eastern territory bordering Russia in the past few weeks, but fierce fighting for the rebel-held cities of Donetsk and Luhansk persists.
Mr Poroshenko and Russian President Vladimir Putin are to meet on Tuesday in Belarus's capital Minsk. Asked what message he intended to convey, Mr Poroshenko said: "Take away your armed people from our territory and peace will come very soon."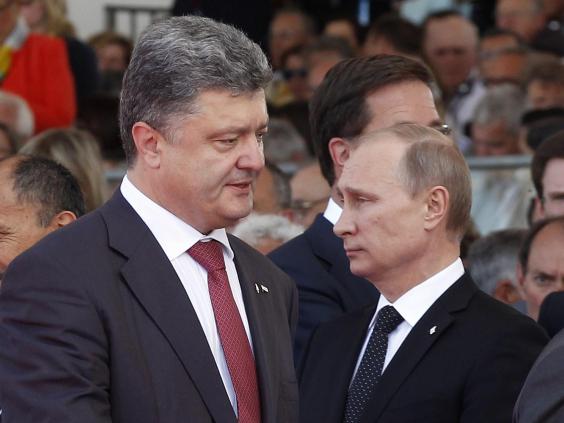 "There must be two sides to be successful. You cannot achieve peace on your own. I hope the talks with Russia will lead to success," said Ms Merkel. "The plans are on the table. Now actions must follow."
It remained unclear yesterday what the Russian convoy had actually delivered, since the convoy arrived only late Friday afternoon. Unloading hundreds of lorries in just a few hours in a war-battered region is a sizeable task. Journalists following the convoy to Luhansk said rattling sounds from some of the lorries indicated they were not fully loaded.
At the United Nations in New York, Russian ambassador Vitaly Churkin rejected Nato's accusations that Russian troops and artillery were inside Ukraine. Russia has steadfastly denied supporting and arming the rebels.
In Donetsk, residents reported artillery strikes throughout Friday night and Saturday morning. The mayor's office said three people were killed, including two who had been waiting for a bus.
Despite the continuing conflict, today military hardware will be paraded through the streets of central Kiev as part of events to mark Ukraine's independence day. The parade has attracted criticism given the country's bloody civil war. Supporters say the parade should boost morale in Ukraine's army. On the 23rd anniversary of Ukrainian independence there will also be large parades in Kiev and Odessa.
AP
Reuse content