The Ukrainian parliament has called for ousted President Viktor Yanukovych to face trial in the International Criminal Court (ICC) over the violence that led to the deaths of dozens of people – as well as his downfall.
It came as  the interim President, Oleksandr Turchynov, warned of "dangerous signs of separatism" in some regions as the emerging government continues to try and stabilise the country.
The search is continuing for Mr Yanukovych, who is believed to be in the Crimea region where support for him is strongest.
Mr Turchynov has met security chiefs to discuss the threat of a possible secession by majority ethnic Russian regions in the east, including Crimea, where there have been protests against the administration in Kiev. In a statement, he said that anyone held responsible for moves towards seperatism would be punished.
The ICC has said it has not received a request from the Ukrainians, but the resolution, passed overwhelmingly by the parliament, makes clear that a move would be forthcoming, particularly as Mr Yanukovych has already been indicted by the administration for "mass murder". It cannot act until called as Ukraine has not signed the treaty that created the court at The Hague.
The ICC could then look into events in Ukraine, although it would be their decision whether to investigate and who, if anybody, to bring to trial. Parliament asked the ICC "to hold Viktor Yanukovych and other high-level people criminally responsible" for abusing their power. It also asked the former interior minister, Vitaliy Zakharchenko, and the former prosecutor-general Viktor Pshonka to be put on trial as well. Since its creation in 2002, all official investigations by the ICC have been based around African nations.
The parliament also announced that the formation of a unity government would be delayed until Thursday, with an initial deadline passing today. Elections to install a new president are set for 25 May, with opposition heavyweight Vitali Klitschko declaring that he intended to run.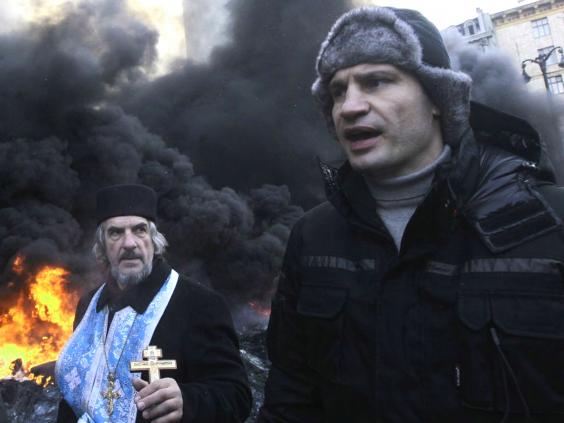 Outside of Ukraine both EU nations and Russia continued to jostle for political position. Baroness Ashton, the EU foreign policy chief, warned Russia against intervening. "[We] think it is very important to send a strong message about the territorial integrity, and the unity and the independence of Ukraine," she said.
The Russian Foreign Minister, Sergei Lavrov, said in Moscow that Russia's "policy of non-intervention" in the country would continue, but that Ukraine must not be forced to choose between the West and Russia. "It is dangerous and counterproductive to try to force upon Ukraine a choice on the principle: 'You are either with us or against us'," he said.
Reuse content