A Russian aid convoy of 220 lorries that entered Ukraine without permission in what the Prime Minister called "a flagrant violation of international law" has left the country.
The column of vehicles returned to Russia on Saturday after dropping aid in the rebel-controlled city of Luhansk, which has been without running water, power and phone lines for more than 20 days.
Civilians have been trapped by a Government siege against separatist forces, which has seen the shelling of residential areas.
The German Chancellor, Angela Merkel, arrived in Ukraine on Saturday amid warnings of a "dangerous escalation" in tensions between the Kremlin and Kiev over the convoy.
She and President Barack Obama had spoken about concerns over the presence of Russian troops in Ukraine, the White House said.
Russia has insisted the convoy was carrying food, water, generators and sleeping bags to conflict-hit areas of eastern Ukraine but Kiev accused it of being a ruse to smuggle in reinforcements and weapons for rebels, calling it a "direct invasion".
Ms Merkel said the standoff between Ukraine and Russia could only be solved if controls were tightened along the 1,300 mile border, which weapons from Russia have allegedly crossed to arm the separatists.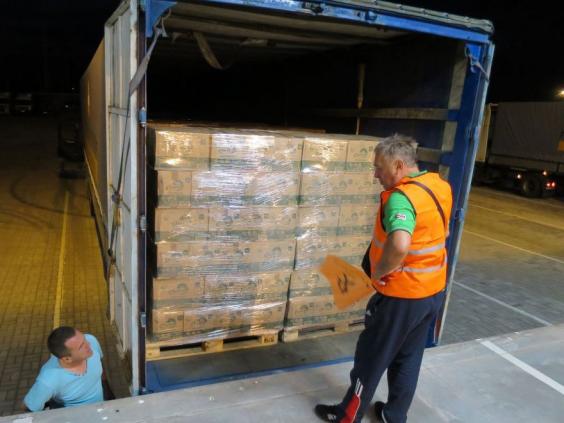 She was visiting Kiev as a prelude to a meeting next week between Russian and Ukrainian leaders that diplomats say is the best chance of a peace deal in eastern Ukraine.
"There must be two sides to be successful. You cannot achieve peace on your own. I hope the talks with Russia will lead to success," the Chancelllor said.
"The plans are on the table...now actions must follow."
An agreement was proposed between Kiev and Moscow to allow the Organisation for Security and Cooperation in Europe to monitor the border.
The Ukrainian President, Petro Poroshenko, said: "The Ukrainian side and our European partners will do everything possible to bring about peace - but not at the price of sovereignty, territorial integrity and the independence of Ukraine."
The disputed aid convoy entered on Friday without permission from Ukraine after being repeatedly delayed over efforts to have all vehicles inspected by independent officials, leaving it waiting at the border for a week.
It was intended to be escorted by the Red Cross to ease tensions but the organisation did not accompany it because of a lack of security guarantees from both sides of the conflict that it would not be attacked.
The Russians said they could not wait any longer as the humanitarian situation in eastern Ukraine deteriorated.
The manner in which #AidConvoy from #Russia arrived in #Lugansk today has complicated this aid operation. #Ukraine

— ICRC (@ICRC) August 22, 2014
In announcing its decision to act, the Russian foreign ministry said: "There is increasingly a sense that the Ukrainian leaders are deliberately dragging out the delivery of the humanitarian load until there is a situation in which there will no longer be anyone left to help."
The Secretary General of Nato, Anders Fogh Rasmussen, said Russia had committed "a blatant breach" of its international commitments and "a further violation of Ukraine's sovereignty" by entering without permission.
The Pentagon demanded Russia withdraw the convoy of between 130 and 220 immediately, warning that failure to do so will result in "additional costs and isolation".
Ukraine crisis: Russian 'aid' convoy
Ukraine crisis: Russian 'aid' convoy
1/11 Ukraine crisis

Drivers of the first trucks of the Russian aid convoy parked in the city of Luhansk on 22 August

AP

2/11 Ukraine crisis

An employee inspects the contents of a truck with Russian humanitarian aid in Mariupol, Ukraine on 22 August 2014

EPA

3/11 Ukraine crisis

The convoy nearing the border before it parked at a camp in Russia

Reuters/Alexander Demianchuk

4/11 Ukraine crisis

Russian convoy carrying humanitarian aid for residents in rebel eastern Ukrainian regions moving along a road in the city of Voronezh, about 530 km from Moscow, Russia

5/11 Ukraine crisis

An Ukrainian border guard checks passing cars at a checkpoint of Pletnyovka, Kharkiv region on Ukraine-Russia border, where Russian humanitarian convoy is to cross the border

6/11 Ukraine crisis

Ukrainian border guards stand at the Ukrainian-Russian border crossing

EPA

7/11 Ukraine crisis

Trucks of a Russian convoy carrying humanitarian aid for Ukraine are parked at the military air base outside Voronezh

8/11 Ukraine crisis

Drivers of a Russian convoy of trucks carrying humanitarian aid for Ukraine take a rest on a side of a road near the city of Yelets

9/11 Ukraine crisis

An Ukrainian soldier stands guard at a checkpoint of Pletnyovka, Kharkiv region on Ukraine-Russia border, where Russian humanitarian convoy is to cross the border

10/11 Ukraine crisis

A Russian convoy carrying humanitarian aid for residents in rebel eastern Ukrainian regions moves along a road about 50 km from Voronezh, Russia, 14 August 2014. The convoy continues to advance through Russian territory after a one-day stop in Voronezh in full coordination with and under the aegis of the Red Cross, according to Russian authorities

11/11 Ukraine crisis

The Russian convoy carrying humanitarian aid in the Voronezh region of Russia en route to Ukraine

AP
In another ominous turn in the crisis, Nato said it has mounting evidence that Russian troops are operating inside Ukraine and launching artillery attacks from Ukrainian soil - significantly deeper involvement in the fighting than the West has previously alleged.
A Nato spokesperson said that the military alliance has seen multiple reports of direct involvement of Russian forces in Ukraine since August, along with transfers of tanks and other heavy weapons to the separatists and "an alarming build-up of Russian ground and air forces in the vicinity of Ukraine".
"Russian artillery support - both cross-border and from within Ukraine - is being employed against the Ukrainian armed forces," she said. Previously, the West accused Russia only of cross-border shelling.
Four troops were killed and 23 wounded in a 24-hour period in eastern Ukraine, the government reported.
Separatist forces took advantage of Ukraine's promise not to shell the convoy to drive on the same country road as the trucks.
Around 20 green military supply vehicles - flatbed trucks and fuel tankers - were seen travelling in the opposite direction, along with smaller rebel vehicles.
The conflict in Ukraine has killed more than 2,000 people since April, after Russia annexed the Crimean peninsula amid tensions with Kiev over Russian speakers, and forced 340,000 to flee, according to the UN.
Additional reporting by PA
Reuse content