A last-ditch attempt to end the growing diplomatic crisis surrounding Ukraine by the US Secretary of State and Russian Foreign Minister failed on Friday, after talks between the men ran hours over schedule but reached no positive conclusion.
The meeting, set in the official residence of the US ambassador in central London, comes two days before the pivotal 16 March referendum where Crimeans will decide whether the region should be claimed by Moscow, or remain in Ukraine, following Russia's military seizure of Crimea earlier this month.
After the negotiations, Secretary of State John Kerry maintained the Western view that the referendum is illegitimate because of the presence of thousands of Russian troops on the Crimean streets combined with the lack of a significant campaign period.
"After much discussion the Foreign Minister made clear that President [Vladimir] Putin is not prepared to make any decision regarding Ukraine until after the referendum on Sunday," adding that if the Russian Parliament ratified the referendum vote it would amount to a "back-door annexation" of the territory.
"Neither we nor the international community will recognise the results of this referendum," Mr Kerry said, adding there were "consequences for the choices" Russia makes.
Nevertheless, Foreign Minister Sergei Lavrov concluded the intense day of talks by re-asserting that Moscow will "respect" the result of the poll that is likely to be in its favour, and called the disputed region a "special case".
In pictures: Ukraine crisis
In pictures: Ukraine crisis
1/12 Ukraine crisis

People shout slogans during a pro Russian rally at a central square in Donetsk. Pro Russian activists continued to gather on Saturday in the eastern Ukrainian city of Donetsk, as Russia was reported to be reinforcing its military presence in Crimea.

2/12 Ukraine crisis

In the same pro Russian rally, demonstrators show their support. Ukraine's ambassador to Russia and a deputy Russian foreign minister held a "cordial" meeting on Saturday, Moscow said, without giving details of any discussion of Russian-occupied Crimea.

3/12 Ukraine crisis

Crimean ethnic tatars stand on the roadside as Russian troops move towards to Simferopol in the settlement of Kok-Asan, some 70 kilometres from Simferopol in Crimea.

4/12 Ukraine crisis

Russian troops stand on a roadside in the settlement of Opytnoye, some 70 kilometres from Simferopol.

5/12 Ukraine crisis

Armed members of the first unit of a pro-Russian armed force, dubbed the "military forces of the autonomous republic of Crimea" march before the swearing-in ceremony in Simferopol, Ukraine. Some 30 men armed with automatic weapons and another 20 or so unarmed, were sworn in at a park in front of an eternal flame to those killed in World War II.

6/12 Ukraine crisis

A group of Cossacks march past a statue of Soviet revolutionary leader Vladimir Lenin in Simferopol as tensions in the area continue to rise.

7/12 Ukraine crisis

An armed member of the first unit of a pro-Russian armed force, dubbed the "military forces of the autonomous republic of Crimea" signs the oath during the swearing-in ceremony in Simferopol,

8/12 Ukraine crisis

9/12 Ukraine crisis

Ukrainian soldiers load their armed personnel carriers (APCs) into boxcars in the western Ukrainian city of Lviv. Pro-Kremlin militia fired warning shots as unarmed foreign observers tried to enter Crimea on the 8th.

10/12 Ukraine crisis

An abandoned naval ship sunk by the Russian navy to block the entrance is seen in the Crimean port of Yevpatorya on March 8th.

11/12 Ukraine crisis

Ukrainian sailors stand guard on top of the Ukrainian navy ship at the Crimean port of Yevpatorya.

12/12 Ukraine crisis

Crimea's pro-Moscow leader Sergei Aksyonov speaks to the media in Simferopol on the 8th March. He has defended a decision to hold a referendum on whether the region should join Russia, saying on Saturday that "no one" could cancel the voting.
Despite Western powers scrambling for weeks to resolve the crisis with diplomacy, Mr Lavrov said that he and Secretary of State John Kerry were unable to find a "common vision" on the situation — but described the dialogue as "useful."
Mr Lavrov also rejected calls from Western powers to create an international contact group to resolve the crisis in Ukraine, citing "the crisis was not caused by Russia" and that "the relationship [between Russian and Ukraine] had never been ceased".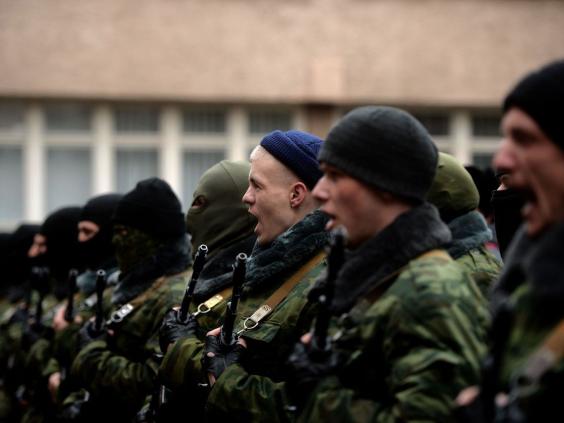 When asked to comment on clashes in the city of Donetsk, which erupted when protesters chanting pro-Russian slogans broke through a police cordon to a demonstration being staged by anti-Russian groups, Mr Lavrov insisted that Moscow had no plans of military intrusion into eastern Ukraine.
He also re-iterated that Russia regarded the ousting of former Ukrainian President Viktor Yanukovych as the overthrow of a legally elected President.
Following meetings with both men earlier this morning, UK Foreign Secretary William Hague said he believed they were "seriously committed" to trying to make progress - but warned that it would be "formidably difficult".
He also offered a reminder that the EU and US would be imposing sanctions as early as next week if tensions are not eased, plans that Mr Lavrov dismissed "counter-productive."
"This is a referendum which doesn't meet any international norm or standards, it's taking place without a campaign, without an electoral roll, without the political leaders of the country being able to visit, in the presence of many thousands of troops from a foreign country," Mr Hague said.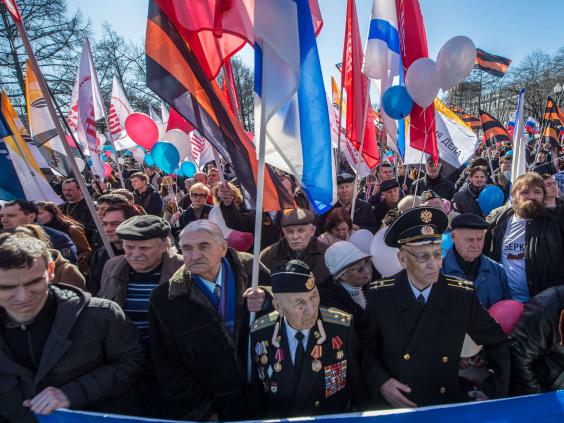 Meanwhile in Washington, US President Barack Obama said he still hopes for a diplomatic solution to the Ukraine crisis, but stressed that Russia will face consequences if it does not loosen its grip on the Crimean peninsula.
In Kiev, Arseny Yatseniuk who became Ukraine's interim Prime Minister after former President Viktor Yanukovych was ousted, said on Friday he was heartened by "unprecedented support" he had received during a visit to the US and denounced Russia for rejecting proposals to resolve the crisis over Crimea.
"Unfortunately, Russia refuses to consider any plans," he said.
"All they believe in is bringing up tanks and troops, weaponry and soldiers to the Ukrainian-Russian border and strengthening their military presence in Crimea."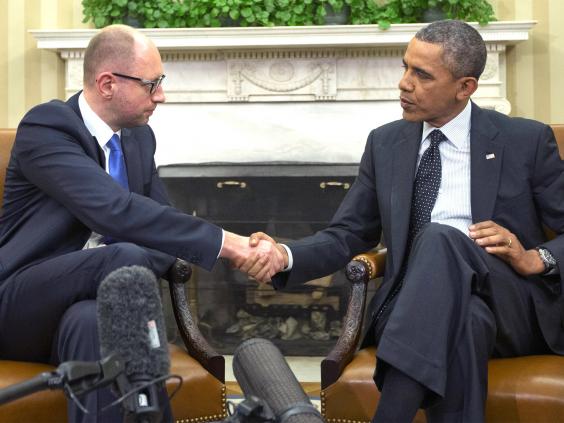 Asked about the prospect of US and other international aid for the Ukrainian armed forces, he said: "Ukraine, like the whole world, is only considering how to resolve this crisis by peaceful means.
"The civilised world is taking every measure possible to give technical help to the Ukrainian armed forces.
"But it must be clearly understood that this now is the responsibility exclusively of the Ukrainian army and Ukrainian state," he added.
His comments came after the US Pentagon said 25,000 prepackaged military meals were on their way to Ukraine, but had not yet been delivered.
Reuse content