Ukraine's president has accepted Prime Minister Mykola Azarov's resignation just hours parliament repealed its controversial anti-protest laws.
President Viktor Yanukovych accepted his resignation in a statement relased today. However, he has asked Mr Azarov to stay on in an acting role until a new government is formed.
The vote on Tuesday to repeal the anti-protest laws came hours after Prime Minister Mykola Azarov submitted his resignation. This morning parliament opened a special session to vote on whether to repeal anti-protest laws imposed last month, which fuelled clashes between anti-government protesters and police.
In a statement this morning on the government website, Mykola Azarov offered his resignation in order to encourage what he called "social-political compromise."
"Today the most important thing is to preserve the unity and integrity of Ukraine. This is far more important than any personal plans or ambitions. That is why I have taken this decision," he said.
Because of Ukraine's constitution, if the President accepts his resignation, then the whole government resigns.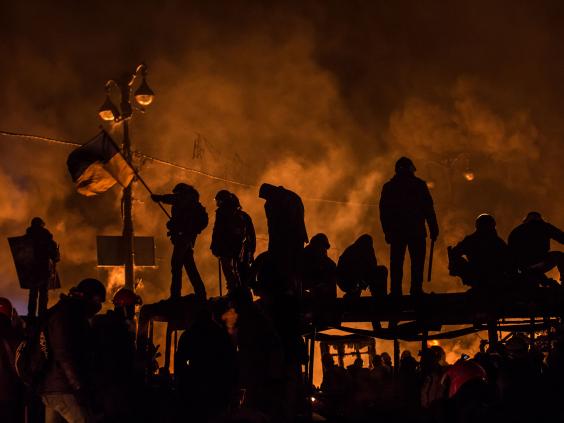 Ukraine has been gripped by protests for two months and the crisis was aggravated in recent days after protesters and police clashed violently. Protests began on 21 November when President Viktor Yanukovych chose closer ties with Russia and spurned a political and trade agreement with the EU.
On Monday, President Viktor Yanukovych offered to give opposition leaders top government posts, make amendments to the constitution, and allow an amnesty for detained protesters.
In pictures: Protests in Kiev continue
In pictures: Protests in Kiev continue
1/10 28 January 2014

A man lights his cigarette with a burning piece of wood as anti-government protesters gather near a barricade in the western Ukrainian city of Lviv to block the exit of "Berkut", special units of the Ukrainian police, to prevent their participation in clashes with the opposition in Kiev

2/10 28 January 2014

One of the activists warms himself and dries his clothes at a barricade of the opposition in Kiev. Protesters oppose the Ukrainian Prime Minister Mykola Azarov, a loyalist bureaucrat with a nasty temper who once told his critics to "piss off"

3/10 28 January 2014

A pile of gas masks are made available to anti-government protestors inside the occupied Ukrainian House convention centre

4/10 28 January 2014

A medic in a home-made suit walks along the barricades of Hrusevskoho Street in Kiev

5/10 28 January 2014

A line of riot police provide a barricade in the freezing cold at the flashpoint Grushevsky Street in central Kiev

6/10 28 January 2014

A brave woman tries reasoning with riot police as they stand guard opposite a road block erected by anti-government protesters in Kiev

7/10 28 January 2014

A group of women join a march lead by Orhodox priests towards police lines, urging them not to harm protestors on Grushevskogo Street in Kiev

8/10 28 January 2014

A protester wearing a gas mask stands at a road block in Kiev after the Ukrainian lawmakers scrapped the draconian anti-protest laws that have angered the opposition

9/10 28 January 2014

A protester has a rest in Independence Square as the parliament holds a special session on the continuing unrest in the country

10/10 28 January 2014

An anti-government protester carries tires at a road block in Kiev
The prime minister's resignation would remove one of the most unpopular figures among the opposition and repealing the anti-protest laws would remove a major aggravating factor in the crisis. But they do not meet all opposition demands, which include Mr Yanukovych's resignation.
In addition, Mr Yanukovych says an amnesty for dozens of protesters arrested in the demonstrations will only be implemented only if protesters leave the streets and vacate buildings that they have occupied. Ending the protests without having other demands met appears unlikely.
Additional reporting by Associated Press
In pictures: Clashes between police and demonstrators in Kiev, Ukraine
In pictures: Clashes between police and demonstrators in Kiev, Ukraine
1/51 Ukraine

Anti-government protesters clash with police on Hrushevskoho Street in Ukraine's capital city on Friday night

2/51 Ukraine

Anti-government protesters attempt to take over the Ukrainian House on Sunday night

3/51 Ukraine

Protesters and police officers clash during the night of Friday to Saturday. After two months of primarily peaceful anti-government protests in the city center, new laws meant to end the protest movement have sparked violent clashes in recent days

4/51 Ukraine

Anti-government protesters clash with policemen in Kiev on Friday night as the protests continue in Ukraine

5/51 Ukraine

Anti-government protesters gather around a fire to get warm at a road block in Kiev on 26 January

6/51 Ukraine

An anti-government protester prepares to throw a Molotov cocktail during the clashes between protesters and policemen on 24 January

7/51 Ukraine

Anti-government protesters hurl Molotov cocktails and burn tires during clashes with police on Hrushevskoho Street near Dynamo stadium on January 24

8/51 Ukraine

Protesters confront police in central Kiev on Friday night

Darko Vojinovic/AP

9/51 Ukraine

Anti-government protesters launches a firework towards police near the Dynamo Stadium in Kiev

Rob Stothard/Getty Images

10/51 Ukraine

A protester waves a Ukrainian flag during clashes with police in central Kiev

Darko Vojinovic/AP

11/51 Ukraine

A protester throws a tire onto a fire in Kiev

Darko Vojinovic/AP

12/51 Ukraine

Opposition leader and former WBC heavyweight boxing champion Vitali Klitschko addresses protesters near the burning barricades between police and protesters in central Kiev

13/51 Ukraine

A protester breaks up a mannequin on the roof of the burned truck during clashes with police in central Kiev

14/51 Ukraine

A protester throws tires onto a fire during a clash with police in central Kiev

15/51 Ukraine

Thick black smoke from burning tires engulfed parts of downtown Kiev as an ultimatum issued by the opposition to the president to call early election or face street rage was set to expire with no sign of a compromise

16/51 Ukraine

Protesters use a large slingshot to hurl a Molotov cocktail at police in central Kiev

17/51 Ukraine

Burning members of the Ukrainian riot police due to the gasoline bombs hurled by anti-government protestors during the clashes in central Kiev

18/51 Ukraine

A demonstrator holds an incendiary device as protesters clash with police in the center of Kiev

19/51 Ukraine

Protesters burn tires as they clash with riot police during an anti-government protest in downtown Kiev

20/51 Ukraine

Protesters clash with police in central Kiev. Police in Ukraine's capital tore down protester barricades and chased demonstrators away from the site of violent clashes, hours after two protesters died after being shot

21/51 Ukraine

A riot police officer escorts a man as a woman with a cross reacts nearby during clashes between police and pro-European protesters in Kiev

22/51 Ukraine

Riot policemen arrest a protestor during an anti-government protest in downtown Kiev

23/51 Ukraine

An injured man is escorted during clashes between police and pro-European protesters in Kiev

24/51 Ukraine

Medical workers help an injured man during anti-government protest in downtown Kiev

25/51 Ukraine

Medical personnel transport a man who was injured during clashes with riot police in Kiev

26/51 Ukraine

A man reacts after he was injured during a rally held by pro-European protesters in Kiev

27/51 Ukraine

An Orthodox priest tries to stop clash protesters the police in the center of Kiev

28/51 Ukraine

Ukrainian priests stand between protesters and riot police officers during an anti-government protest in downtown Kiev

29/51 Ukraine

An elderly woman walks from police officers as they block a street during unrest in central Kiev

30/51 Ukraine

An Ukrainian opposition activist speak to riot-forces standing guard in front of the parliament in Kiev

31/51 Ukraine

A protester smokes at the barricade in front of armour-clad security forces blocking access to the Verkhovna Rada parliament in Kiev

32/51 Ukraine

Pro-European protester take cover during clashes with riot police in Kiev. Two demonstrators were reported killed in new anti-government unrest in the Ukrainian capital, inflaming protesters who confronted police shouting 'Murderers' and 'Glory to Ukraine!'

33/51 Ukraine

Pro-European protesters launch a pyrotechnic pistol towards riot police during clashes in Kiev

34/51 Ukraine

A police officer throws a Molotov cocktail during clashes with protesters in central Kiev

35/51 Ukraine

A pro-European protester lies on the ground during clashes with riot police in Kiev

36/51 Ukraine

Demonstrators beat on a burnt vehicle as pro-European integration protesters hold a rally in Kiev

37/51 Ukraine

People stand on a barricade during a clashing break of the opposition and the police in Kiev

38/51 Ukraine

Protesters tip over a burnt out police bus during an anti-government protest in downtown Kiev

39/51 Ukraine

A pro-European protester fires a pneumatic gun during clashes with Ukrainian riot police in Kiev

40/51 Ukraine

Protesters wearing headbands reading 'Help' shout slogans during an action entitled 'Impose sanctions - stop the violence' in front of the European Union delegation in Ukraine in Kiev. Participants of the rally urged the European Union to immediately impose personal sanctions for those responsible for the use of force against peaceful protesters and journalists, as well as involved in the adoption of unconstitutional laws in Ukraine that violate fundamental human rights

41/51 Ukraine

A pro-European integration protester catches fire during clashes with police in Kiev

42/51 Ukraine

A pro-European integration protester sits in a burnt police bus after a rally near government administration buildings in Kiev

43/51 Ukraine

A pro-European integration protester uses a slingshot during clashes with police in Kiev

44/51 Ukraine

A bare chested man waves a Ukrainian flag during clashes between the opposition and police in the centre of Kiev. Opposition protesters were today locked in a tense standoff with Ukrainian police in Kiev after bloody clashes that wounded over 200 people, as President Viktor Yanukovych called emergency talks to resolve the crisis

45/51 Ukraine

A protester sprays fire in the direction of the riot police during clashes in the centre of Kiev. EU foreign ministers deplored violent protests in Kiev, saying the government was at fault for passing a package of repressive laws in an effort to tame pro-EU demonstrations

46/51 Ukraine

Pro-European integration protesters carry Molotov cocktails during clashes with police in Kiev. Protesters clashed with riot police in the Ukrainian capital after tough anti-protest legislation, which the political opposition says paves the way for a police state and was rushed through parliament

47/51 Ukraine

A protester prays as he holds an open Bible during an anti-government protest in downtown Kiev

48/51 Ukraine

Protesters clad in improvised protective gear prepare for a clash with police in central Kiev

49/51 Ukraine

Pro-European protesters bang on a metal bin during a rally in Kiev

50/51 Ukraine

A clergyman opposes riot police in Kiev during a rally held by pro-European integration demonstrators. Protesters gathered in Independence Square as repressive new laws came into force

Reuters

51/51 Ukraine

Pro-European Union activists sing the national anthem in central Kiev

AP