Civilians are among more than a dozen people killed in Ukraine in a "dangerous deterioration" in the continuing war amid fears rebels have been emboldened by Donald Trump's silence on alleged violations.
Both sides have been accused of ceasefire violations in battles around the town of Avdiivka, sitting on the frontline between separatists and the Ukrainian army.
A 61-year-old mother was among those killed in rebel shelling as she rushed to check on her daughter's safety. Her body was left lying in the snow, surrounded by blood and black scorch marks.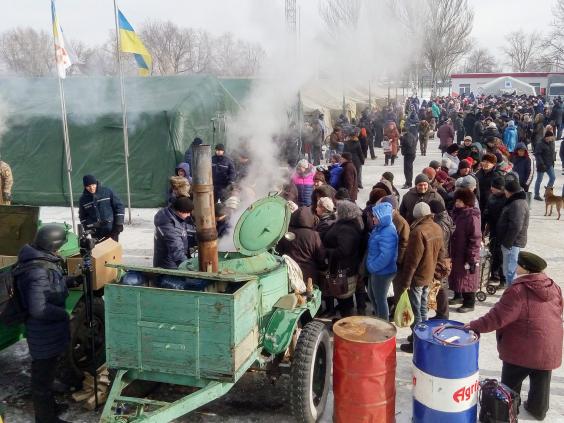 A state of emergency has been declared in Avdiivka, where Ukrainian tanks have been stationed by residential flat blocks as families queue in the freezing cold for food in temporary camps.
At least two government soldiers have been killed in bombardment, while rebels also reported shelling on their positions overnight. In their stronghold of Donetsk, self-proclaimed authorities said two civilians were injured when projectiles hit their houses on Wednesday evening.
About a dozen people are known to have been killed and many others wounded in intensified fighting since Monday.
Vladimir Putin accused the Ukrainian government of provoking the renewed violence, claiming it was a ploy to win the support of the new US administration, while Kiev blamed rebels.
Accusing Ukraine of seeking to present itself as a "victim", the Russian President claimed the country was attempting to "mend ties" with Mr Trump's government.
What sparked the escalation is unclear, although Ukraine's military has acknowledged that its troops have gained some ground in an advance around Avdiivka. 
​Olof Skoog, President of the UN Security Council, said he was gravely concerned about the "dangerous deterioration of the situation in eastern Ukraine and its severe impact on the local civilian population".
"Members of the Security Council call for an immediate return to a ceasefire regime," he added.
Mr Skoog condemned the use of Grad rocket launchers and other heavy weaponry, which both sides committed to withdraw under the 2015 Minsk agreements.
The fragile pact has been repeatedly violated in fighting that continues more than two years after pro-Russian separatists declared independence in eastern Ukraine following Russia's annexation of the Crimean peninsula.
The UN Security Council expressed its full support for the "sovereignty and territorial integrity of Ukraine", as did the British Government.
Boris Johnson, the Foreign Secretary, said recent days had seen a high number of casualties and a "drastic" humanitarian situation as civilians were left without water, electricity and heating in temperatures plummeting to -20C.
"The immediate priority must be security and a full sustained ceasefire, in line with the provisions of the Minsk agreement," he added.
"I urge all parties to demonstrate restraint, and help facilitate crucial repairs to restore vital utilities and assist the vulnerable."
Mr Johnson said sanctions put on Russia over its alleged backing for the separatists would not be lifted until a full ceasefire held.
By Thursday, the water supply and heating in Avdiivka, just a few miles from Donetsk, has been partly restored but workers were unable to restore electricity because of sustained fighting around cut power lines. 
Nato secretary general Jens Stoltenberg urged the Kremlin to use its influence to stop the "most serious spike in violence in a long time", saying 5,600 ceasefire violations had been recorded in the past week.
Russian military activity in Crimea
Russian military activity in Crimea
1/11

Russian, right, and Ukrainian navy sailors are deployed outside a Ukrainian Coast Guard base in Balaklava near Sevastopol, Crimea (AP)

AP

2/11

An unidentified armed man patrols a square in front of the airport in Simferopol, Ukraine (AP)

AP

3/11

A soldier rests atop a Russian armored personnel carriers with a road sign reading "Sevastopol - 32 kilometers, Yalta - 70 kilometers", near the town of Bakhchisarai, Ukraine (AP)

AP

4/11

Armed Russian navy servicemen surround a Ukrainian border guard base in Balaclava, in the Crimea region (Reuters)

Reuters

5/11

Unidentified soldiers block a road to Ukrainian military airport Belbek not far from Sevastopol (AFP/Getty Images)

AFP/Getty Images

6/11

Sea gulls perch onboard a Russian military vessel anchored at a navy base in the Ukrainian Black Sea port of Sevastopol (Reuters)

Reuters

7/11

Activists of the Russian Bloc party guard the road to Ukrainian military airport Belbek not far from Sevastopol (AFP/Getty Images)

AFP/Getty Images

8/11

Ukrainian police walk near the Crimean parliament building in Simferopol. Ukraine said on Thursday it would regard any movements by Russian military in Crimea outside the Russian Black Sea fleet's base in Sevastopol as an act of aggression. (Reuters)

Reuters

9/11

Armed Russian navy servicemen surround a Ukrainian border guard base in Balaclava, in Crimea region (Reuters)

Reuters

10/11

An unidentified gunman holds his assault rifle ready while he and others block the road toward the military airport at the Black Sea port of Sevastopol in Crimea (AP)

AP

11/11

A local resident smiles preventing people from going too close to unidentified gunmen blocking the road toward the military airport at the Black Sea port of Sevastopol in Crimea (AP)

AP
In Brussels, European Union President Donald Tusk urged Moscow to "use its influence to disengage the Russia-backed separatists". 
But there was a notable silence from the US government, amid concerns in Kiev that the Trump administration will take a comparatively soft line on Russia.
The new President has vowed to improve relations with Mr Putin, praising his Russian counterpart repeatedly during his election campaign and kicking off their formal relationship with a cordial phone call over the weekend.
The White House said the two leaders discussed "mutual cooperation in defeating Isis and achieving more peace throughout the world", describing the one-hour call as "positive".
Mr Putin's spokesman, Dmitry Peskov, claimed the issue of sanctions over Ukraine had not arisen, but a Kremlin statement said the conflict was "touched upon" in the discussion.
"The sides agreed to build up partner cooperation in these and other areas," a spokesperson said, adding that Mr Putin and Mr Trump would "maintain regular personal contacts" ahead of a meeting.
Sean Spicer, the White House spokesman, was evasive when asked whether there could be a link between the rebel assault in Avdiivka and the new President's inauguration.
When asked whether "the President feels that Russia is testing him…and what he plans to do about it" in a press briefing, Mr Spicer replied only that Mr Trump was being kept updated.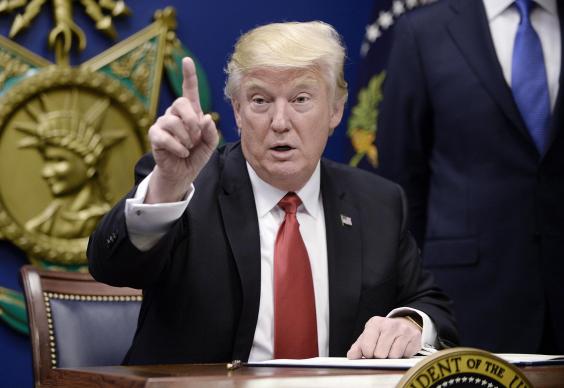 Dr Leslie Vinjamuri, director of the Centre on Conflict, Rights and Justice at SOAS University of London, said there was concern over the new President's impact on the actions of Russia, as well as Israel and China.
"There is for very good reason general concern that the positions Trump is taking regarding Russia is setting up a series of unintended consequences," she told The Independent.
"It's bound to change the calculations of a number of actors. People are looking for a signal on where the Trump administration will draw red lines and that's not obvious right now."
The Kremlin has denied persistent allegations of military intervention in the conflict and providing support to pro-Russian rebels, but the International Criminal Court classes the situation in Crimea as an "international armed conflict" between Russia and Ukraine.
A report released last year found the conflict began in February 2014 when Russian troops were deployed "to gain control over parts of the Ukrainian territory without the consent of the Ukrainian government".
It defined the current situation, which Russia claims is legitimised by a referendum and local elections, as an "on-going state of occupation".
A Dutch-led investigation found rebels used Russian weaponry to down a Malaysia Airlines passenger plane, killing 298 people, while Nato has published satellite images appearing to show Russian troops and weaponry crossing the border.
Separatist rebels have been fighting government troops and volunteer brigades in eastern Ukraine since April 2014 in clashes that have killed more than 9,700 people. 
Additional reporting by AP
Reuse content