Ilona already knows the sound a bomb makes. The three-year-old is keen to impress she can tell the difference between a mortar and the thud of the trap door, which periodically slams shut above her head.
The other children in the bomb shelter are even more knowledgeable. They know what a "Smerch" rocket is, and how it differs from the smaller "Uragan" and larger "Tochka-U" missiles. The boys explain how the rattle of machine gun fire can be differentiated from mortars, and from rocket launchers.
There are 40 adults and 12 children living in the damp and cramped cellars of one house on Kosareva Street in Petrovsky district in west Donetsk. Three of the children in the bomb shelter are now sure they want to become war journalists. Two are eyeing jobs as soldiers, and one wants to be an aid worker.
This week is an landmark of sorts for them, marking five months of life underground.
Their home in Petrovsky is the last settlement before a buffer zone between rebel-controlled Donetsk and its suburb Marinka, which has been seized by government forces. The district is one of the most dangerous in all Ukraine. Almost half of the concrete residential blocks have been damaged. It remains too risky to spend long periods above ground. Nearly all the adults in the shelter have stories of a friend or relative dead or maimed. And all understand their temporary home offers little protection in the case of a direct hit.
Ukraine crisis: A timeline of the conflict
Ukraine crisis: A timeline of the conflict
1/22 30 November 2013

Public support grows for the "Euromaidan" anti-government protesters in Kiev demonstrating against Yanukovych's refusal to sign the EU Association Agreement as images of them injured by police crackdown spread.

EPA

2/22 20 February 2014

Kiev sees its worst day of violence for almost 70 years as at least 88 people are killed in 48 hours, with uniformed snipers shooting at protesters from rooftops.

AFP/Getty Images

3/22 22 February 2014

Yanukovych flees the country after protest leaders and politicians agree to form a new government and hold elections. The imprisoned former Prime Minister, Yulia Tymoshenko, is freed from prison and protesters take control of Presidential administration buildings, including Mr Yanukovych's residence.

Genya Savilov/AFP/Getty Imageses

4/22 27 February 2014

Pro-Russian militias seize government buildings in Crimea and the new Ukrainian government vows to prevent the country breaking up as the Crimean Parliament sets a referendum on secession from Ukraine in May.

Sean Gallup/Getty Images

5/22 16 March 2014

Crimea votes overwhelmingly to secede from Ukraine and join Russia in a ballot condemned by the US and Europe as illegal. Russian troops had moved into the peninsula weeks before after pro-Russian separatists occupied buildings.

EPA

6/22 6 April 2014

Pro-Russian rebels seize government buildings in the eastern cities of Donetsk, Luhansk and Kharkiv, calling for a referendum on independence and claiming independent republic. Ukraine authorities regain control of Kharkiv buildings on 8 April after launching an "anti-terror operation" but the rest remain out of their control.

EPA/PHOTOMIG

7/22 7 June 2014

Petro Poroshenko is sworn in as Ukraine's president, calling on separatists to lay down their arms and end the fighting and later orders the creation of humanitarian corridors, since violated, to allow civilians to flee war zones.

Getty Images

8/22 27 June 2014

The EU signs an association agreement with Ukraine, along with Georgia and Moldova, eight months after protests over the abandonment of the deal sparked the crisis.

LOUISA GOULIAMAKI/AFP/Getty Images

9/22 17 July 2014

Malaysian Airlines flight MH17 is shot down over eastern Ukraine, killing all 298 people on board. Ukrainian intelligence officials claim it was hit by rebels using a Buk surface-to-air launcher in an apparent accident.

10/22 22 August 2014

A Russian aid convoy of more than 100 lorries enters eastern Ukraine and makes drop in rebel-controlled Luhansk without Government permission, sparking allegations of a "direct violation of international law".

Reuters/Alexander Demianchuk

11/22 29 August 2014

Nato releases satellite images appearing to show Russian soldiers, artillery and armoured vehicles engaged in military operations in eastern Ukraine.

Nato

12/22 8 September 2014

Russia warns that it could block flights through its airspace if the EU goes ahead with new sanctions over the ongoing crisis and conflict

EPA

13/22 17 September 2014

Despite the cease-fire and a law passed by the Ukrainian parliament on Tuesday granting greater autonomy to rebel-held parts of the east, civilian casualties continued to rise, adding to the estimated 3,000 people killed

Reuters

14/22 16 November 2014

The fragile ceasefire gives way to an increased wave of military activity as artillery fire continues to rock the eastern Ukraine's pro-Russian rebel bastion of Donetsk

Getty

15/22 26 December 2014

A new round of ceasefire talks, scheduled on neutral ground in the Belariusian capital Minsk, are called off

AFP/Getty

16/22 12 January 2015

Soldiers in Debaltseve were forced to prepare heavy defences around the city; despite a brief respite to the fighting in eastern Ukraine, hostilities in Donetsk resumed at a level not seen since September 2014

AFP/Getty

17/22 21 January 2015

13 people are killed during shelling of bus in the rebel-held city of Donetsk

Reuters

18/22 24 January 2015

Ten people were killed after pro-Russian separatists bombarded the east Ukrainian port city of Mariupol

AP

19/22 2 February 2015

There was a dangerous shift in tempo as rebels bolstered troop numbers against government forces

AFP/Getty

20/22 11 February 2015

European leaders meet in Minsk and agree on a ceasefire in eastern Ukraine beginning on February 14. From left to right: Belarus President Alexander Lukashenko, Russian President Vladimir Putin, German Chancellor Angela Merkel, France's President Francois Hollande and Ukrainian President Petro Poroshenko.

MAXIM MALINOVSKY | AFP | Getty Images

21/22 13 February 2015

Pro-Russian rebels in the city of Gorlivka, in the Donetsk region, fire missiles at Ukrainian forces in Debaltseve. Fighting continued in Debaltseve for a number of days after the Minsk ceasefire began.

ANDREY BORODULIN | AFP | Getty Images

22/22 18 February 2015

Ukrainian soldiers repair the bullet-shattered windshield of their truck as their withdraw from the strategic town of Debaltseve. Following intense shelling from pro-Russian rebels, Ukrainian forces began to leave the town in the early hours of February 18.

Brendan Hoffman | Getty Images
Natalya Leonidovna, 59, tells The Independent that her sister and husband had been killed during fierce fighting in August. "Life is not without difficulties down here, but it gives us the best chance of staying alive," she says. "My sister and her husband died: all they did was go out into the courtyard, and it was wrong place and wrong time."
The adults do their best to keep the children active and amused, though depression is written across their faces. Some continue to work, mostly in the local mine, where salaries haven't been paid for months. Pensioners have not received any payments since July. Some need medication, but it is either unavailable or too expensive. Temperatures regularly drop to an unseasonable minus 22C.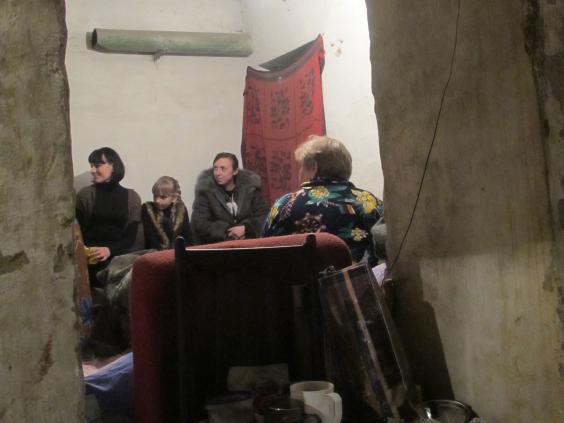 In the absence of legitimate government, self-organised local volunteer groups are doing their best to fill the void. The "Responsible Citizens of Donbass" – an unlikely union of independent journalists, local politicians and businessmen – is the most visible of these ad-hoc formations. Every day, the team of volunteers brave missiles and icy roads to deliver blankets, clothes, basic medicine, food and children's toys. They are a lifeline for many thousands of people across Donetsk.
Evgeny Shibalov, a journalist for one of Ukraine's most influential newspapers Dzerkalo Tyzhnia, is one of the original five "responsible citizens". He says the group was formed in response to Kiev's withdrawal from the region – a position "driven by short-term politics, ruthlessness and an incapacity for discussion".
The decision to stop pension payments has been disastrous. Mr Shibalov says: "Kiev seems to be fighting for territory alone; it has forgotten about the people."
There is talk of yet another "ceasefire" in the city this week, but the evidence on the ground is thin.
The underground residents of Kosareva Street say shelling has intensified over the last seven days. And even when artillery battles eventually die down, they face a long road to normality. "War chips away at the confidence – and then fear begins its work," says Dr Ivan Moskovoi, head doctor at the local psychiatric hospital.
It is not the first time that Dr Moskovoi has experienced a humanitarian crisis. Back in 1986, he was one of a group of medics sent to Chernobyl to administer emergency psychological support to the local population.
Then and now, he observes, he saw people go one of two ways. There is a first group – full of bravado – that quickly gets used to the situation. "These are the guys who eat fish from the river without thinking, and die soon afterwards," he recalls. The second group responds through fear and stress. "This group develops debilitating mental illness."
The psychiatric hospital came under attack in December by missiles probably fired from the north-west, where Ukrainian forces were based. Staff did what they could to repair the hospital, but the building remains without central heating. Patients huddle around a single stove to keep warm.
The shelling is the latest in a series of disasters for the patients, many of whom are struggling to process the conflict. "Healthy people can develop coping strategies, but mentally ill people have a tendency to become terrified," says Dr Moskovoi. One patient became so scared that he decided to attack a pro-Russian fighter when he went home for the weekend. "I won't tell you what happened next," Dr Moskovoi adds. 
The idea of keeping a psychiatric hospital open in an active war zone could be viewed as ill-advised. Kiev authorities had mooted the idea of moving the hospital from Donetsk, but have offered no assistance in moving. It is, Dr Moskovoi says, the "definition of madness". Kiev stopped paying staff salaries in October; his Chernobyl pension was also blocked.
After five months under artillery fire, much from Ukrainian positions, and the cutting of welfare payments, few in Donetsk's Petrovsky district remain well-disposed to the Kiev government. In Donetsk there was a constant refrain by all those we spoke to: "When will the war end?" they asked. On Tuesday, the country's President Poroshenko hopes to have an answer as ceasefire talks once again resume.
Reuse content