More than 1,000 tiny vineyards in Burgundy have been designated icons of "exceptional" human achievement by the UN cultural organisation, Unesco, while similar status was granted at the weekend to the principal vineyards and wine houses of Champagne.
But recognition by Unesco of "the exceptional universal value" of the complex quilt of ancient Burgundian vineyards is more significant and potentially more controversial. It amounts to an intervention by Unesco in the perennial debate – or verbal and commercial war – in the wine world over what makes the greatness of a great wine.
According to one view, held widely in France, a great wine can only be a product of rare combinations of soil, sub-soil, and micro-climate. Others, notably in Australia and the US, argue that a great wine is constructed by a great wine-maker who shops around for the highest-quality grapes.
By awarding "world heritage" status to a patchwork of more than 1,000 tiny vineyards in the Côte d'Or, south of Dijon, Unesco is, in effect, backing the traditional French belief in the untranslatable  word "terroir". Burgundy is, par excellence, the home of the concept that each patch of ground can produce a distinctive wine.
Most expensive bottles of wine in the world
Most expensive bottles of wine in the world
1/10 1. Domaine de la Romanee-Conti Romanee-Conti Grand Cru, Cote de Nuits, France, £8,310

The most expensive wine in the world is described as the perfect Burgundy. The price has been moving upwards over the past three years, so get it while you still can.

2/10 2. Henri Jayer Cros Parantoux, Vosne-Romanee Premier Cru, France, £4,894

Another Burgundy, this one is a collector's item. It's also quite popular in Asia.

3/10 3. Egon Muller-Scharzhof Scharzhofberger Riesling Trockenbeerenauslese, Germany, £4,577

The first German wine on the list, this Riesling is produced in the Rheingau vineyard. The 2010 vintage was given a perfect score – 100 out of a 100 – by a major wine critic.

4/10 4. Domaine Leflaive Montrachet Grand Cru, Cote de Beaune, France, £3,716

The highest priced white wine from Le Montrachet, this is also the fourth most highly rated white from the region.

5/10 5. Joh. Jos. Prum Wehlener Sonnenuhr Riesling Trockenbeerenauslese, Germany, £3,415

Another German wine comes in at number five, and critics have rated it as the best white in the region. It has an overall score of 98 on wine-searcher.com – not bad.

6/10 6. Domaine Leroy Musigny Grand Cru, Cote de Nuits, France, £3,379

Another red from the Cote de Nuits, were the Le Musigny vineyard plays a pivotal role in local life – so much so that the village of Chambolle changed its name to Chambolle-Musigny in 1882.

7/10 7. Domaine Georges & Christophe Roumier Musigny Grand Cru, Cote de Nuits, France, £3,202

How about that Cote de Nuits? Another entry from Le Musigny, this is the second highest priced wine from the vineyard. The 2012 vintage was given a score of 98 out of 100 by The Wine Advocate.

8/10 8. Domaine de la Romanee-Conti Montrachet Grand Cru, Cote de Beaune, France, £2,948

This wine has received more awards than any other white in the region. It's also the most sough after Le Montrachet wine, based on user searches.

9/10 9. Domaine Jean-Louis Chave Ermitage Cuvee Cathelin, Rhone, France £2,403

The Ermitage (or Hermitage) is a rich Syrah-based red wine from the Rhone Valley. Ermitage wine can be traced back to 17th century, when it was an official wine in the courts of King Louis XIII and his successor Louis XIV.

10/10 10. Henri Jayer Echezeaux Grand Cru, Cote de Nuits, France £2,196

Yet another Grand Cru from the Cote de Nuits. Interest in this wine has fallen in recent years, but it's still popular enough to justify its extraordinary price.
In local wine terminology, the tiny, oddly shaped vineyards of Burgundy are known as climats. First recorded in legal documents in the 16th century, the boundaries are believed to have been mapped out much earlier by Cistercian monks from the fourth century onwards.
By trial and error, and by large and attentive consumption over the centuries, the monks discovered that wines from closely adjoining plots could have different qualities and tastes. It is these climats – some now internationally renowned, others more obscure – that have been recognised by Unesco.
Aubert de Villaine, joint proprietor of the Domaine de la Romanée-Conti, which produces the most prized red wine in the world, and the man who led the campaign for recognition, said that the Unesco decision, announced in Bonn on Saturday, was a "formidable achievement and an occasion to celebrate by uncorking a few bottles".
Since Romanée-Conti sells for up to €15,000 (£10,700) a bottle, depending on vintage, this will be no ordinary celebration. The vineyard is tiny – about the size of one-and-a-half football pitches. Across a narrow track is another legendary vineyard, Richebourg. Its red wine sells for a more modest €500 to €1,000 a bottle.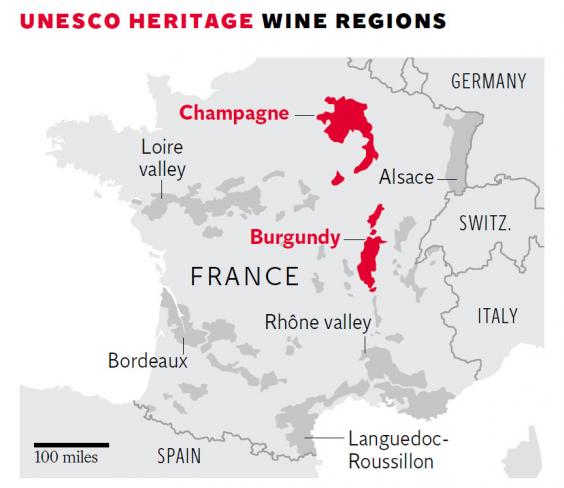 The Romanée-Conti vineyard has had the same shape, including the afterthought at the southern end, for at least 600 years, maybe longer. The same is true for the boundaries of the neighbouring vineyards, shaped like shards of broken wine-glasses.
All produce "grand cru" red burgundies: Richebourg, La Romanée, La Grande Rue, La Tâche, Romanée-Saint-Viviant. All use the same Pinot Noir grape. All are superlative. All are subtly – or, to experts, radically – different.
In a rare interview with The Independent in 2011, Mr de Villaine, whose family has owned Romanée-Conti for seven generations, explained why the wine from one side of a track should be sublime and from the other side merely wonderful. "Over many centuries, these seemingly random boundaries between vineyards were worked out and then engraved in marble by our ancestors. They realised that, by doing so, they could capture something unique and wonderful," he said.
"That ceaseless search for quality, and for difference, tells you something about mankind. It also tells you what can be possible if we work with, rather than against, the extraordinary variety that can be found in nature."
The great Burgundy red wines grow at the foot of a steep first slope, just before it flattens into a plain. Here the soil is relatively deep and rich with sediment washed from above. The roots search far into the limestone bedrock, fractured in bizarre ways under the surface, the different formations of rock, supplying different combinations of minerals – and subtly different tastes – to vineyards only a few yards apart.    
The status awarded to Burgundy and Champagne was hailed by President François Hollande as "international recognition for the exceptional heritage of these regions and pays tribute to the diversity and dynamism of all the territories which are the wealth of our country".
In other words "Don't be too jealous in Bordeaux". And yet, of course, they will be.
Reuse content