Up to 40 migrants including several children are feared to have drowned trying to cross the Mediterranean.
Survivors of the disaster told rescue workers in Sicily that their boat started taking on water on Wednesday morning and seven teenagers were among the dozens who died.
Save the Children said that 80 people who had made the treacherous crossing in a dinghy told their staff of the tragedy.
The survivors believed that the victims were sub-Saharan Africans from Senegal, Mali and Benin on a voyage from Tripoli in Libya.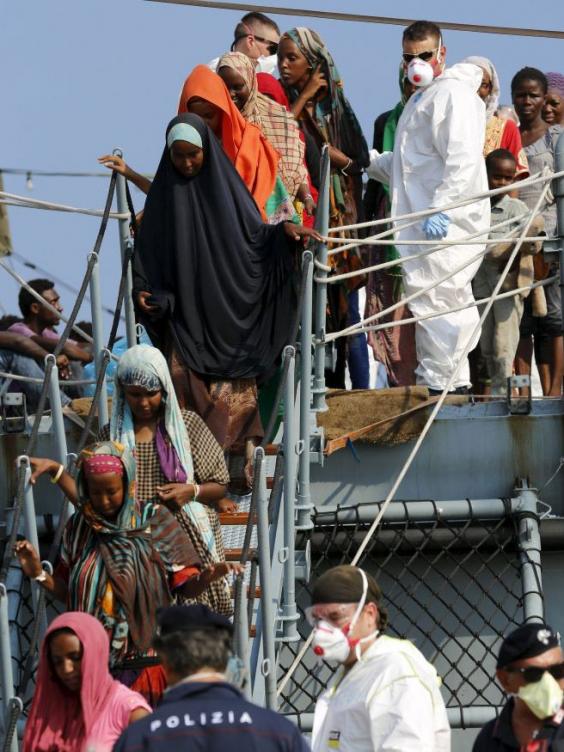 Their sinking vessel was eventually spotted by a commercial cargo ship that alerted search and rescue, leading the German Navy to the scene.
The rescued migrants were taken to Sicily, where they will be given food, clothes and health checks before being referred to reception centres and social services.
News of the disaster yesterday came as almost 1,000 rescued people arrived in Italian ports.
Around 340 people were taken ashore in Trapani, while 330 arrived in Calabria and 290 more in Augusta, Sicily.
In the worst sinking so far, 800 migrants were believed to have drowned in April when their boat capsized off Libya with hundreds of people trapped in the hold by smugglers, days after another tragedy where another 400 passengers died.
Save the Children warned that with more than 90,000 migrants having arrived in Italy so far this year, facilities are struggling to cope with demand.
"Italy's reception centres and children's homes are now overwhelmed with the demand, meaning some vulnerable children have to sleep rough or stay in sports halls and churches," a spokesperson said.
"They risk falling prey to people traffickers and being forced into prostitution, child labour and the drug trade.
"The situation in Greece is even worse, with reception systems strained under the pressure of thousands of new arrivals."
The charity is urging the UK and other European countries to acknowledge that the crisis is a problem for the whole continent and does not "go away when people are brought to shore".
Britain's unwillingness to take in refugees from war-torn Syria, where most migrants crossing the Mediterranean come from, has been internationally criticised.
An estimated four million Syrians have fled their homes but David Cameron announced only a "modest" expansion of the UK's scheme last month to take in 1,000 at most.
By comparison, Germany has offered 30,000 places to resettle Syrians, Sweden has committed to resettling 2,700, Switzerland has offered 3,500 places and Austria 1,500.
Reuse content