Vladimir Putin has praised the Russian air force for "protecting civilians" with air strikes in Syria, despite allegations that indiscriminate bombing has hit hospitals and schools.
The Syrian Observatory for Human Rights, which relies on information from rebels, alleged that more than 1,000 civilians have been killed in air strikes since Russia's intervention started in September but the Kremlin has persistently denied allegations.
Mr Putin, who as President is also the Supreme Commander of Russian armed forces, said they deserved the "highest praise" on Saturday.
"They are helping the Syrian army and other forces fight terrorists in very harsh conditions, protect civilians from violence and hostilities," he added, according to the state-owned Sputnik news website.
"We have always sought to resolve any disputed issues solely through political and diplomatic means, we have repeatedly contributed to stabilizing the situation in different countries, helped resolve serious conflicts."
Russia joined the Syrian civil war at the request of Bashar al-Assad and is supporting the regime's ground forces.
Mr Putin has vowed to fight Isis but his forces have been accused of targeting moderate opposition groups and civilians while following Syrian intelligence on what the government defines as "terrorists".
Turkey has been particularly outspoken in its criticism, while itself being heavily reprimanded for shelling Kurdish groups, and accused Russia of acting "like a terrorist organisation" last week.
In pictures: Russian air strikes in Syria
In pictures: Russian air strikes in Syria
1/10

Volunteers from Syria Civil Defence, also known as the White Helmets, help civilians after Russia carried out its first airstrikes in Syria

2/10

The aftermath of Russian airstrike in Talbiseh, Syria

3/10

Smoke billows from buildings in Talbiseh, in Homs province, western Syria, after airstrikes by Russian warplanes

AP

4/10

Russian Air Forces carry out an air strike in the ISIS controlled Al-Raqqah Governorate. Russia's KAB-500s bombs completely destroy the Liwa al-Haqq command unit

5/10

Caspian Flotilla of the Russian Navy firing Kalibr cruise missiles against remote Isis targets in Syria

6/10

Caspian Flotilla of the Russian Navy firing Kalibr cruise missiles against remote Isis targets in Syria, a thousand kilometres away. The targets include ammunition factories, ammunition and fuel depots, command centres, and training camps

7/10

Russia claimed it hit eight Isis targets, including a "terrorist HQ and co-ordination centre" that was completely destroyed

8/10

A release from the Russian defence ministry purportedly showing targets in Syria being hit

9/10

A video grab taken from the footage made available on the Russian Defence Ministry's official website, purporting to show an airstrike in Syria

10/10

Russia launched air strikes in war-torn Syria, its first military engagement outside the former Soviet Union since the occupation of Afghanistan in 1979. Russian warplanes carried out strikes in three Syrian provinces along with regime aircraft as Putin seeks to steal US President Barack Obama's thunder by pushing a rival plan to defeat Isis militants in Syria
Almost 50 civilians were killed when missiles hit several medical facilities and two schools in rebel-held areas of Syria on Monday, according to the United Nations, which called the attacks a blatant violation of international law.
At least 14 were killed in the northern town of Azaz, the last rebel stronghold before the border with Turkey, where missiles hit a children's hospital and a school sheltering refugees, while 15 were feared dead at a Doctors Without Borders (MSF) hospital in Ma'arat Al Numan, Idlib province.
Russian Health Minister Veronika Skvortsova said air strikes were targeting Isis infrastructure and she had no reason to believe that Russian planes had bombed civilian sites.
But Syrian National Coalition, which represents a broad base of rebel groups fighting the Assad regime, urged the international community to act.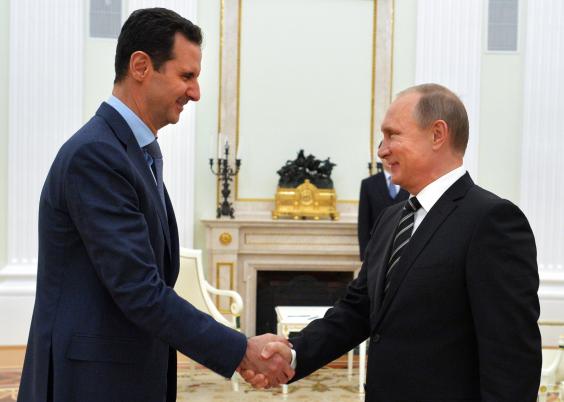 Its representative to the EU, Mouaffaq Nyrabia, welcomed the European Council's call for an immediate halt to attacks against civilians and moderate opposition groups on Saturday as efforts to secure a ceasefire continued.
"Indiscriminate aerial attacks by the Assad regime and Russia, in particular their recent escalation in Aleppo, continue to undermine peace efforts, hinder humanitarian access, and fuel the refugee crisis," he added. 
"A cessation of hostilities will only be viable when the EU and wider international community bring forward credible options to stop Assad and Russia's military onslaught, including intensifying targeted sanctions, and a guarantee on unilateral steps to protect civilians."
Russia's foreign minister, Sergei Lavrov, and the US Secretary of State John Kerry discussed the delivery of humanitarian aid to besieged areas today. 
The two nations were among 18 countries who agreed a "cessation of hostilities" in Munich on 12 February but intense fighting and bombing has continued by all sides.
Talks were planned to resume on 25 February but UN envoy Staffan de Mistura announced yesterday that they had been delayed. 
Additional reporting by agencies
Reuse content