The dark shadow of what lies beneath; men in black sent onshore for secret missions; encrypted messages; echoes of sonar signals from the depths and, with it, echoes of the Cold War.
 These were the tales surrounding a "Russian submarine" lurking in Swedish waters.
The vessel in the centre of the drama reportedly slipped away today into open seas after a week of frenetic activity by the government in Stockholm. A no-fly zone was established with searches involving 200 marines and sailors, fast boats, minesweepers, helicopters and threats of depth charges. It was, said an official keen to provide a sound-bite, "a hunt for reds in October".
The "submarine" left in its wake questions, accusations and recriminations about the identity and motive of the intruder. There were, inevitably, comparisons with a John le Carré novel. The master chronicler of espionage has tended to end books with a triple-cross with the treacherous Americans as the villains; and there were plenty of people in Sweden who saw this as an attempt to bounce their new centre-left government towards joining Nato, or, at the very least, persuade it to increase the defence budget.
The Kremlin, however, blamed not the Pentagon but, to some surprise, the Dutch. "To remove tensions in the waters of the Baltic Sea and to save money of the Swedish taxpayers we would recommend that they turn to the naval command of the Netherlands for an explanation", said an official in Moscow.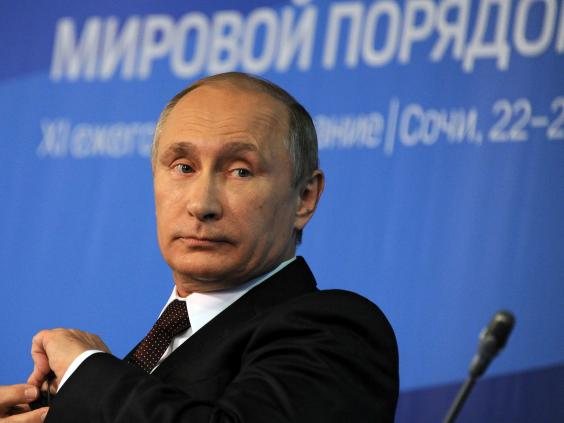 The Dutch, however, pointed out that while its diesel-electric submarine Bruinvis had been undertaking exercises last week near Stockholm, it was in a berth in Estonia before the first sighting of the mystery ship. Marloes Visser, a spokeswoman for the Royal Netherlands Navy, was perplexed:  "It wasn't one of our ships, you have to ask the Russians why they chose us for this", she said.
The Swedish military privately stated that they had no doubt that the submarine was Moscow's. Niklas Granholm, a senior analyst at the government's Defence Research Agency, was adamant: "Who else could it be? Our Baltic neighbours don't have the capability, neither do the Finns, Norway and Denmark." He was not buying the theory of a hidden Nato hand: "Would the US want to do it, why? The UK? Certainly not: so you rule those out and it points in a certain direction".
The reason for the deployment, held Mr Granholm, could be to map out the underwater terrain of the archipelago for places to hide "resources and assets" in case of a naval conflict in the Baltic. Swedish defence ministry spokeswoman Ingela Nilsson stressed the mobilisation was the biggest since the end of the Cold War. There was a need to be vigilant, she added, at a time of assertiveness by the Russian military.
The reason for the rhetoric is what had happened in Eastern Europe and the Baltic: the seizure of Crimea from Ukraine by the Kremlin, the establishment of the people's republics of Donetsk and Lugansk; the massive exercises by Russian forces on its western borders; Nato's decision to set up a 4,000 strong rapid reaction force and bases in former Warsaw Pact countries.
The former Soviet states in the Baltic have been increasingly vocal about their fear that they would be in Vladimir Putin's sight after Ukraine. Moscow accuses the West of using this as an excuse to militarise its neighbours and has signalled it does not intend to back down. A few days after Barack Obama met the presidents of Estonia, Latvia and Lithuania in Tallinn last month, Russian agents seized an Estonian intelligence officer in his side of the border. Russians warplanes have been accused of violating Finnish airspace. As this week's hunt for the submarine unfolded, Edgars Rinkevics, Latvia's Foreign Minister, tweeted: "closely following events in the Swedish territorial waters, may become a game-changer of the security in the whole Baltic Sea region".
Ukraine crisis: A timeline of the conflict
Ukraine crisis: A timeline of the conflict
1/22 30 November 2013

Public support grows for the "Euromaidan" anti-government protesters in Kiev demonstrating against Yanukovych's refusal to sign the EU Association Agreement as images of them injured by police crackdown spread.

EPA

2/22 20 February 2014

Kiev sees its worst day of violence for almost 70 years as at least 88 people are killed in 48 hours, with uniformed snipers shooting at protesters from rooftops.

AFP/Getty Images

3/22 22 February 2014

Yanukovych flees the country after protest leaders and politicians agree to form a new government and hold elections. The imprisoned former Prime Minister, Yulia Tymoshenko, is freed from prison and protesters take control of Presidential administration buildings, including Mr Yanukovych's residence.

Genya Savilov/AFP/Getty Imageses

4/22 27 February 2014

Pro-Russian militias seize government buildings in Crimea and the new Ukrainian government vows to prevent the country breaking up as the Crimean Parliament sets a referendum on secession from Ukraine in May.

Sean Gallup/Getty Images

5/22 16 March 2014

Crimea votes overwhelmingly to secede from Ukraine and join Russia in a ballot condemned by the US and Europe as illegal. Russian troops had moved into the peninsula weeks before after pro-Russian separatists occupied buildings.

EPA

6/22 6 April 2014

Pro-Russian rebels seize government buildings in the eastern cities of Donetsk, Luhansk and Kharkiv, calling for a referendum on independence and claiming independent republic. Ukraine authorities regain control of Kharkiv buildings on 8 April after launching an "anti-terror operation" but the rest remain out of their control.

EPA/PHOTOMIG

7/22 7 June 2014

Petro Poroshenko is sworn in as Ukraine's president, calling on separatists to lay down their arms and end the fighting and later orders the creation of humanitarian corridors, since violated, to allow civilians to flee war zones.

Getty Images

8/22 27 June 2014

The EU signs an association agreement with Ukraine, along with Georgia and Moldova, eight months after protests over the abandonment of the deal sparked the crisis.

LOUISA GOULIAMAKI/AFP/Getty Images

9/22 17 July 2014

Malaysian Airlines flight MH17 is shot down over eastern Ukraine, killing all 298 people on board. Ukrainian intelligence officials claim it was hit by rebels using a Buk surface-to-air launcher in an apparent accident.

10/22 22 August 2014

A Russian aid convoy of more than 100 lorries enters eastern Ukraine and makes drop in rebel-controlled Luhansk without Government permission, sparking allegations of a "direct violation of international law".

Reuters/Alexander Demianchuk

11/22 29 August 2014

Nato releases satellite images appearing to show Russian soldiers, artillery and armoured vehicles engaged in military operations in eastern Ukraine.

Nato

12/22 8 September 2014

Russia warns that it could block flights through its airspace if the EU goes ahead with new sanctions over the ongoing crisis and conflict

EPA

13/22 17 September 2014

Despite the cease-fire and a law passed by the Ukrainian parliament on Tuesday granting greater autonomy to rebel-held parts of the east, civilian casualties continued to rise, adding to the estimated 3,000 people killed

Reuters

14/22 16 November 2014

The fragile ceasefire gives way to an increased wave of military activity as artillery fire continues to rock the eastern Ukraine's pro-Russian rebel bastion of Donetsk

Getty

15/22 26 December 2014

A new round of ceasefire talks, scheduled on neutral ground in the Belariusian capital Minsk, are called off

AFP/Getty

16/22 12 January 2015

Soldiers in Debaltseve were forced to prepare heavy defences around the city; despite a brief respite to the fighting in eastern Ukraine, hostilities in Donetsk resumed at a level not seen since September 2014

AFP/Getty

17/22 21 January 2015

13 people are killed during shelling of bus in the rebel-held city of Donetsk

Reuters

18/22 24 January 2015

Ten people were killed after pro-Russian separatists bombarded the east Ukrainian port city of Mariupol

AP

19/22 2 February 2015

There was a dangerous shift in tempo as rebels bolstered troop numbers against government forces

AFP/Getty

20/22 11 February 2015

European leaders meet in Minsk and agree on a ceasefire in eastern Ukraine beginning on February 14. From left to right: Belarus President Alexander Lukashenko, Russian President Vladimir Putin, German Chancellor Angela Merkel, France's President Francois Hollande and Ukrainian President Petro Poroshenko.

MAXIM MALINOVSKY | AFP | Getty Images

21/22 13 February 2015

Pro-Russian rebels in the city of Gorlivka, in the Donetsk region, fire missiles at Ukrainian forces in Debaltseve. Fighting continued in Debaltseve for a number of days after the Minsk ceasefire began.

ANDREY BORODULIN | AFP | Getty Images

22/22 18 February 2015

Ukrainian soldiers repair the bullet-shattered windshield of their truck as their withdraw from the strategic town of Debaltseve. Following intense shelling from pro-Russian rebels, Ukrainian forces began to leave the town in the early hours of February 18.

Brendan Hoffman | Getty Images
However, some of the evidence presented of clandestine activities has already unravelled. A hazy image of a submarine purportedly Russian turned out to be a Swedish; one of the men in black behaving "highly suspiciously" near a Swedish military base, and who, according to the local media, may have been a members of the Spetznatz [ Russian special forces], turned out to be pensioner called Ove who had been following the pastime he had engaged in for decades, a spot of angling.
This is not the first time that a submarine scare had consumed Sweden; it was the 17th – all the previous ones also involving Russia – in the last half century. But, apart from a vessel which ran aground near Karlskrona in 1981, not a single one had been found.
What these sightings portend has become a part of national culture: a satirical Finnish work Probable Submarine, sought to portray the effect of the repeated claims of underwater interlopers on the Swedish national psyche.
Most of those living on the islands of the Stockholm archipelago who spoke to the media were sanguine about the latest incident. "We have grown up hearing about these submarines, we have theses excitements from time to time, but it hasn't changed anyone's life, it's a kind of game with the Russians", said Katerina Lindvaal, a 31 year old dentist.
For the fisherman Lennard Lundqvist, "the Russians are not the trouble; it's the navy: they stop me from setting my nets. In the past they would come here and drop depth charges. They got minks and herrings, but no submarines." Navy spokeswoman Ms Nilsson acknowledged: "No normal person thinks the Russians will invade us tomorrow; people are more concerned about Ebola."
The submarine hunt will not lead to any immediate change in Sweden's stance on Nato; the new Prime Minister, Stefan Lofven, pointed out that the public was against joining the alliance. However, the chairman of the parliamentary defence committee, Allan Widman, has stated that his committee will recommend raising the defence budget: his party, the Liberals, cut defence spending while part of a former coalition government.
Reuse content