It's midnight in Zurich, a global centre for banking and finance, but I'm in a taxi hunting for prostitutes. The first thing I see that tells me I'm close is the neon – red, green, blue – that illuminates each stall of the long parking garage on my left. My cabbie drives past what seem like sleazebag Christmas crèches toward a small wooden shed, where two hookers in their twenties stand, hands on hips, cigarettes dangling from shiny, rouged mouths. I roll down my window. "Do you speak English?" I ask the one with the honeycomb-streaked peroxide job.
She does, but when I tell her I'm a reporter, she rolls her eyes and says I can't talk to her or any of the other women. "Securitas" she says, pointing to the opposite side of the street, where a large, hardy female in a blue vest is keeping watch. She's a member of the city's sip züri, social workers specially trained in conflict management. Zurich has strict privacy and consent laws: if I want to tour the city's drive-through sex box complex, I must pay for the privilege as any customer would.
I hear a car horn behind me – my cab is holding up the line. It turns right, and I'm on a paved, looping track about the size of a football field. Lining the track are 10 covered wooden sheds (about 10 feet apart) about the size of a typical bus shelter. Some are spray-painted with prices. The cost of services varies, depending on bartering between the sex worker and the client. According to my cabbie (a self-appointed "prostitution expert"), a quick lube job runs around 50 Swiss francs (£40), a full service is £80; and £160 or so to "stick it in reverse."
Each shed houses two to six prostitutes, all in provocative outfits. All ladies, no men or transgender people, who typically hustle Zurich's LGBT brothels or bars instead. The working girls – mostly Roma (who are often discriminated against in Europe and referred to pejoratively as "Gypsy") from central and Eastern Europe – smoke, chat, drink Swiss lager and wait for customers to drive by and choose them. Circling the track in a taxi and checking out the hookers in their seduction-wear makes me feel as if I'm on a sordid amusement park ride.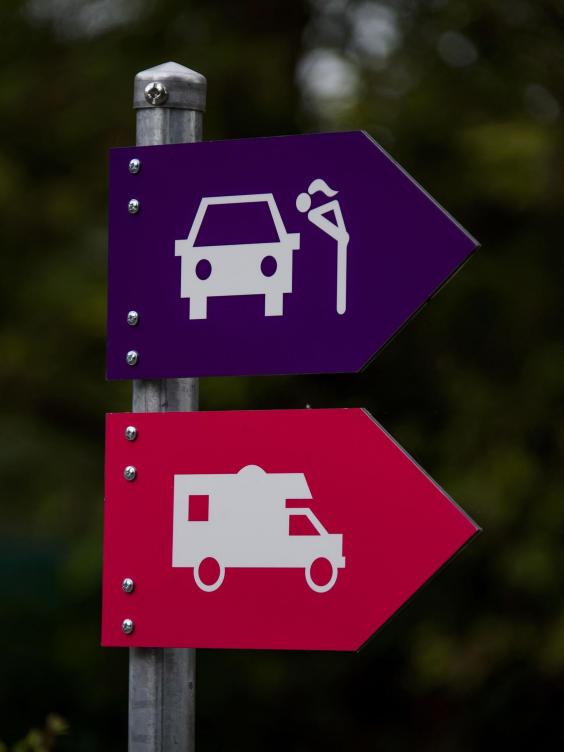 If you thought sex in a box was reserved for Justin Timberlake sketches performed on Saturday Night Live, you've obviously never been to Zurich, where the red-light district has been packaged and streamlined like an express-order fast-food chain. It's accessible only by car — pull up, pull in, pull out.
In numerous surveys, Zurich has been named the city with the best quality of life in the world and the wealthiest on the continent. It also has a booming pleasure industry. "There's a high demand," says Michael Herzig, the former Zurich department official who helped develop and open the sex boxes. "Cities with lots of business and people coming in and out have the highest demand for the sex industry."
Prostitution has been legal in Zurich since 1942, and some 1,200 prostitutes are registered with the city. "American media always wants to know why Switzerland doesn't make prostitution illegal," says Herzig. "But that doesn't work. It certainly isn't working in the United States. Prostitution will happen whether it's legal or not. Shouldn't we try to make it safe and provide areas for help?"
On the fanciest streets of old-town Zurich, you'll see brothels and live video-booth erotica shows nestled among luxury cashmere and watch boutiques. The hip Langstrasse district around Zurich's town hall is a strip club hub that used to be known for drugs and prostitution. Today, the only legal designated strutting ground for streetwalkers is a small cobblestone patch in Niederdorf, near the upmarket cheese and antique shops. Until 2013, the Sihlquai area along the river was Zurich's most popular district for men in cars.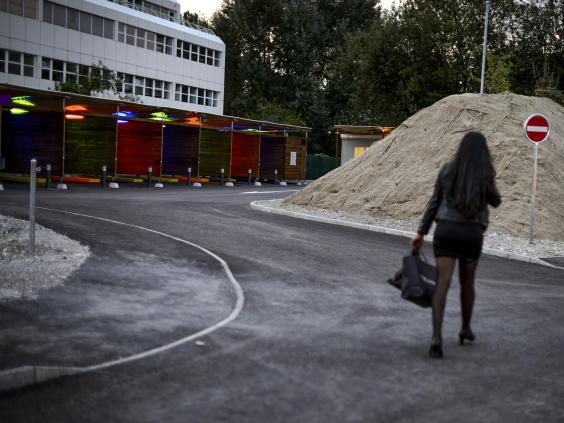 But the prostitution in Sihlquai became a strain for residents – the pimps turned the area into a haven for organised crime, and many men got away with violent attacks on the prostitutes. Women in the neighbourhood who weren't prostitutes were attacked, according to Barbara Ludwig, the head of Zurich's Office for Addiction and Drugs (prostitution is traditionally overseen by this office due to its frequent association with drug use). Residents complained about the condom wrappers littering their backyards and doorsteps. For the city, however, the most pertinent problem was the traffic – mostly from rubberneckers gawking at the prostitutes. Several years ago, Zurich's taxpayers approved a referendum to build the £19.2m compound as an alternative site for this open-air sex market.
There haven't been any reports of violence in Sihlquai since, and no sex workers have been reported operating there or in any of the surrounding neighbourhoods. Zurich's social workers say the new drive-through red-light district safeguards the vulnerable sex workers, cuts the pimps out of the business and possibly decreases human trafficking.
The sex boxes are in an industrial suburb favoured by artists and refugees. Basically a workshare space for freelance prostitutes, the facility is inspired by shelters in the Netherlands (where they're called afwerkplek, literally meaning "a place to finish the work") and Germany (verrichtungsbox, which translates to "performance box"). In the Zurich boxes, each transaction starts in the waiting area shed loop and unfolds in the neon-lit car park garage units. A customer cruises the loop, picks a prostitute, agrees on a price, veers off the loop to the garages, selects an empty box, does the deed, pays and says auf wiedersehen.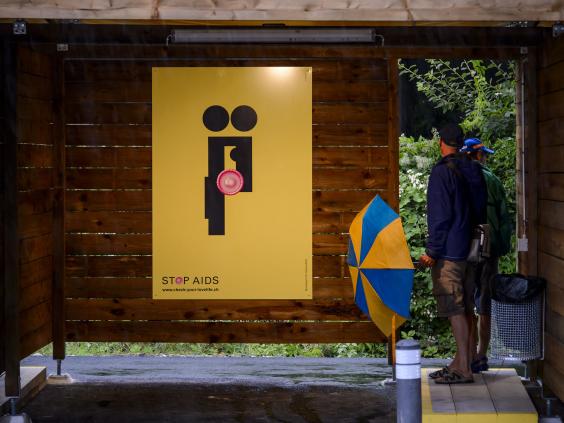 Sex box workers pay £5 a day to rent a space, but by early next year, the facility will be rent-free. During working hours, the premises are patrolled by security. Illustrated street signs near the entrance encourage condom use and explain sex box dos and don'ts (no photos, no bikes, no foot traffic, no one under 18, no littering). There are bathrooms, showers, condoms, free laundry and a small kitchen in a free health pavilion on-site called the Flora Dora that provides complimentary contraception, sex education, HIV prevention programmes, medical services, social counselling and testing for sexually transmitted diseases. The women also have access to a free off-site ob-gyn clinic.
The "boxes" are eight drive-in units for in-the-car services and four stalls with wooden plank beds and rubber mattresses. Each stall is decorated with an HIV or sex education poster and equipped with a condom disposal bin and a panic button to protect the sex worker. The button sounds an alarm throughout the entire pavilion and a flashing light inside the box in question.
World news in pictures
World news in pictures
1/14 5 December 2016

The sun rises behind skyscrapers amidst the clouds on a foggy morning in Dubai

Getty

2/14 5 December 2016

An Iraqi soldier gestures as he steps on the head of the dead body of who Iraqi forces say was an Islamic State militant, in Shayyalah al-Imam near Mosul

Reuters

3/14 5 December 2016

A man checks the damage at a medical clinic following overnight government air strikes on the town of Binnish, in Syria's northwestern Idlib province

Getty

4/14 5 December 2016

A quarantine official disinfects a road leading to a chicken farm in Pyeongtaek, west of Seoul, South Korea. A suspected case of avian influenza was reported at the farm

EPA

5/14 5 December 2016

Rescue workers stand beside the bodies of the victims following a fire at a local hotel, at a hospital in Karachi, Pakistan

EPA

6/14 5 December 2016

Iraqis ride bicycles between Baghdad's Abu Nawas street and the suspension bridge in the capital's Karrada district during an event calling for peace and the eradication of the Islamic State (IS) group

Getty

7/14 5 December 2016

Iraqis gather prior to cycling between Baghdad's Abu Nawas street and the suspension bridge in the capital's Karrada district during an event calling for peace and the eradication of the Islamic State (IS) group

Getty

8/14 5 December 2016

The bust of the late President Park Chung-hee is seen spray painted in a park in Seoul, South Korea. The bust was vandalized in an apparent anonymous act of discontent with his daughter and incumbent President Park Geun-hye who is suspected of having been involved in an unprecedented corruption scandal. The grafitti reads 'Order of Removal'

EPA

9/14 4 December 2016

Young people march around the Plaza de la Revolucion and chant 'Yo soy Fidel,' 'I am Fidel' in English, before the arrival of the remains of former Cuban President Fidel Castro during on their four-day journey across the country in Santiago de Cuba, Cuba

Getty

10/14 4 December 2016

The urn with the ashes of Cuban leader Fidel Castro leaves Revolution Square in Santiago, Cuba on its way to the cemetery

Getty

11/14 4 December 2016

A Honduran soldier confronts fans of Real Espana football team following clashes after Platense qualified for the Honduran Tournament final, outside the Municipal Excelsior stadium in Puerto Cortes, 260 kms north of Tegucigalpa

Getty

12/14 4 December 2016

People take part in a nation-wide protest against corruption at Copacabana beach in Rio de Janeiro, Brazil

Getty

13/14 4 December 2016

Demonstrators protest along Paulista Avenue in Sao Paulo, Brazil against corruption and in support of the Lava Jato anti-corruption operation that investigates the bribes scandal of Petrobras

Getty

14/14 4 December 2016

Cuban President Raul Castro places the urn with the ashes of his brother Fidel Castro in his tomb at the Santa Ifigenia cemetery in Santiago de Cuba

Getty
Panic buttons are pushed about once a week, says Ludwig, typically after a dispute over money. "Once the button was pushed when a woman was beaten," says Ludwig, "another time when a woman accused a man of trying to strangle her."
The women of the boxes live a harsh life. They are migrants from Romania, Hungary and Bulgaria who are allowed only one three-month stay per year. "These women grow up without any education or even running water," says Ludwig. "Prostitution is the only choice, and some are forced into it. Most work to support their children and families back in their home countries." Sex-box workers are paid less than their brothel or salon counterparts, and they are "the most at risk for violence and exploitation", says Ludwig. "I think men seek street prostitutes for the power relationship. It's seen as more dirty."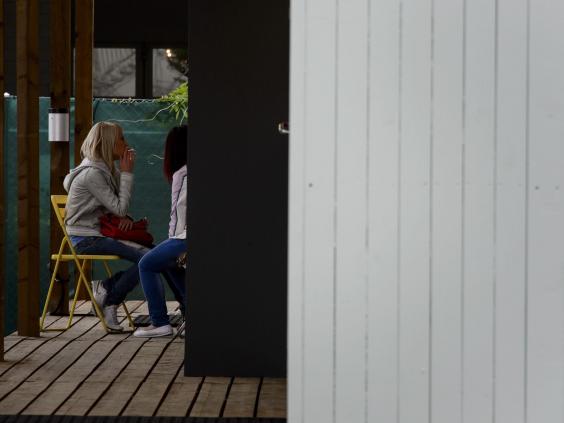 Despite the legalisation of prostitution, trafficking is still a problem in Switzerland, but the sex boxes have made pimping more difficult. Suspected pimps are expelled from the premises, charged with trespassing and, if found guilty, banned for life from the area. So far, none have been spotted hanging around, but Ludwig concedes that she doesn't know "what happens after the prostitutes leave the premises" and that human trafficking is difficult to track. One advantage of the sex-box system is that the prostitutes have more access to help. Ludwig says having social workers posted at the Flora Dora health pavilion during all open hours makes it "easier for the sex workers to seek advice".
The sex boxes are open daily, from 7pm until 3am Sunday to Wednesday, and 7pm to 5am Thursday to Saturday. They get more business on the weekends after midnight, says Ludwig, and clients usually arrive after coming up empty at bars. Business always spikes after Swiss soccer matches and slows down during certain holidays. She reports that Christmas tends to be a very quiet time in the sex boxes.
Reuse content