The Labour MP Peter Hain has dismissed as "plain nonsense" the extraordinary claim made by Fifa President Sepp Blatter that "no boycott of a sporting event has ever achieved anything."
President Blatter was rejecting calls for a boycott of the forthcoming World Cup in Russia, made most recently by the Ukrainian President Petro Poroschenko.
"The World Cup will take place in Russia in 2018 for sure," President Blatter said. "A boycott of a World Cup, or of any sporting event has never brought any solution to anybody."
Earlier this week, Uefa President Michel Platini also claimed that "Boycotting never resolves the problem – never."
Mr Hain, a South African by birth, was heavily involved in organising ongoing sporting boycott of South Africa under apartheid.
"That is simply plain nonsense," Mr Hain told The Independent. "The boycotts of all white national South African teams - football, rugby cricket, the Olympics, athletics - achieved a great deal, as Nelson Mandela said as he was released from prison.
"They were critical in the overthrow of apartheid. They actually helped propel south africa into isolation."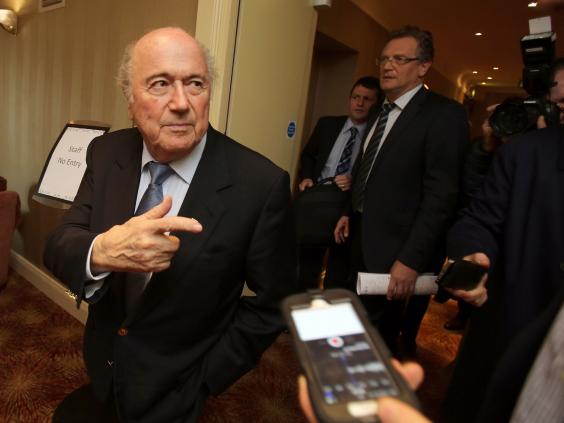 Several white South African sports stars of the time have spoken of their desperation to play competitive sport again during those long years.
During the years of the boycott, Nelson Mandela and other ANC leaders were in prison and the struggle against the apartheid were significantly weakened.
"The boycotts played an absolutely indispensable role, " Mr Hain added. "When the boycotts were opposed in the early 1970s, his entire colleagues were locked up and the apartheid effort was quite weak. It carried on the struggle."
To the contrary, President Blatter claimed that the World Cup would be a stabilising force."
"In my opinion, the World Cup in Russia will be able to stabilise the region. I am sure that football is stronger than any other movement. When I am looking at the geo-political map today. Iraq, Lebanon, Syria, Palestine, in all these countries where there are beligerent activities, football is being played."
Reuse content