Russian prime minister Dmitry Medvedev has arrived in Crimea in his first official visit following the annexation of the peninsula to the Russian Federation.
Unveiling a list of new economic measures, Mr Medvedev said Moscow would make Crimea a special economic zone and promised to raise state salaries and pensions to Russian levels.
The Russian premier also announced plans to introduce compulsory social insurance starting next year and improve education and local infrastructure in the Black Sea peninsula.
Mr Medvedev stressed the need to ensure a stable power supply in the region, which receives 80 per cent of its electricity and about 65 per cent of its water from Ukraine; recent power blackouts have prompted fears that Kiev could use energy as a weapon against Russia.
"As a result of entering Russia, not a single citizen of Crimea should lose anything -- they need only to benefit from it," Mr Medvedev said in a news conference. "Citizens need to understand that they're citizens of a powerful country."
Meanwhile, Russia's defence minister, Sergei Shoigu, announced that all Crimean men of conscription age will get a deferral from the draft for one year.
Outspoken deputy Prime Minister Dmitry Rogozin, who recently dismissed US sanctions imposed on Mr Putin's inner circle as a "prank", tweeted a photo of himself upon arrival in Crimea with the words: "Crimea is ours, and that's that."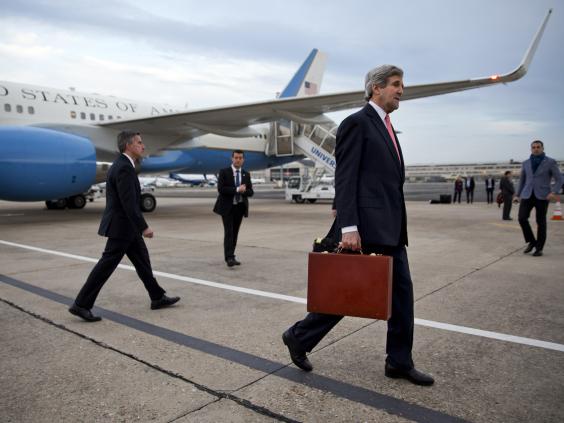 Mr Medvedev's surprise visit comes just hours after US Secretary of State John Kerry met Russian foreign minister, Sergei Lavrov, in Paris to discuss Crimea, but failed to reach an agreement on how to resolve the crisis after four hours of talks on Sunday.
The Paris meeting came after a surprise phone call late on Friday night from Russian President Vladimir Putin to President Barack Obama, the first time the two men had spoken directly since the imposition of financial and travel restrictions by the US and the European Union on Russia. 
While the interpretations of that conversation offered by the Kremlin and the White House diverged starkly, it offered some hope of a diplomatic end to the stand-off.
Reuse content