Gabriel Granados had both his arms amputated below the elbow after he suffered an electrical accident last year.
Almost two years later, following a double arm transplant, he has made a successful recovery. Following physiotherapy, Mr Granados has achieved 70 per cent of his movements and is "very independent" when completing his daily activities.
He became the first patient in Latin America to receive a double arm transplant when the 53-year-old father of two received the arms of a 34-year-old shooting victim.
After a 17-hour operation, Mr Granados was able to have both arms again and feel his hands.
"This is wonderful that after being without hands for some time, all of a sudden I see new hands," said Mr Granados, an agent in the financial unit of Mexico City's prosecutors' office.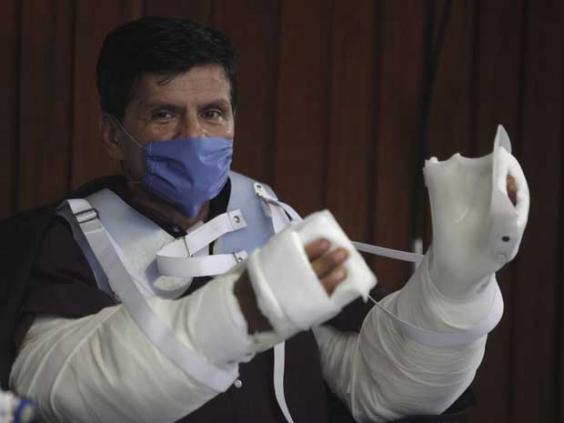 His arms were badly burned in January 2011 when he received an electrical shock while giving instructions to a group of construction workers building fence.
About seventy patients have been already through the same procedures, with almost all of them in China.
In Mexico, the waiting list for organ transplant is reaches 18,000, but Mr Granados hopes his story will help inspire others to donate their organs.
He said: "We unfortunately don't have the culture or organ donation.
"I thought the same, but today I would [donate an organ]. This is the proof that it works."
The day of the surgery, in May 2012, Dr Fernando Gabilondo, director of Mexico City's National Institute of Medical Science and Nutrition Salvador Zubiran, where the surgery took place, said: "This is a very special day for Mexico from a scientific point of view."
Additional reporting by Associated Press
Reuse content