Today marks the first ever International Yoga Day.
People from around the world have been celebrating the occasion in ever continent.
Hundreds of Parisians unfurled their yoga mats underneath the Eiffel Tower in the French capital this morning.
The canary yellow mats made for an unusual sight as they were rolled out under the iconic structure.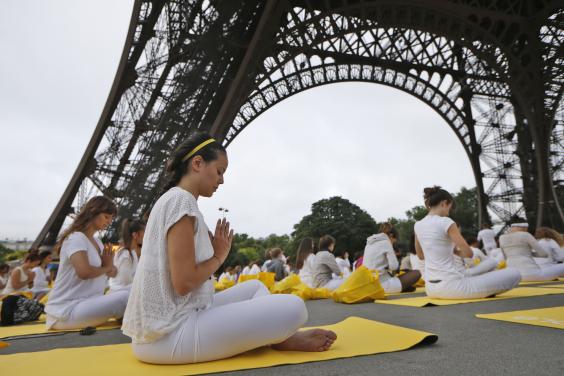 In India, which petitioned the UN for International Yoga Day to be created, thousands marked the occasion.
The day has been championed first and foremost by the Indian Prime Minister, Narendra Modi. Mr Modi joined hundreds today in a surprise appearance as he took part in a mass yoga session.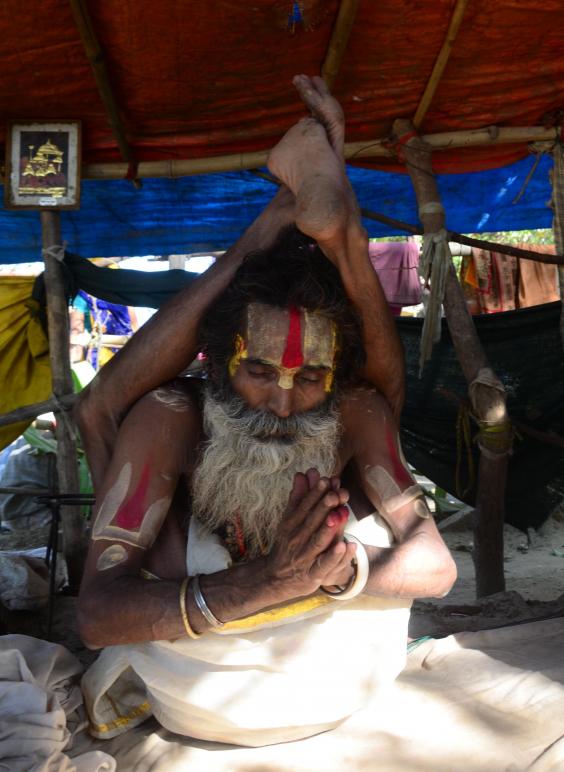 Yoga sessions were held outdoors at a prison in Bhopal and on stage before tens of thousands of participants in Delhi.
Others eschewed yoga mats altogether and adopted poses whilst hanging from trees.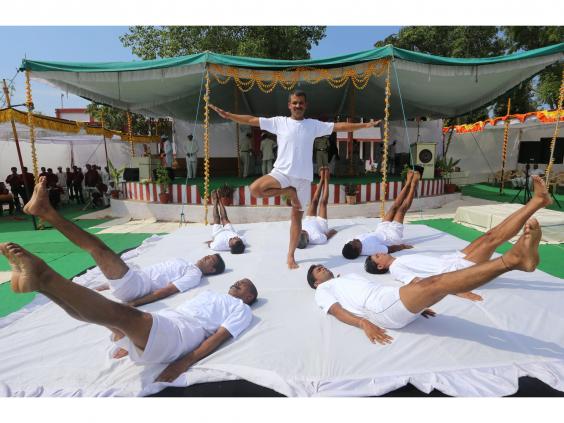 In Afghanistan, school children put down their pencils and textbooks for a moment of relaxation as they performed yoga with their classmates at schools.
Although this is the first international day to celebrate yoga, it is hoped to become an annual tradition.
International Yoga Day celebrations
International Yoga Day celebrations
1/11 1.

A sadhu performing Yoga in a tree on the occasion of 1st International Yoga Day in Allahabad today.

Photo by Prabhat Kumar Verma / Demotix

2/11 2.

Indian children perform water yoga as they take part in a mass yoga session to mark the International Yoga Day at Dau ri Dhani Swiming Pool in Jodhpur

Photo by AFP PHOTOSTR/AFP/Getty Images

3/11 3.

Hundreds of people attend a yoga session under the Eiffel Tower in Paris today in a mass yoga session to mark the first International Yoga Day.

Photo by THOMAS SAMSON/AFP/Getty Images

4/11 4.

The view from the Eiffel Tower today as hundreds of people perform yoga below

Photo by THOMAS SAMSON/AFP/Getty Images

5/11 5.

Afghan students perform yoga during the first International Yoga Day, at a private school in Kabul, Afghanistan today

Photo by AP Photo/Massoud Hossaini

6/11 6.

A sadhu performing Yoga to mark today's International Day of Yoga

Photo by EPA/DIEGO AZUBEL

7/11 7.

Members of the National Cadet Corps (NCC) take part in a mass yoga session to mark the International Yoga Day in the Brigade Parade grounds in front of the Victoria Memorial in Kolkata today

Photo by AFP PHOTO / Dibyangshu SarkarDIBYANGSHU SARKAR/AFP/Getty Images

8/11 8.

An Indian yoga teacher leads National Cadet Corps (NCC) members as they perform yoga on the banks of the river Ganga in the Jhusi area, at Kriyayoga Ashram in Allahabad

Photo by AFP PHOTO/SANJAY KANOJIASanjay Kanojia/AFP/Getty Images

9/11 9.

A young girl joins hundreds taking part in international yoga celebrations in Manila today

Photo by AFP PHOTO / NOEL CELISNOEL CELIS/AFP/Getty Images

10/11 10.

Inmates of Central Jail in Bhopal, India take part in a mass Yoga session today

Photo by EPA/SANJEEV GUPTA

11/11 11.

A sadhu performing Yoga to mark today's International Day of Yoga

Photo by Prabhat Kumar Verma / Pacific Press
Reuse content