Three lions have been relocated from Gaza to a new home in Jordan after their zoo was heavily damaged during the conflict with Israel earlier this year.
The three big cats - two males and a pregnant female - were sedated at the Al-Bisan zoo, in Beit Lahiya, before they were loaded onto crates and transported into Jordan.
More than 80 animals at the zoo died as a result of air strikes in early July, the Four Paws international welfare group has said.
The group said it worked with officials and representatives from Egypt, Israel, Jordan and Palestine in order to secure the removal of the lions on Tuesday.
Veterinary surgeon Dr Amil Khalil, of Four Paws, said: "This was about more than species-appropriate shelter, sufficient food and medical treatment. After all, lions are dangerous wild animals.
In pictures: Lion rescue mission
In pictures: Lion rescue mission
1/8 Lion rescue

The three lions were resuced by FOUR PAWS from the heavily-damaged Al-Bisan Zoo in Gaza to rescue centre in Jordan

FOUR PAWS/Adel Hana

2/8 Lion rescue

Veterinary surgeon Dr. Amir Khalil administered the anaesthetic to the three lions

FOUR PAWS/Adel Hana

3/8 Lion rescue

Each one of the lions was given a medical check before being transported

FOUR PAWS/Adel Hana

4/8 Lion rescue

The charity were particularly keen to secure rapid assistance for the lions (two males of around six years, and one pregnant female of seven years)

FOUR PAWS/Adel Hana

5/8 Lion rescue

The lions were carried and loaded into transport crates

FOUR PAWS/Adel Hana

6/8 Lion rescue

The lions were then transported in convoy to a transit station in Jordan

FOUR PAWS/Adel Hana

7/8 Lion rescue

Upon arrival at the transit station, they were successfully released into a temporary compound

FOUR PAWS/Adel Hana

8/8 Lion rescue

As soon as their new enclosures are ready (these are still being built), the lions will move into a permanent new home

FOUR PAWS/Adel Hana
"After the air strikes, the enclosures were far from safe for the keepers and for anyone visiting the zoo. That's why we looked for a solution away from Gaza."
Once in Jordan, the lions were released into their temporary compound where they will wait for their new permanent enclosure to be built.
The group is also working to help roughly 30 animals that remain in the zoo, including wolves, vervet monkeys, pelicans and a crocodile.
Last week it provided food, water and medical treatment for the surviving animals.
It is working to set up an animal shelter - the Al Ma'wa for Nature and Wildlife - roughly 45km from Amman in Jordan.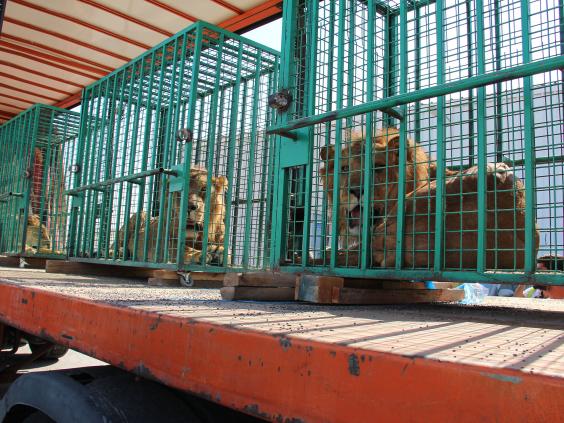 Dr Khalil said: "We can see how much the people in Gaza love their zoo and its animals.
"So Four Paws is pledging its expertise and financial support for the correct reconstruction of the enclosures. We also want to train the local team in how to deal with the animals."
Support is also being provided by French animal welfare organisation 30 Millions d'Amis.
Israel and Egypt have imposed a blockade on Gaza since 2007, when the Islamic militant group Hamas seized power there.
Last year a pair of newborn lion cubs died shortly after they were unveiled by Gaza's Hamas rulers.
Additional reporting by Associated Press
Reuse content