Abu Qatada spent a decade fighting the British authorities' efforts to return him to Jordan to face a life sentence with hard labour after being convicted in his absence of terrorism offences.
It was a battle the radical preacher was to give up only in the wake of a special treaty signed between the UK government and Hashemite Kingdom guaranteeing his right to a fair and open retrial.
But on Tuesday in a packed courtroom in Amman Qatada said he had been "betrayed" by the two countries.
The 53-year-old, sporting a long beard and clad in brown prison uniform, argued that the presence of a military judge on the three-strong panel contravened the terms of the deal for the hard-fought return to his native Jordan.
Pleading not guilty to plotting two al-Qa'ida-style terror attacks against Western targets in Jordan in the late 1990s he accused the governments of breaching the agreement and his human rights by allowing evidence to be used that was allegedly gathered through torture.
Qatada, real name Omar Mohammad Othman, said the charges against him were fabricated and refused to recognise the authority of the court.
The prosecution claims the preacher mentored jihadist cells in Jordan after fleeing to Britain in 1993 with his wife and children. It is alleged he provided spiritual and material support to a campaign of violence in the pro-Western kingdom.
Addressing the court Qatada said: "I have been prevented from defending myself for a long period, and God knows that I am innocent."
He added: "There has been a betrayal of the agreement under which I have come. There is now a military judge - this is the first betrayal by you. I have come to be tried by civilian judges."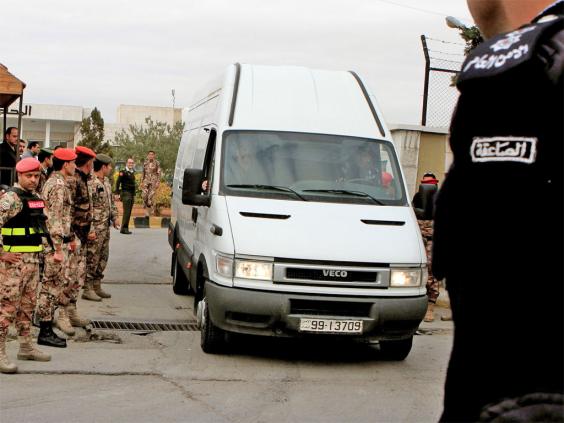 The Foreign Office said it was looking into reports that the panel overseeing the trial comprised one military and two civilian judges.
Under the terms of the treaty signed by Home Secretary Theresa May in March "a returned person who is charged with an offence following his return shall receive a fair and public hearing without undue delay by a competent, independent and impartial tribunal established by law."
Whilst the lead judge in the Qatada case is a civilian, human rights groups have repeatedly expressed concern over Jordan's use of state security courts in which judges appointed by the prime minister hear cases considered to threaten the country's internal or external security.
Campaigners say the panels – which comprise two military and a civilian judge – have not been sufficiently restricted by constitutional amendments in 2011 to make them meet international standards.
Although the security courts are meant to be reserved for terrorism and espionage cases they are routinely deployed to try people involved in peaceful protest or to target dissident Islamists, it is claimed.
Prosecutor Colonel Fawaz al-Atoum said Jordan's state security court law allowed for military tribunals in cases of terrorism such as that involving Qatada. He rejected the claim that evidence was gathered through the torture of defendants at earlier trials.
Qatada is accused of conspiracy to carry out attacks on the American school in Amman for which he was found guilty in absentia and sentenced to life imprisonment with hard labour.
In a second case, which will be heard later this month, it is alleged he plotted to kill tourists and diplomats in Jordan during millennium celebrations.
Qatada's lawyer Ghazi Thuneibat said his client had agreed to return after assurances from the European Court of Human Rights that torture evidence would not be used. "These (EU) court decisions overrule national laws," he argued.
Since his voluntary arrival in Jordan in July, Qatada has been on remand at the high security Muwaqqar jail outside Amaan. It is home to 1,000 inmates many of them accused of terrorism.
But although there have been claims of beatings at the prison, the preacher, who spent nearly 10 years incarcerated in some of the UK's toughest jails, said he had been well treated.
"It's better here than Britain. The treatment is good here. The British press have not been fair to me and hurt me," he said before the start of Tuesday's proceedings.
According to reports the cleric has resumed a leadership role in the ultra-conservative Jordanian Salafist movement.
An edict allegedly written by him from his prison cell and published on the internet reportedly encouraged jihadist fighters in Syria. Scores of combatants have been arrested on Jordan's northern border seeking to join the overthrow of President Bashar al-Assad.
Qatada's family has moved to the Jordanian capital where it raised $75,000 for his release on bail. His lawyer abandoned his petition after it was turned down by a security court.
Under the terms of his return the preacher's treatment is being monitored by Adaleh Centre for Human Rights. Qatada has already claimed that his rights were violated when has not been allowed to meet his lawyer in private in the run up to the trial.
However, the Adaleh Centre said it was forbidden from discussing the case with journalists.