Radical Islamic preacher Abu Qatada has been cleared of terrorism charges in Jordan after being deported from the UK following an eight-year legal battle.
The 53-year-old is expected to walk free within hours after a military court in Amman ruled there was insufficient evidence to convict him of planning the foiled "millennium plot" terrorist attacks in 2000.
Extremists in Jordan had allegedly planned to bomb four sites including a hotel, border crossing and Christian holy sites to kill tourists from the United States, Israel and the West.
More than 20 people have already been found guilty of planning the attacks, which were stopped by intelligence officials before they could be carried out.
His relatives erupted into cheers as the verdict was announced on Wednesday, while women cried with joy and embraced each other.
Qatada, who was guarded by heavily armed police, was promptly taken out of the courtroom and made no comments to the waiting media.
The cleric, once called "Osama bin Laden's right-hand man in Europe", has recently criticised Isis militants who are threatening to kill British hostages in their bloody campaign to establish an Islamic caliphate in Iraq and Syria.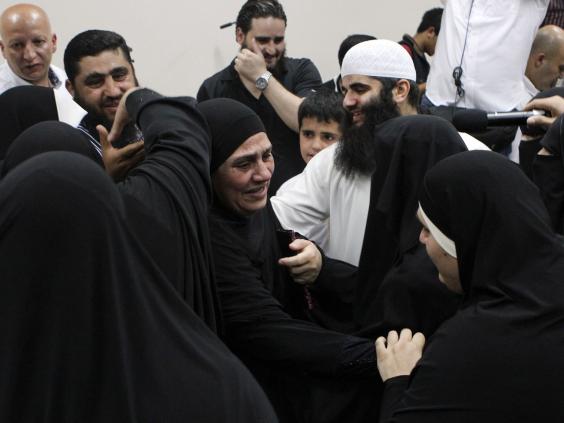 He was previously acquitted of charges relating to the thwarted planned terrorist attack on an American school in Amman in 1990 in June.
The Home Office insisted that there was no possibility of the preacher, whose real name is Omar Mohammad Othman, returning to the UK.
A spokesperson said: "Abu Qatada's re-trial in Jordan was made possible thanks to this Government's determination to successfully deport him from the UK to face the courts in his own country.
"It is right that the due process of law has taken place in Jordan. The UK courts agreed that Abu Qatada posed a threat to national security in the UK, so we are pleased that we were able to remove him.
"Abu Qatada remains subject to a deportation order and a United Nations travel ban. He is not coming back to the UK."
The West Bank-born preacher fled a Jordanian crackdown on militants more than 20 years ago, arriving in Britain on a forged passport in 1993 and being granted asylum a year later.
While still in the UK, he was convicted in absentia and sentenced to life in prison on both charges in Jordan, but a re-trial was ordered after his extradition his extradition last July.
Qatada questioned the impartiality of Amman's military court and concerns about a fair trial delayed his removal from Britain for years, but a treaty between the British and Jordanian Government eventually allowed him to be deported.
During his imprisonment earlier this month , the cleric condemned beheadings carried out by the Islamic State (Isis) as against Islamic teachings.
The extremist group, which is being bombed by the US and allies in Iraq and Syria, has filmed its murders of American journalists James Foley and Steven Sotloff and British aid worker David Haines.
It has also paraded British charity volunteer Alan Henning, from Salford, in front of cameras threatening to kill him and used abducted journalist John Cantlie in propaganda videos.
Qatada reportedly called on the Isis militants to release Mr Henning eight months ago.
At a court appearance, he said Isis would be defeated, adding: "They have the ability to kill and destroy, not to build."
Additional reporting by PA
Reuse content