In the latest part of an ordeal that began in December 2013, three al‑Jazeera journalists were sentenced to three years in prison after a retrial in Egypt for operating without a press licence and "broadcasting false new".
Mohamed Fahmy, now solely a Canadian citizen, having given up his Egyptian citizenship, Egyptian Baher Mohamed and Australian Peter Greste were all handed the jail sentences for a set of charges that included broadcasting from a makeshift bureau set up in the Marriott Hotel.
They were also accused of broadcasting without a licence, working for an unregistered news organisation and using unregistered broadcast equipment – charges they all denied.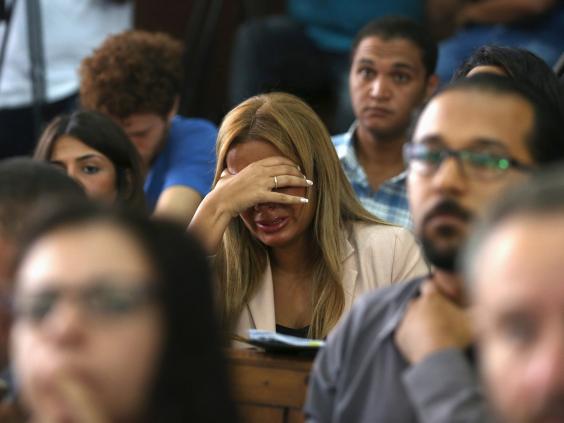 Outside the Tora prison courthouse, Marwa Fahmy, wife of the former bureau chief, stood beside a scrum of journalists, tears streaking her face under her sunglasses. "Where is Mohamed?" she asked, trying to ascertain whether her husband would be taken straight to the maximum-security prison specified in the ruling. Three students were jailed yesterday as well.
Baher Mohamed was also given an extra six months hard labour and a £415 fine, with no reason specified in the ruling. Egypt's state Mena news agency later said it was for possession of a bullet casing.
"This result is the furthest from our expectations. The verdict was already decided," said Adel Fahmy, Mohamed Fahmy's brother, as he stood outside the Tora prison courthouse. "They hired a new technical committee to re-examine the evidence, yet we got this. There is no due process."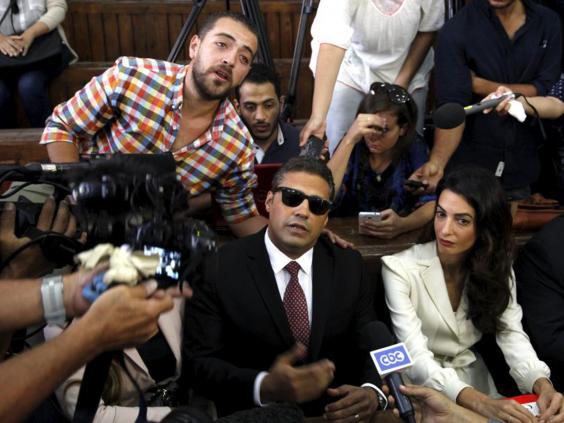 Back in December 2013, Egyptian security forces raided the upscale hotel suite used by al-Jazeera at the time to report from Egypt. Authorities arrested Fahmy, Greste and Mohamed, later charging them with being part of former president Mohamed Morsi's Muslim Brotherhood, which authorities have since declared a terrorist organisation, and airing falsified footage intended to damage national security.
Mr Morsi, Egypt's first democratically elected president, was removed from power by the military in July 2013 after mass public protests against his rule. Since Mr Morsi's ousting, Egypt has arrested many of his supporters and charged the journalists accused of being mouthpieces for the Brotherhood. Al-Jazeera and the journalists have denied the allegations, saying they were simply reporting the news.
The three men were convicted in June 2014, with Greste and Fahmy sentenced to seven years in prison and Mohamed to 10 years for being found with the spent bullet casing. The trial was condemned by a number of countries – including Britain – as well as press-freedom advocates and a variety of human-rights organisations.
That ruling was later overturned on appeal by Egypt's Court of Cassation, which said the initial proceedings were marred by violations of the defendants' rights, and a retrial was ordered.
The defendants had previously served 411 days in prison until the beginning of the retrial in February this year, when Fahmy and Mohamed were released on bail and Greste was deported to Australia. Greste's name was also read out on the charge sheet yesterday.
Greste said he was "devastated by this completely unjust verdict" when asked to comment by The Independent on Sunday. "I was convicted without ever having the opportunity to defend myself," he said, explaining that he had contacted the court several times offering to give evidence, which he says was ignored. The risk for Greste is now that he will be unable to travel because of fear of arrest at the behest of the Egyptian authorities. "But this is a mere inconvenience compared to what the other guys are going through. I know the conditions in Egypt's prisons. I know what they'll go back to," he said.
Britain's Middle East minister, Tobias Ellwood, was "deeply concerned" by the sentences handed to the journalists. "These sentences will undermine confidence in Egypt's progress towards strong, long-term stability based on implementing the rights granted by the Egyptian constitution," he said.
For Fahmy, the fight is now for deportation in the same manner as Greste. Outside the courtroom his lawyer, Amal Clooney, said: "We're now going to be holding a series meetings with government officials to demand the immediate deportation of Mohamed Fahmy to Canada." She added that they would also seek a pardon from current President Abdel Fattah el-Sisi. "We will be asking for a full pardon, which is something that President Sisi has promised in the past – he has always said that this prosecution should not have happened."
But it is Baher Mohamed's Egyptian citizenship that highlights how the defendants' different nationalities could result in vastly different outcomes. For now, the best Mohamed can hope for is yet another retrial, which would be sent to Egypt's highest appeal court, known for more lenient rulings.
His brother, Assem, told The IoS that they do intend to push for an appeal. However, he fears that should Fahmy be deported, his brother will languish in prison, his case forgotten without the spotlight of international attention. "We are afraid that they will forget Baher, as he's Egyptian," he explained. "It is horrible to think that Baher will go back to prison again."
At the time of the arrests, Qatar and Egypt had been increasingly at odds over Doha's support of the Muslim Brotherhood. Since then Qatar, which funds al-Jazeera, has expelled some Brotherhood members and made overtures toward easing tensions with Cairo, although Saturday's ruling suggests that relations are far from healed.
"The Egyptian government has overseen unprecedented repression of journalists in the last two years," Yasmin el-Rifae of the Committee to Protect Journalists said. "Egypt's allies should recognise that the use of anti-terrorism as an excuse to crack down on press freedom and turn a blind eye to injustices will harm Egypt's efforts to combat the real security threats that it faces."
Baher Mohamed previously provided The IoS with an exclusive statement for use should he be convicted. "I'd like to thank every single journalist and also every British citizen who has stood up for our case and press freedom," he said.
 "I thank them for their compassion. I'd like to tell every British citizen to protect your independent media, to protect press freedom and reporters everywhere. I accept this fight. It's worth it."
Reuse content