David Cameron promised yesterday that Britain would use "all the assets we have" to "hunt down" the killers of Alan Henning.
Speaking of "our struggle" against Islamic terrorism, the Prime Minister hosted a meeting of MI5, MI6, Home Office and defence officials at Chequers yesterday morning after Islamic State (Isis) released the video of Mr Henning's killing late on Friday. However, No 10 ruled out an imminent parliamentary vote on RAF air strikes against Isis targets in Syria.
The Government is urgently looking into a second video, also released on Friday, showing a British jihadi urging Muslims to rise up and carry out attacks in the UK. The beheading of Mr Henning, which Isis explicitly stated was in retaliation for the House of Commons vote last month for air strikes in Iraq, reopened the question of whether action involving British forces should be widened to Syria.
Mr Cameron has said military action in Syria would be preferable but would need Commons support. Ed Miliband, who is wary of action in Syria without UN backing, has not changed his position despite Mr Henning's death. Yesterday, a senior Lib Dem put pressure on Nick Clegg to rethink action in Syria. Martin Horwood, the Lib Dem international affairs spokesman, said there was "a military logic in pursuing Isis into Syria if you needed to protect Iraq".
Speaking at Chequers following his meeting with security chiefs, Mr Cameron said: "Anyone in any doubt about this organisation can now see how truly repulsive it is and barbaric. And as a country what we must do with our allies is everything we can to defeat this organisation in the region, but also to defeat it at home. And we must do everything we can to hunt down and find the people responsible for this.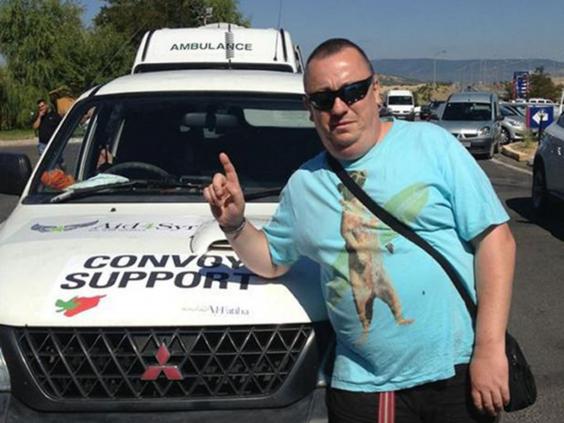 "Alan Henning was a man of great peace, kindness and gentleness. His Muslim friends will be mourning him at this special time of Eid and the whole country is mourning with them."
Mr Cameron added that none of the appeals from Mr Henning's family, friends and imams had made any difference. "What we see with this organisation is that there is no level of depravity to which they will not sink. And this is going to be our struggle now – that with others we must do everything we can to defeat this organisation. We will use all the assets we have to try to find these hostages, to try to help these hostages, to help their families and do everything we can."
RAF jets began bombing missions against militant positions in Iraq a week ago. On Friday, Mr Cameron announced the deployment from Cyprus of two more Tornado fighter bombers, taking the total to eight.
Former head of the Army Lord Dannatt added to the pressure for strikes to be extended to Syria, telling Radio 4's Today: "Dealing with half a problem is not going to solve the problem. If the Americans have found a way to be able to do this, then actually we should be doing it."
Last night, in the face of criticism the BBC defended showing the video of a British jihadi, "Abu Saeed Britani", inciting violence in the UK, saying it was a "significant development" and that only a "short extract" had been broadcast. The BBC would not confirm how many complaints it had received.
Reuse content