An international animal welfare group has launched an emergency mission to rescue two lion cubs living in a Gaza refugee camp, because they pose an increasing risk to the people living around them.
Animal charity Four Paws wants to save Mona and Max, two lion cubs that made headlines earlier this year after they were bought from Rafah Zoo in Gaza by a man wanting to give his grandchildren a present.
At just two months old at the time, the cubs were manageable - however, they have since grown considerably, and the family is finding it harder and harder to pay for the food they need.
But the financial burden isn't the main reason for Four Paws' intervention - Dr Amir Khalil, leader of the group's emergency team, said: "Both cubs have already grown quite a bit bigger and stronger since their arrival to the refugee camp, and they now represent a significant danger to the inhabitants of the camp. "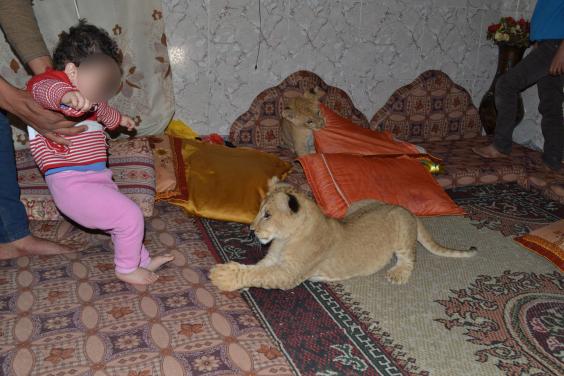 Four Paws wants to take the lions to the New Hope Center, an animal shelter that acts as a transit station for the Al Ma'wa Wildlife Sanctuary in Jordan.
Here, the animals would be able to live a much better life, and would not pose a threat to any humans - however, the owner is reluctant to let them go, and Four Paws hopes to persuade him to let them take the lions.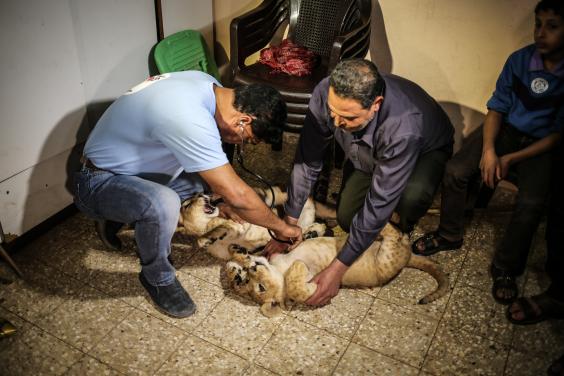 Another problem is the difficulty of crossing borders in the region. Taking the animals to the sanctuary would require getting into Gaza, bringing the lions back into Israel, and then crossing the border into Jordan - getting permission to conduct this operation requires a lot of work and difficulty
However, Four Paws has conducted operations in Gaza before - bringing medical treatment and food to animals in Gaza's Khan Younis Zoo in April this year, and rescuing three lions from the run-down Al-Bisan Zoo in the north of the Gaza Strip.
The operation still requires a lot of work if it is to be a success. However, Dr Khalil believes it can be done.
"We very much hope that the current owner sees sense, and lets us take the lions", he said. "They should be given a beautiful, safe home - and not be sold on to another zoo in the area."
Reuse content