The Syrian regime has said in a surprise move it will reduce its aerial assault on besieged rebel-held east Aleppo, leaving residents cautiously optimistic that the relentless shelling of the past two weeks will ease, and turning their focus to the siege conditions that are starting to starve their neighbourhoods. 
In the new, relative calm overnight on Wednesday, teacher Abdelkami al Hamdo sent a video of him mushing up rice to feed his infant daughter because there was no milk to buy for her. He couldn't heat it, because the electricity was out. "I couldn't even estimate how many other people are doing this," he said in a Whatsapp message. "We are all of us suffering this way."
East Aleppo's 250,000 residents have been trapped under siege conditions since July, when President Bashar al-Assad's forces managed to cut off rebel supply lines. 
A new offensive to retake the city's remaining opposition-held neighbourhoods was announced on September 22nd after the collapse of an internationally-brokered ceasefire, and has been followed up with a ground assault by the Syrian army and allied militias.
The unprecedented Russian-backed bombing campaign, which has involved underground shelter-penetrating 'bunker buster' bombs, cluster munitions, white phosphorous and napalm, has killed at least 377 people, Medicins Sans Frontieres said on Friday.
Monitors in the city and the Syrian civil defense service say the death toll is much higher. One White Helmets volunteer told The Independent he estimated almost 600 people had been killed because of direct strikes on civilian buildings such as hospitals and bakeries.
The UN's special envoy to Syria, Staffan de Mistura, warned this week that the current rate of destruction could level the entire area in the next two months.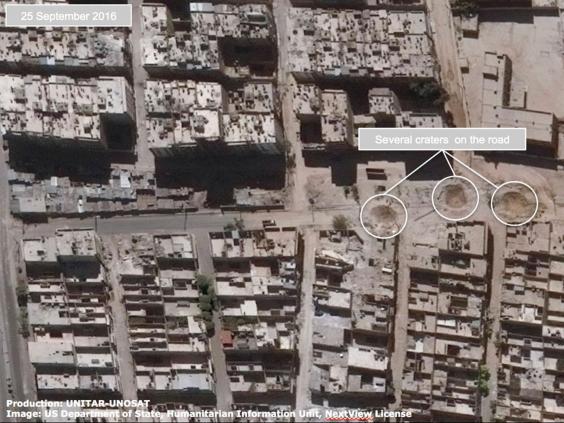 Activists with the Aleppo Media Centre reported on Thursday morning that overnight had been relatively calm, with one reported bombing inside the city and no casualties. Friday dawned with reports of shelling in the countryside around Aleppo. 
Residents, slightly less distracted by the prospect of imminent death from shelling, now have time to fear dying far more slowly. Inside opposition neighbourhoods, prices have hiked steeply as food and medical supplies slowly dry up.
Children's milk is nowhere to be found in pharmacies and markets, according to Ahmad Aziz, who works for a charity called Big Heart. "One NGO had about 200 cans, they distributed them yesterday, and that's it," he said. Cows' milk is also incredibly rare: even if it can be found, one litre now costs $1 (80p), compared to 25c (20p) before the siege began.
The city council has been trying to ration out bread, but only has the ability to reach about 30 per cent of east Aleppo's residents. Officially, it costs 25c (20p), if residents can find it, but some bakeries are now selling bread for $1.60 (£1.29) on the black market, and the price is rising. While $1.60 might not sound like much, the average monthly income for most Aleppans in March 2015 was just $80 (£64), the Syrian Economic Forum estimated, and has plummeted since in non government-held areas of the city, although reliable figures are not available. 
Syrian children hold Pokemon Go pictures in the hope people will find them and save them
Syrian children hold Pokemon Go pictures in the hope people will find them and save them
1/13

RFS Media Office

2/13

RFS Media Office

3/13

RFS Media Office

4/13

RFS Media Office

5/13

RFS Media Office

6/13

RFS Media Office

7/13

RFS Media Office

8/13

RFS Media Office

9/13

RFS Media Office

10/13

RFS Media Office

11/13

RFS Media Office

12/13

RFS Media Office

13/13

RFS Media Office
Markets are now completey out of fresh fruit and vegetables except aubergine, some radish and parsley for tabbouleh, Mr Aziz said. "If you're lucky, you might find a pomegranate," he said. 
Modar Sheko, a pharmacist, said his shelves are empty because his last shipment is still at the Turkish border, where it has been waiting for the last three months. Women still come in for pregnancy supplements or antibiotics on autopilot, he said. "People don't even have money to buy bread. How could they also buy drugs, even if there were any?" he asked.
A statement carried on Syrian state media late on Wednesday said that fighters and their families should use the break in bombing to lay down their arms and to seek amnesty in government-held west Aleppo. Anyone who does not take the opportunity to leave will face their "inevitable fate," the message, leaflets dropped on the city and text messages sent to civilians warned.
Both the Syrian and Russian governments have said that humanitarian corridors have remained open for any civilians wishing to leave the area, but residents report that anyone approaching the siege barricades is shot at by snipers.
Siege tactics have been very successful for the regime in other parts of Syria. Siege Watch, an independent monitor, estimates that around a million people across the country currently live under such conditions.
Earlier this year, the Syrian government negotiated the complete evacuation of Daraya, a suburb of Damascus that was at one time a centre of the revolution. The last remaining rebels and their families were bussed out after four years of siege led to the complete collapse of medical infrastructure and left residents despairing and hungry.
At the time, the UN called the arrangement "forced displacement," and warned Daraya could not be a precedent for other areas.
In Aleppo, analysts believe that Assad has the upper hand, although the inch-by-inch ground offensive could take months, if not years, before rebels give out.
Recapturing the whole city would be a significant victory, wiping out US-backed rebels from almost all of Syria's urbanised areas. A long-term Sunni guerrilla insurgency is possible even if the rebels lose territory, former US ambassador to Syria Robert Ford warned.
Reuse content