The families of the British schoolgirls who fled to join Isis in Syria have reportedly been told that two of the three girls are married.
Two of the three girls have recently reached out to their families that to break the news that they are living around Isis stronghold Raqqa with men who had been approved for them by the terrorist group, the Guardian has learnt. 
Shamima Begum, 15, Kadiza Sultana, 16, America Abase, 15, were friends at Bethnal Green Academy in east London. They plotted their journey together and left Britain during the half term holidays on February 17 – much to the distress of their loved ones.
It is not known which of the three girls had reached out, as their families approached the Guardian with the news but asked for their names not to be specified. They are said to be distraught by their radicalised daughters' embedding into the regime.
According to the paper, the married schoolgirls partook in an Isis-approved wedding ceremony. One of the new brides rang her family and the other used social media to pass on the news.
They are thought to have picked their jihadi husbands from what the Guardian described as a "catalogue" of suitable men in their twenties.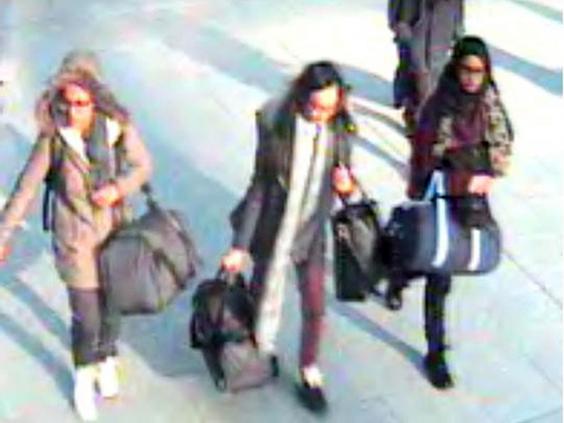 Solicitor representing the families, Tasnime Akunjee, told the paper that: "It has caused a lot of distress. It entrenches their lives in Syria, rather than in Britain. It erodes significantly hopes that they will come back."
Shortly before it emerged the girls were reportedly married, the Telegraph reported that it had been passed footage confirming that at least two of the three girls were in Raqqa, Syria.
The two-minute, undercover video is thought to have been filmed when the girls were living in a locked compound designated for future jihadi brides and widows. They were there to have their loyalty to the caliphate tested.
Activists from Eye on the Homeland – a group which says it is anti-Isis based in Raqqa – gave the paper the footage which they claim is at least two of the girls shopping for groceries with their female handler. One of the girls was wearing similar shoes to those she left the UK in.
Director of Eye on the Homeland, Ahmad Abdulkader, said that they had been watching the girl's apartment in the compound where only they and their female handler Um Laith were living. They had apparently been tipped off by an inside as to their location.
Reuse content