An Israeli minister has called for the country to build more settlements in the occupied territories following the shock US Presiedential election victory of Donald Trump.
The Republican property magnate, who beat Democratic rival Hillary Clinton to the White House, has indicated that he may end the US's longstanding opposition to building in Palestinian territories. 
Science Minister Otir Akunis told the Israeli state-controlled Army radio: "We need to think how we move forward now when the administration in Washington, the Trump administration and his advisers, are saying that there is no place for a Palestinian state".
Mr Trump said there was "nobody more pro-Israel than I am" in March, adding that he would oppose any attempt to force Israel into an agreement it opposes. 
His adviser on Israel, David Friedman, said last month that he does not believe Mr Trump sees Jewish settlements in the occupied West Bank as illegal, as the majority of the international community does.
Asked whether he believed in the two-state solution, the basis of more than two decades of peace negotiations, Mr Friedman said Mr Trump was "tremendously sceptical".
On Wednesday, Mr Trump called Israeli Prime Minister Benjamin Netanyahu to invite him to visit the White House after his inauguration in January – before he made the customary phone call to other prominent world leaders, including British Prime Minster Theresa May. 
World reaction to President Trump: In pictures
World reaction to President Trump: In pictures
1/29

London, England

AP

2/29

London, England

Reuters

3/29

Manila, Philippines

Getty Images

4/29

Manila, Philippines

Getty

5/29

Mosul , Iraq

Getty

6/29

Manila, Philippines

AP

7/29

New Delhi, India

Reuters

8/29

Karachi, Pakistan

EPA

9/29

Jakarta, Indonesia

Reuters

10/29

Lagos, Nigeria

AP

11/29

Kabul, Afghanistan

AP

12/29

Jerusalem. Israel

Reuters

13/29

Moscow, Russia

Reuters

14/29

Seoul, South Korea

AP

15/29

Lagos, Nigeria

AP

16/29

Peshawar, Pakistan

EPA

17/29

Jakarta, Indonesia

Reuters

18/29

Hyderabad, India

AP

19/29

Kolkata, India

AP

20/29

Sydney, Australia

Getty

21/29

Sydney, Australia

AP

22/29

Aleppo, Syria

Reuters

23/29

Mexico City, Mexico

AP

24/29

Port-of-Spain, Trinidad and Tobago

Reuters

25/29

Jerusalem, Israel

EPA

26/29

Baghdad, Iraq

Rex

27/29

Gaza Strip, Palestinian Territories

Rex

28/29

Tokyo, Japan

Rex

29/29

Mexico City, Mexico

Getty
Mr Netanyahu welcomed Mr Trump's victory, saying the former reality star was "a true friend of Israel". 
The Israeli Prime Minister, whose administration is said to be the most right-wing in the country's history, has so far been very cautious about calling for more settlements and the Israeli government is still officially working towards a two-state solution.
But members of his Cabinet have been far more outspoken, with Education Minister Naftali Bennett saying Mr Trump's election signalled an end "to the notion of a Palestinian state".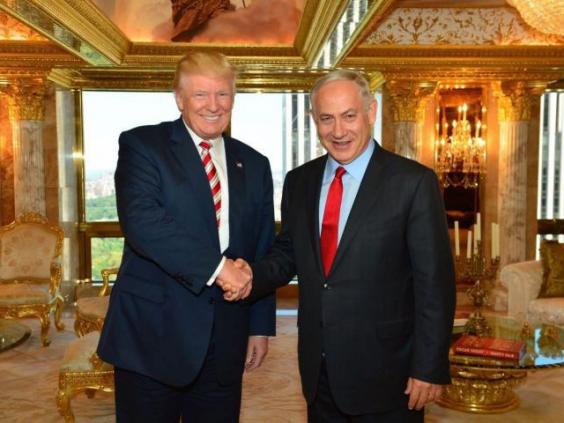 Last month Mr Bennett, who is said to have his eye on becoming Prime Minister himself in the near-future, said it was time to increase the "sovereignty" of Israel by building more settlements, providing the UN Security Council passed a motion condemning them.
Israel remains concerned that outgoing US President Barack Obama will attempt to push a resolution through before he leaves office.
Meanwhile, Mahmud Abbas, President of the Palestinian Authority, gave Mr Trump a cautious congratulations and said he hoped peace could be achieved during his term based on the borders of 1967, the year Israel occupied the West Bank.
But a high-ranking Palestinian official warned that, "We are worried because we have here someone who has been completely unpredictable, a loose cannon and also because this is not an issue just for the Palestinians but for the rest of the world."
He said the one consolation was that, "His statements are so unfeasible, unreasonable, illogical, so in violation of international laws and the international consensus, that they cannot be implemented."
"When faced with the realities of the office, things change," the official said, speaking on condition of anonymity.
Additional reporting by agencies
Reuse content