Syrian president Bashar al-Assad has vowed to regain control over the whole of his country, casting doubt on a tentative international agreement to halt the fighting after almost five years  of bloodshed.
In an interview with the AFP news agency in Damascus just hours before a surprise deal that also promised to grant sustained access to civilians in dire need of aid, he said that his troops would "without any hesitation" try to retake all territory lost to rebel groups. 
He warned, however, the involvement of other regional powers in what has become an increasingly tangled proxy war "means that the solution will take a long time and will incur a heavy price".
He said that his government "fully believed" in peace talks, but warned: "If we negotiate, it does not mean that we stop fighting terrorism." Mr Assad has long sought to cast all those seeking to topple him as terrorists.
His remarks, made public only yesterday, will raise concerns about the prospects for peace after the agreement for a "cessation of hostilities" that is planned to take effect at the end of next week. If successfully implemented, it could represent a major breakthrough in a conflict that has claimed an estimated 470,000 lives and forced 11 million people from their homes. 
However, the deal was met with deep scepticism from opposition fighters and activists, not least because it made no mention of Russian air strikes that have pummelled rebel-held areas for almost five months, helping President Assad to gain the upper hand. 
In pictures: Russian air strikes in Syria
In pictures: Russian air strikes in Syria
1/10

Volunteers from Syria Civil Defence, also known as the White Helmets, help civilians after Russia carried out its first airstrikes in Syria

2/10

The aftermath of Russian airstrike in Talbiseh, Syria

3/10

Smoke billows from buildings in Talbiseh, in Homs province, western Syria, after airstrikes by Russian warplanes

AP

4/10

Russian Air Forces carry out an air strike in the ISIS controlled Al-Raqqah Governorate. Russia's KAB-500s bombs completely destroy the Liwa al-Haqq command unit

5/10

Caspian Flotilla of the Russian Navy firing Kalibr cruise missiles against remote Isis targets in Syria

6/10

Caspian Flotilla of the Russian Navy firing Kalibr cruise missiles against remote Isis targets in Syria, a thousand kilometres away. The targets include ammunition factories, ammunition and fuel depots, command centres, and training camps

7/10

Russia claimed it hit eight Isis targets, including a "terrorist HQ and co-ordination centre" that was completely destroyed

8/10

A release from the Russian defence ministry purportedly showing targets in Syria being hit

9/10

A video grab taken from the footage made available on the Russian Defence Ministry's official website, purporting to show an airstrike in Syria

10/10

Russia launched air strikes in war-torn Syria, its first military engagement outside the former Soviet Union since the occupation of Afghanistan in 1979. Russian warplanes carried out strikes in three Syrian provinces along with regime aircraft as Putin seeks to steal US President Barack Obama's thunder by pushing a rival plan to defeat Isis militants in Syria
Russian warplanes continued to bomb northern Syria on Friday, fuelling fears that Moscow and Damascus would use the week before the deadline to press on with key offensives. They include a major push around Aleppo, Syria's second city, where rebels are all but encircled after pro-Assad forces succeeded in cutting their main supply line. 
The agreement emerged after late-night talks at the Munich Security Conference between US Secretary of State John Kerry, Russian foreign minister Sergei Lavrov and over a dozen world powers.
Shortly after midnight on Thursday, Mr Kerry announced that they had struck a deal and would set up a UN task force to thrash out "the modalities for a long term and durable cessation of violence".
The agreement stopped short of a full ceasefire because it was not signed by the main parties themselves – the Syrian government and the factions fighting against it. Mr Kerry cautioned that, if implemented, the deal would only achieve a "pause" in fighting and that more work would be needed to reach a full ceasefire.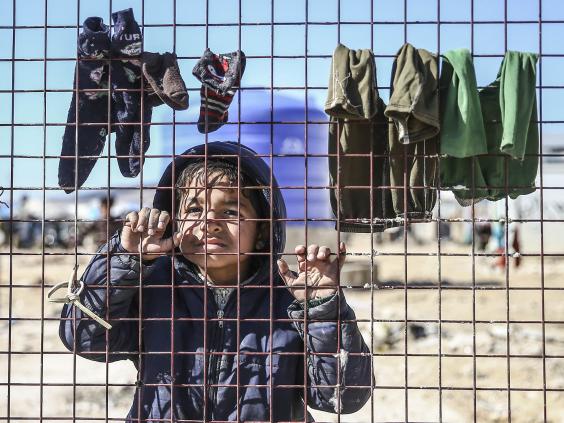 The official opposition group formed to negotiate with the Assad government gave the deal a cautious welcome. Its spokesman, Salim al-Muslat, said that there must be visible impact before his group would resume peace talks in Switzerland, which were halted at the start of this month after just three days. "If we see action and implementation, we will see you very soon in Geneva," he said.
The deal also promised to secure aid for civilians who have found themselves not only trapped in the middle of the fighting but also used as pawns. It set out plans for air drops and land deliveries to besieged areas – including a pro-government enclave surrounded by Isis in the eastern city of Deir al-Zour and the stricken town of Madaya, which has been under protracted siege by the Syrian army and fighters of the Lebanese militia, Hezbollah.
A major potential stumbling block will be which combatants should be demarcated as terrorist groups. Mr Lavrov said that Moscow would not stop its campaign of air strikes because the deal did not cover Isis, the jihadist group  that holds territory across Syria and Iraq, or Jabhat al-Nusra, the al-Qaeda affiliate which fights alongside less hardline rebel groups across much of Syria. 
Jan Egeland, the head of the Norwegian Refugee Council, hailed a provision to deliver aid to besieged civilians within days as a potential "breakthrough". 
But David Miliband, the former foreign secretary who now heads the charity International Rescue Committee, said: "You don't wait a week for an emergency operation, and the people of Syria should not have to wait a week for relief from bombings." He said that he would await further detail to see whether the agreement was "a turning point or a  false dawn."
The Kremlin insists that its aerial bombing has only ever targeted those two factions since it began in September. But the US and Britain say that most of Russia's energies have been spent attacking other, non-Isis groups opposed to President Assad in order to help his troops make gains.
Reuse content