Leaked tapes of Egyptian generals apparently plotting to persuade the world that arrested Egyptian President Mohamed Morsi was in a civilian rather than a military prison – and thus not the victim of an army coup – have been sent by British lawyers to the UN, the African Commission on Human Rights and the UK police.
Transcripts of the conversations two years ago, which have been newly authenticated, provide valuable evidence that the Muslim Brotherhood President of Egypt was deposed unconstitutionally in 2013, a fact that the country's new military leader denies. They also make for uproarious reading, as generals and senior ministerial officials working for Field Marshal Abdul-Fattah al-Sisi argue over the need to construct an entire prison wing beside an army jail – with a civilian police signpost over the door to fool judges and lawyers.
In pictures: Egypt protests on Arab Spring anniversary
In pictures: Egypt protests on Arab Spring anniversary
1/11 Cairo anniversary protests

A supporter of Egyptian President Abdel Fattah al-Sisi waves his national flag during a demonstration in Cairo on January 25, 2015

AFP

2/11 Cairo anniversary protests

A riot police officer holds a weapon during an anti-government protest in downtown Cairo January 25, 2015

Reuters

3/11 Cairo anniversary protests

An anti-government shouts slogans against the military and interior ministry during a protest in front of the journalists' syndicate in Cairo January 25, 2015

Reuters

4/11 Cairo anniversary protests

Anti-government protesters shout as they call out to others with them to walk into Tahrir square after they clashed briefly with pro-government protesters, in Cairo January 25, 2015

Reuters

5/11 Cairo anniversary protests

Anti-government protesters help an injured protester when pro-government protesters threw stones during a protest in front of the press syndicate in Cairo January 25, 2015

Reuters

6/11 Cairo anniversary protests

An Egyptian is arrested by plainclothes police in downtown Cairo, Egypt, Sunday, Jan. 25, 2015

AP

7/11 Cairo anniversary protests

Egyptian security forces deploy in the Cairo suburb of Matariyah, Egypt, Sunday, Jan. 25, 2015

AP

8/11 Cairo anniversary protests

A woman mourns during the funeral of Shaima al-Sabbagh, Alexandria, Egypt, 25 January 2015

EPA

9/11 Cairo anniversary protests

Two supports of ousted President Mohamed Morsi in front of security forces near Tahrir Square in Cairo (AFP)

10/11 Cairo anniversary protests

Egyptian policemen detain a supporter of the People's Alliance Party during a demonstration in Cairo's Talaat Harb square, near Tahrir square, on January 24, 2015 (AFP)

11/11 Cairo anniversary protests

People carry the coffin of Shaima al-Sabbagh during her funeral, Alexandria, Egypt, 25 January 2015

EPA
Mr Morsi was held illegally at the Abu Qir naval base for several months after he was overthrown, according to the ex-President's lawyers, before being moved to a civilian prison. At one point in the tapes, a man identified as General Mamdouh Shahin – Mr Sisi's assistant defence minister for legal and constitutional affairs – asks an official to predate the day of Mr Morsi's detention, adding: "I need you to mention a building, but we will not mention it is inside a military unit." There is then much discussion over the need to build a false prison adjacent to the military base and to station policemen rather than soldiers outside it, to give the impression that Mr Morsi is being legally held.
The tapes have been denounced by Mr Morsi's presidential successor – Mr Sisi himself – as fabricated. But lawyers acting for the deposed President's now-banned Freedom and Justice Party and Egyptian émigrés sympathetic to the Brotherhood say they have sent copies to the UN Human Rights Council and the African Commission of Human and People's Rights (ACHPR) – to which Egypt is a signatory – after scientific examination proved they were genuine.
A study of the recordings by a forensic speech and acoustics laboratory, JP French Associates, a copy of which is in the possession of The Independent, concludes: "Our opinion is that the evidence provides strong support for the view that the questioned speaker is Mr Mamdouh Shahin." Scientists for the company say they compared the leaked conversations with press conferences and other public pronouncements by General Shahin.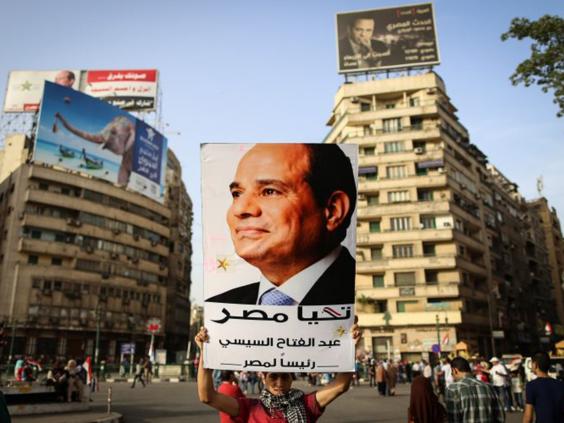 Rodney Dixon, QC, who is acting for the Morsi party and Brotherhood members who fled Egypt for London and elsewhere after the coup, said the British police are also being sent copies of the recordings, because Egyptian officers who travel to the UK may face of arrest for their involvement in torture or ill-treatment of prisoners.
"The tapes show that the [justice] system is not operating according to proper principles of justice and international law," Mr Dixon said. "The people on the tape are trying to build up a case which can't be tested in a court of law. The process is being manipulated for political reasons."
Perhaps wisely, the forensic scientists gave no opinion on the panic-stricken and hilarious demands from Mr Sisi's men on the tapes to conceal the location of Mr Morsi's prison. One official can be heard proposing to construct a building that would mimic the one in which Mr Morsi was actually held. At one point, voices suggest that "we can put a shelter anywhere within two days, even at the path to the military unit, not at the [exact] place… and a separate door with 'Ministry of Interior' written on it or something like that." A man can be heard saying: "Guys – we just have to build a building!"
The problem, it emerges, is that Mr Morsi's lawyers were demanding to see his prison. "They want to inspect it," a voice says nervously – and there are frantic arguments about whether his cell should have separate entrances, one for the police and another for the army. Yes, says a voice reassuringly, "I could do something, like have 'Central Security Forces' [sign] at the military unit entrance". Another voice says: "I'm putting a worst-case scenario in case there was an inspection [by lawyers]."
The legality of Mr Morsi's arrest would then be "ruined", someone says on the tape, because the overthrown President's imprisonment since 3 July 2013 would be "illegal". He was eventually sent to the Tora civilian prison complex outside Cairo where he remains pending military trial for allegedly inciting the killing of protesters, insulting the judiciary and espionage.
Amid this charade – and one underling can be heard being abused by a senior government legal official – is, of course, a very serious argument. For if Mr Morsi's confinement was illegal – if it could be proved that he was a prisoner of the army rather than of the Egyptian attorney general's office – then Mr Sisi and his fellow officers could no longer deny to foreign presidents and diplomats that they staged a military coup.
The forensic scientists state that they measured "dialectical features" and "vowel formants" to reach their conclusions over the tapes. A more important element of the recordings' authenticity, one might have thought, is that their telephone calls repeatedly fade out and cut – a sure sign that they really were using Egypt's decrepit communications system.
* Today an Egyptian court sentenced activist Alaa Abdel Fattah to five years in jail for violating a law that curtails demonstrations. The court erupted into chants of "Down, down with military rule".
Meanwhile, the retrial of two Al Jazeera journalists was postponed to 8 March.
Reuse content