In 1993, sixteen-year-old Esmat Mansour was imprisoned for helping to murder an Israeli settler who was working on a poultry farm. Today, with greying hair but excited to start a new life, he walked free as part of an Israeli release of 26 long-held Palestinian prisoners that touched off joyous welcomes in the West Bank and Gaza Strip but revulsion among many Israelis.
"For sure I feel I have a new beginning," Mr Mansour, who stressed he now believes in non-violent struggle only, said in fluent Hebrew that he learned while in prison. "On the personal and human level I feel I was born again today." He says he hopes to get married soon and begin raising a family
The release came in advance of the planned resumption this evening of Israeli-Palestinian peace negotiations in Jerusalem but it did little to improve the atmosphere between the two sides, which has been poisoned further by Israel's announcement within the last week of plans to build more than 3,000 new units for settler housing in the occupied West Bank and East Jerusalem.
Most of those freed had been involved in murdering Israelis or Palestinian collaborators before or soon after Israeli-Palestinian self-rule agreements were signed in 1993. Viewed by the Palestinian public as heroes who paid a price for combating occupation, they were feted with fireworks and attracted crowds in both the West Bank and Gaza Strip.
In the vast tent his relatives erected to receive Mr Mansour in this village near Ramallah, male well-wishers munched sweet baklava pastry and drank watery coffee as women who were out of site repeatedly ululated to express their joy at his homecoming. But in Israel, the releases were traumatic for families of victims. "Today has been a very hard, very confusing day for a lot of people," said Hedva Levy of the Israeli Almagor Association for victims of terrorism.
"The meaning of this is that their child is murdered for a second time while the terrorists family gets the terrorist back and he can murder another time," she said. "There is no logic to releasing terrorist while nothing has happened for peace."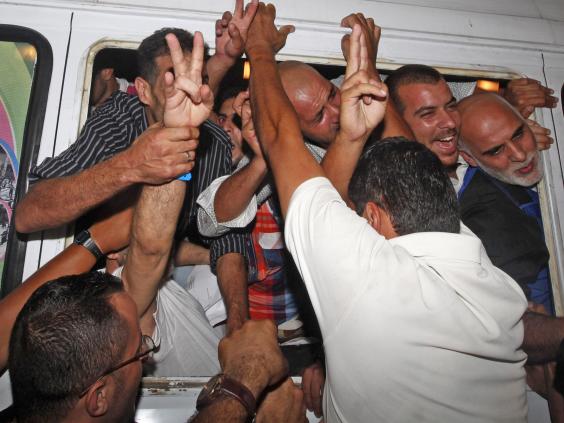 In an indication of how low expectations are for the current peace talks, even Mr Mansour, who owes his freedom to Israel's agreement to release prisoners in advance of the negotiations, is not upbeat about them. "We as prisoners welcome the negotiations and the release of prisoners," he says, but adds; "Any negotiations without legitimacy are doomed to failure. If the Israelis are serious, they as the occupying power must deliver what is necessary for the credibility of these negotiations. If they adhere to settlement building and block release of further prisoners and refuse to recognise international legitimacy while at the same time speaking of peace, then I think this is self-contradictory behaviour." Mr Mansour, who wrote three books in prison, is a member of the central committee of the Democratic Front for the Liberation of Palestine, a left-wing faction that generally supports Mr Abbas.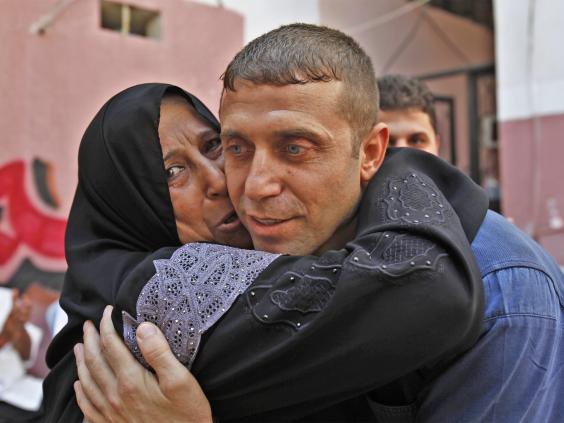 Mr Mansour said is not exactly remorseful about his role in the killing of settler Haim Mizrachi, for which he was given a twenty-two-year sentence. According to Israeli officials, Mr Mansour led the killers to Mr Mizrachi, brought rope to tie him and helped load his body into a car. "If you ask me whether I am willing to do the same thing now, I will tell you I will not repeat this act. But I don't regret what I did. The time, the circumstances and the surroundings created this. Now the circumstances are different. There was no Palestinian Authority then and the struggle was to combat the occupation. Today there is a Palestinian Authority, a Palestinian leadership and a consensus among the leadership that we don't undertake violence. And I am against violence."
Ms Levy, the spokeswoman for Israeli victims, was unimpressed. "It's lip service. He has to say he won't do it again, otherwise he will be rearrested. But it's clear that those freed will continue with terrorism and educate their children for terror."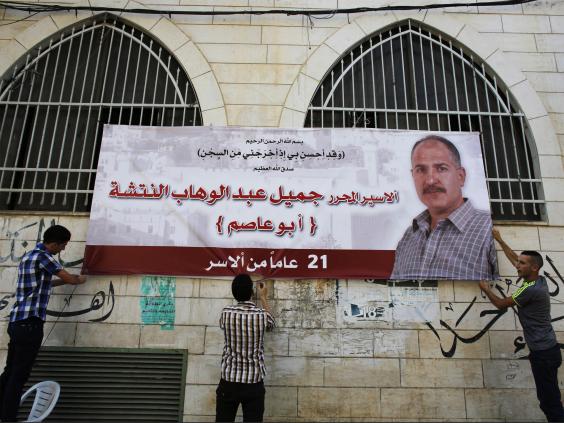 Reuse content