Survivors of the stampede that killed more than 700 Hajj pilgrims in Saudi Arabia have blamed authorities for the disaster as they described watching the horror unfold.
Witnesses said security forces had forced two masses of people to clash by closing several paths around Mina, near the holy city of Mecca, while some Saudi officials sought to blame "some pilgrims who didn't follow the guidelines issued".
One group of devotees had been making their way towards the Jamaraat Bridge, a large structure used by pilgrims to throw stones at three walls as part of the symbolic "stoning of the devil", while other pilgrims were leaving when the crowds met on Thursday morning.
At least 717 pilgrims were killed and 863 more injured in the ensuing crush, spurring King Salman to order "a revision" of Hajj organisation while authorities started to investigate the cause of the disaster.
Ahmed Abu Bakr, a 45-year-old Libyan pilgrim who managed to escape the stampede with his mother, said there was only one route available for people passing through Mina's "tent city" used by hundreds of thousands of visitors.
"There was crowding," he told the AFP news agency. "The police had closed all entrances and exits to the pilgrims' camp, leaving only one (street 204).
"I saw dead bodies in front of me and injuries and suffocation. We removed the victims with the police."
He added that officers at the scene appeared inexperienced and did not seem to know local roads and landmarks.
The Foreign and Commonwealth Office (FCO) has not yet confirmed whether any of those killed in the worst disaster during Hajj for 25 years are British.
Here are survivors' accounts of the stampede:
Abdullah Lotfy, 44, from Egypt
He told The Associated Press the disaster began when one wave of pilgrims found themselves heading into a mass of people going in another direction.
"I saw someone trip over someone in a wheelchair and several people tripping over him. People were climbing over one another just to breathe. It was like a wave.
"You go forward and suddenly you go back…there was no preparation. What happened was more than they were ready for."
Tchima Illa Issoufou, BBC Hausa Service
"People were going towards the direction of throwing the stones while others were coming in the opposite direction. Then it became chaotic and suddenly people started going down. There were people from Nigeria, Niger, Chad and Senegal among other nationalities. People were just climbing on top of others in order to move to a safer place and that's how some people died.
"People were chanting Allah's name while others were crying, including children and infants. People fell on the ground seeking help but there was no-one to give them a helping hand."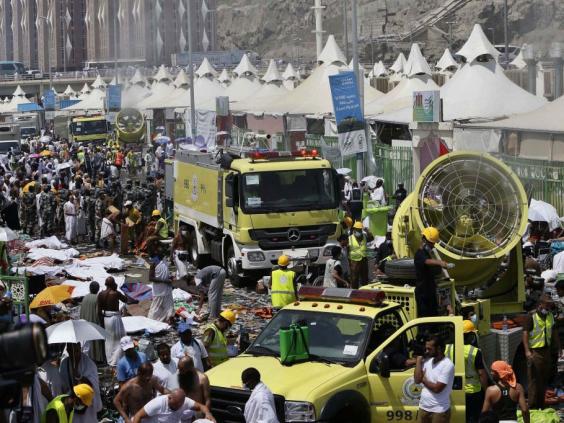 Mohammed Awad, 36, from Sudan
He told the Canadian Press he was caught in the crush for half an hour before managing to climb over a gate. He found his 56-year-old father more than an hour later, alive but buried under at least 10 bodies.
"You can't count how many bodies there were. They were stacked high," Awad said.
Dr Abdulrahman, nationality unknown
"I saw the pilgrims were falling down and getting crushed and heard women and elderly people were screaming, asking for help," he told The Guardian.
"I tried very hard to get out, I lost all my clothes, they were torn off but I didn't care and I managed to get out.
"Then I tried to get in one of the tented camps but I was blocked by the security forces who kept preventing anyone from entering, and that doubled the crisis…there was a shortage of emergency exits, because there supposed to be ways of getting off a road every 50 metres."
Nigerian survivor, anonymous
The pilgrim told Vanguard Newspapers that "the stampede started from tents erected close to Jamrah. Pilgrims were not supposed to pass through the tents but they did since there were no officials to stop them and the pandemonium led to a massive stampede at the Jamrah exit points."