Iran is set to flood the oil market with an extra half a million barrels a day after international sanctions were lifted in a move that has been hailed by the country's president as a "golden page" in its history.
President Hassan Rouhani said the deal "opened new windows of engagement with the world" and the country should "get ready to seize the opportunity to make an economic leap and development", while speaking in Parliament on Sunday.
Hours after sanctions imposed by US, UN and EU on Tehran were lifted - thereby removing an obstacle to exports - the deputy oil minister announced Iran was ready to increase its crude oil exports by 500,000 barrels a day.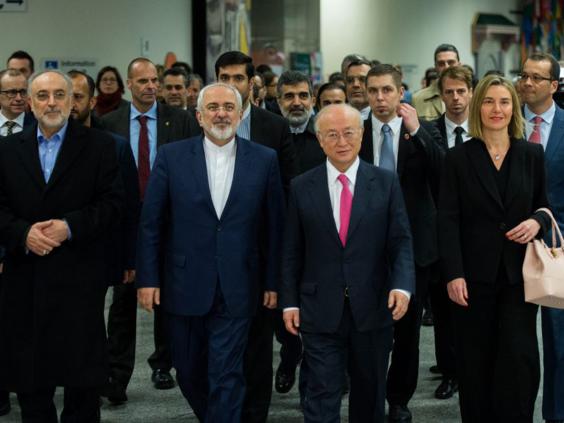 "With consideration to global market conditions and the surplus that exists, Iran is ready to raise its crude oil exports by 500,000 barrels a day," Deputy Oil Minister Amir Hossein Zamaninia was quoted as saying by the Shana news agency.
Already there are some 38 million barrels of oil in Iran's floating reserves, ready to enter the market, according to the International Energy Agency.
Mr Rouhani said Iran should use the expected influx of money and investments following the end of sanctions to spark the "economic mutation" of the country, creating jobs and enhancing quality-of-life for Iranian citizens, after the country has suffered double-digit inflation and high unemployment rates for years.
Mr Rouhani said his country needs up to £35 billion in foreign investment per year to reach its goal of 8 per cent annual growth.
More than £21 billion in assets overseas are understood to become immediately available to the Islamic Republic, while official Iranian reports have set the total amount of frozen Iranian assets overseas at £70 billion.
Iran's return to an already glutted oil market is one of the factors contributing to a global rout in oil prices, which fell below $30 a barrel this week for the first time in 12 years.
All seven stock markets in the Gulf States have tumbled, following plans from the Islamic Republic to return its oil production on pre-sanction levels, the Telegraph reports. 
Concerns the Islamic Republic may speedily increase its production saw Brent crude fall by 3.3pc to $29.43 - lows not encountered since 2004.
Watchdog, the International Atomic Energy Agency, confirmed on Saturday Iran had put into place all the measures required to begin implementing the nuclear deal agreed with six world powers, meaning international sanctions imposed on the country could be lifted.
Mr Rouhani said the deal has satisfied all parties except extremists: "Everybody is happy except the Zionists, the warmongers who are fuelling the sectarian war among the Islamic nation, and the hardliners in the US congress."
The comments come after Israeli prime minister, Benjamin Netanyahu, warned Iran had not given up its nuclear ambitions, saying in a statement: "Iran will think it can continue to develop a nuclear weapon, destabilise the region and spread terror."
In response to the deal Germany's economy minister said reviving economic and finical ties with Iran will take time.
Sigmar Gabriel, also Germany's vice chancellor, said "the revival of German-Iranian economic, and especially financial, relations is a long-term process."
Tehran newspapers largely welcomed the implementation of the deal. Even the hard-line Kayhan daily remained impartial and said that for the west, "it is the time of implementation of promises".
The president sent out a celebratory tweet calling the deal a "glorious victory", shortly after the European Union foreign policy chief Federica Mogherini and Iranian foreign minister Javad Zarif announced the lifting of the sanctions.
#ImplementationDay--I thank God for this blessing & bow to the greatness of the patient nation of Iran. Congrats on this glorious victory!

— Hassan Rouhani (@HassanRouhani) January 16, 2016
Coinciding with the scrapping of the sanctions, Tehran also announced the release of five Americans, including a Washington Post reporter, as part of a prisoner exchange with the US.
Four Americans and seven Iranians were part of the prisoner swap. A fifth American was released separately.
Washington Post reporter Jason Rezaian, former US Marine Amir Hekmati, pastor Saeed Abedini and Nosratollah Khosravi-Roodsari, whose name had not been previously made public, were freed from custody in Iran and have begun their journey home on Sunday, US officials said.
A charter plane left Tehran for Switzerland with the Americans on-board. US officials said Mr Rezaian, Mr Hekmati, and Mr Abedini were on the flight, but not Mr Khosravi-Roodsari. Iran, however, has said he was also on the flight - a discrepancy, which has not yet been settled.
A senior US official said: "Those who wished to depart Iran have left."
US student, Matthew Trevithick, was released independently of the exchange on Saturday and was already on his way home.
New York protests against Iran nuclear deal
New York protests against Iran nuclear deal
1/10 New York

A woman holds a poster as she takes part in a rally on Times Square in New York opposing the nuclear deal with Iran

2/10 New York

An inflatable mushroom cloud stands among demonstrators during a rally apposing the nuclear deal with Iran

3/10 New York

Protesters rally against the nuclear deal with Iran in Times Square

4/10 New York

A member of the Neturei Karta Orthodox Jews sect is escorted away by New York City Police during a rally near Times Square to demand that Congress vote down the proposed US deal with Iran in New York

5/10 New York

A woman shouts slogans during a rally against the nuclear deal with Iran in Times Square in New York

6/10 New York

A protestor holds a placard during a demonstration and rally apposing the nuclear deal with Iran in Times Square

7/10 New York

Some of several thousand protestors crowd into 7th Avenue at 42nd street as they demonstrate during a rally apposing the nuclear deal with Iran

8/10 New York

A woman holds a placard as she joins several thousand other protestors to demonstrate during a rally apposing the nuclear deal with Iran

9/10 New York

Protesters rallied against the Iran nuclear deal in New York's Times Square

KENA BETANCUR/AFP/Getty Images

10/10 New York

Protestors shout slogans as they demonstrate during a rally apposing the nuclear deal with Iran
The US will in turn drop charges against seven Iranians - six of whom are dual US-Iranian citizens - accused or convicted of violating US sanctions.
Secretary of State John Kerry said US officials hashed out the prisoner exchange over at least 12 meetings with the Iranians, describing the negotiations as difficult. He said the nuclear agreement provided the key impetus.
Mr Kerry said: "For a long time, this didn't move because of the people they were asking for. We said, 'No, and no, and no.
"And believe me, it's hard when somebody says to you, 'Hey, you give us this guy, we let them all out.' And you have to say no.
"But there have to be an enforcement of our principles and our standards here. And in the end, we came out in the right place on that.
"In the end, the president made the call."
Both the lifting of the sanctions and the prisoner deal are set to considerably reduce the hostility between Tehran and Washington that has existed for decades since Iran's Islamic Revolution in 1979.
Mr Kerry and the top diplomats of Iran and the European Union hailed the accord. Mr Kerry said in Vienna: "Today marks the first day of a safer world".
Additional reporting by various agencies