Sanctions against Iran have been lifted following news from the UN nuclear watchdog that the Islamic Republic has complied with its nuclear promises.
Watchdog the International Atomic Energy Agency confirmed on Saturday that Iran had put into place all the measures required to begin implementing the nuclear deal agreed with six world powers in July, meaning sanctions imposed by US, UN and EU could be lifted.
IAEA director general Yukiya Amano said in a statement: "Iran has completed the necessary preparatory steps to start the implementation of the Joint Comprehensive Plan of Action."
He added: "This paves the way for the IAEA to begin verifying and monitoring Iran's nuclear-related commitments under the agreement, as requested by the U.N. Security Council and authorised by the IAEA Board.
"Relations between Iran and the IAEA now enter a new phase. It is an important day for the international community. I congratulate all those who helped make it a reality, especially the group of countries known as the E3/EU+3, Iran and the IAEA Board."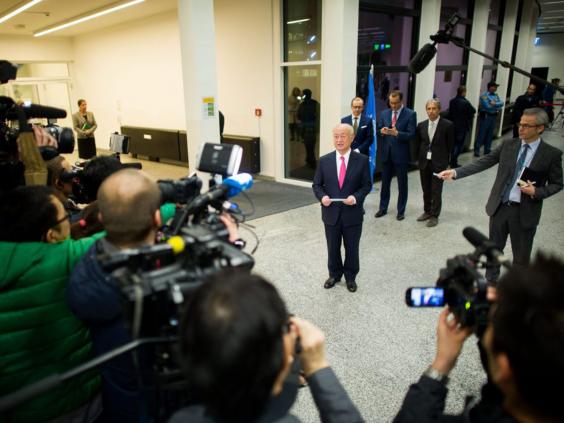 Following the removal of the sanctions, which have dramatically reduced the country's exports and left many Iranians facing economic hardship, Tehran stated that the country could increase oil exports by around 500,000 barrels per day within weeks, according to Reuters.
Earlier on Saturday, relations between Iran and the US thawed significantly, with US President Barack Obama pardoning three Iranian-Americans charged for violating sanctions against Iran, while five Americans, including Jason Rezaian, a reporter for the Washington Post, are set to be released by Iran.
US Secretary of State John Kerry and the top diplomats of Iran and the European Union hailed the accord.
"Today marks the first day of a safer world," Mr Kerry declared in Vienna, according to the Associated Press. "This evening, we are really reminded once again of diplomacy's power to tackle significant challenges." 
He added: "Thanks to years of hard work and committed dialogue we have made vital breakthroughs related to both the nuclear negotiations and a separate long-term diplomatic effort."
In Washington, US President Barack Obama signed executive orders lifting economic sanctions on Iran
EU Foreign Policy chief Federica Mogherini — in a statement also read in Farsi by Iranian Foreign Minister Mohammad Jawad Zarif — said the accord "demonstrates that with political will, perseverance, and through multilateral diplomacy, we can solve the most difficult issues and find practical solutions that are effectively implemented." 
Reuse content